Can you guess how much I love putting together these monthly What to Wear posts?
I LOVE IT.
Big time.
I have an excuse to regularly trawl through all my favourite fashion retailers websites and see all the fabulous new arrivals en masse.
As well as identifying the overall trends for the season, this process tends to divide what's on offer into two distinct categories: the every day basics and the stand out – wow – statement pieces.
The basics are generally super versatile and will be a clear wardrobe winner for the coming months. For this coming season, I reckon navy or neutral wedges, a navy trench coat, an OTS chambray dress or a relaxed t-shirt dress fall in to this category.
Then there are the pieces that stop you in your tracks.
For me, this is when I see a beautiful print or something unusual but stunning, around which I will build an entire outfit. You'll see some examples of these below, such as a great pair of earrings, a beautiful printed dress or a fun printed tote.
In this month's outfits, I think you'll see a mash up of the two – the statement pieces and the wardrobe staples, around which you can build many different looks. To keep my wardrobe interesting but practical, I need a mix of both.
This month, I've also aimed for outfits that are practical for those who work part time, dividing their weeks between a work place and home with the shenanigators kids in response to a reader request (thanks for your email Leah).
So you might notice footwear that you can wear to work but also to school/kinder drop off; bags that can fit a water bottle, Lego, a spare nappy and some wipes as well as your iPhone and wallet; and dresses that flatter and skim made from comfortable fabrics.
Allllrighty then. Let's start with our first outfit …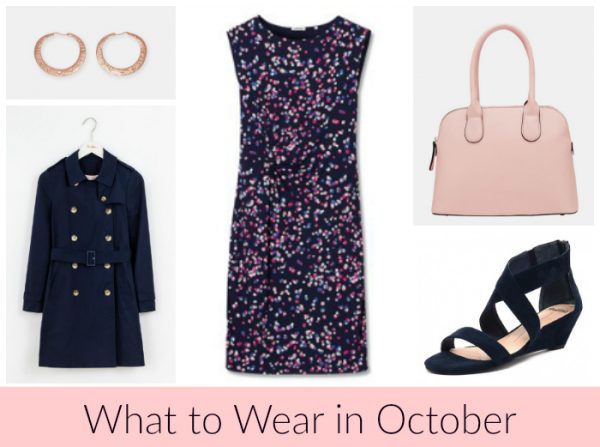 ABOVE, CLOCKWISE FROM TOP LEFT: Nicole Fendel hoop earrings, $48.30  (on sale) from The Iconic; Spot Sprint Sleeveless Jersey Dress, $139 from Marcs;  Louen Hide Baby London in Pale Pink, $99 from The Iconic;Abingdon Trench, $187.40 (on sale, sizes 6-22 still available) from Boden;  Navy Wedges by Mollini, $149.95 from Style Tread.
I had in mind work when I put this outfit together, but I could also see how, if you ditched the trench and added a fascinator in blush, hot pink or navy tones, you'd also have the races covered. Just add bubbles and you're good to go.
This Spot Sprint Sleeveless Jersey Dress is such a winner in my book – the stretchy jersey is comfortable to wear and the ruche detail in the middle can camouflage a post baby tummy or just a big lunch. The pretty spot with it's pretty pink tones provide plenty of colour to work with in the accessories department too.
These rose gold Nicole Fendel hoop earrings and Louen Hide Baby London in Pale Pink with their complementary tones are on trend and will work back nicely with denim and neutrals in both work and casual wardrobes.
Finally, how fabulous are these Navy Wedges by Mollini? I am totally adding these to cart as I wear so much navy in summer but prefer the more practical and comfortable wedge to stilettos. Navy wedges don't come around too often, especially at this price. I also love a wedge with skinny jeans and a blazer for a smart casual look.
Speaking of smart casual, this next outfit is just that.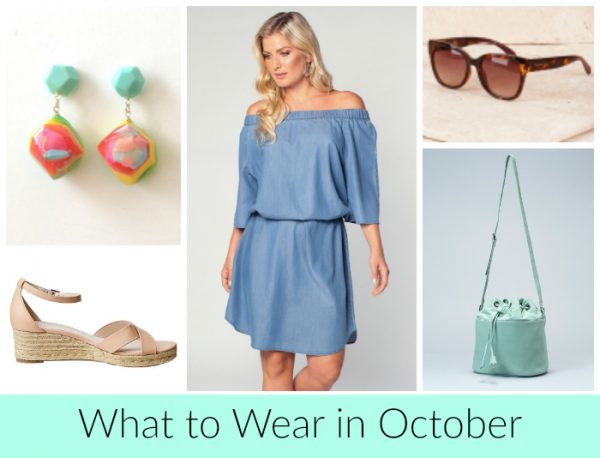 ABOVE, CLOCKWISE FROM TOP LEFT: Resin earrings from Flock Curious Assembly, $40 from Etsy; Bell Dress in Chambray, $89.99 from Adrift; Seafolly sunnies, $79.95 from Birdsnest; Abake Bucket Bag $235 from Elk Accessories; Minnie Espadrille Wedges, $35 from Target.
This off the shoulder Bell Dress in Chambray frock is ticking all the boxes, right? Note that above it's worn with a belt (obscured) to create a waist but it can also be worn loose, if that's more your style.
Chambray is a great all rounder as it works back with almost all accessories and colours. It's endlessly versatile and an excellent neutral option.
The OTS factor is a winner too, as it's super flattering once you get the strapless bra situation sorted.
I've paired this frock with some pretty and fun mint green accessories, one of my favourite colours for summer and these well priced wedges from Target. For a dressier look, add some metallic accents or a decent block heel.
If you'd like a bra friendly alternative, you might also like this Cold Shoulder Shift from Witchery. This Leah Tote, $99.95 from Witchery; is a neutral and less expensive option for the bag too.
Finally, here's a relaxed but stylish casual outfit for weekends or days at home running after the munchkins.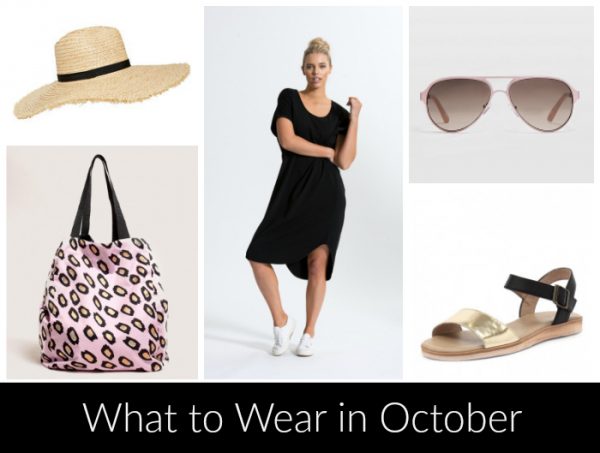 ABOVE,  CLOCKWISE FROM TOP LEFT: Frayed Wide Brim Hat, $69.95 from Seed Heritage; Classic Scoop Neck Dress, $129 from Bohemian Traders; Jemma Sunglasses, $119 from Country Road; Rollie Sandals, $119.95 from Style Tread; Wild Life Tote, $69 from Gorman.
Personally, I can never have enough oversized t-shirt style dresses. They're so comfortable to wear, easy to wash and the perfect bases for all sorts of fun and fab accessories. They're also brilliant for travelling when paired with trainers, a scarf and a denim jacket.
I've taken this new season Classic Scoop Neck Dress (which also comes in navy stripe and khaki) and added some fun but practical accessories – metallic sandals from Rollie Nation and this fun leopard print tote from Gorman.
If you're like me and tend to spend plenty of time at the park, pounding the pavement to and fro kinder/school or have a tropical holiday on the horizon, you'll need to get sorted in the sun smart department too. A wide brim hat and a fun pair of sunnies will do just nicely. I'm loving these pink shades from Country Road's new sunglasses range too.
This post contains some affiliate links. You don't pay any extra and I earn a small commission. Read more in my Disclosure Policy here.
What's your go to outfit come October? Could you see yourself wearing any of these?