Well hello and how are you October?
Can you believe we're officially on the tail end of 2017 now, with only 3 months of the year left?
Where has it gone already?
Hashtag Blur.
I'm sure, like me, your calendar is already filling with all sorts of end of year events and you're mentally preparing yourself for a crazy end to the year.
Some of that mental preparation may include what to wear to upcoming events or what to wear now the weather is gradually – finally – changing and becoming milder.
I'll cover outfits ideas and inspo for some of those big events in the coming weeks and months – including the Spring Races and work Christmas parties – but for the moment, in this post, you'll find some new season outfit ideas to get you inspired and sorted for work, date night and the weekend this month and beyond.
This first outfit is a fresh take on work wear for Spring. Instead of the usual black basics, I've included a bright pop of colour in this easy wearing royal blue Relaxed Model Silk Dress and added some lighter neutral shoes and accessories which can be mixed and matched with what you've already got.
If there is ever a time for the ever chic trench coat, Spring is definitely it.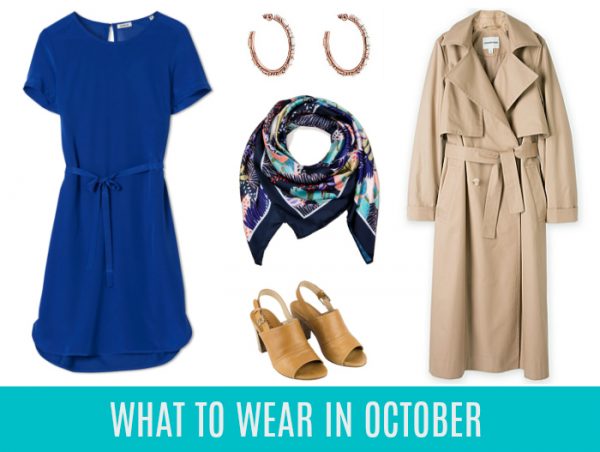 ABOVE:  Relaxed Model Silk Dress, $149.95 from Marcs;  Valentine Hoops, $49.95 from Witchery;     Fresh Tropics Border Scarf, $29.95 from Portmans; CATE Mules in Tan, $219.95 from FRANKiE 4 Footwear;  Cotton Longline Trench, $111.75 (on sale) from Country Road.
How fab is this pretty Fresh Tropics Border Scarf? With plenty of colours to work with, including navy, coral and white, this scarf easily dresses up or adds interest to a block coloured frock.
Come the weekend, it would work back just as well with a simple white tee or top and jeans.
Trench coats are especially handy at this time of year, especially when you live in the southern states where it's chilly in the morning. A classic style, neutral coloured trench like this Country Road version is a great addition to any wardrobe and a great price too.
Finally, I'm always on the look out for a comfortable pair of block heels for summer and I reckon this mule style is a stylish all round, on trend option for work. The Sara heel is a great option if you prefer a lower block heel.
If you're looking for pieces to update your monochrome work wardrobe, check out Target's latest work wear range including this Classic Everyday Dress, $29. I'm also loving the great range of block and print tops at Portmans which you can check out here.
Now, let's turn to some outfit inspo for Party Town. Jumpsuit anyone?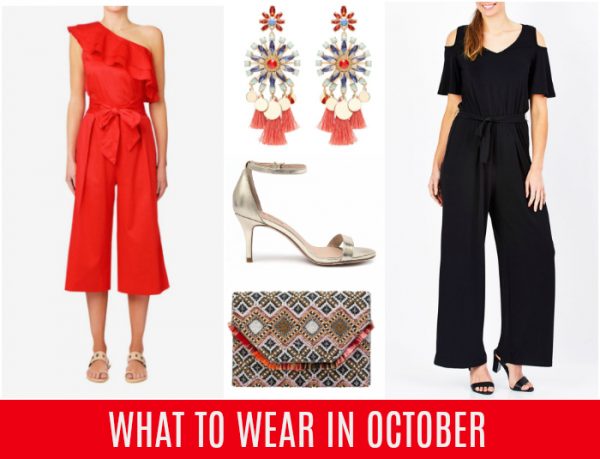 ABOVE: One Shoulder Jumpsuit, $139.95 from Seed Heritage; Statement Earrings, $29.95 from Sportsgirl; I Love Billy Heels, $79.95 from Styletread; Beaded Clutch, $69.95 from Sussan; Cut Out Shoulder Jumpsuit, $119.95 from Birdsnest.
Jumpsuits are ideal for this time of year as they give you the coverage (and warmth) of pants but the convenience of an all in one outfit – like a dress.
There are some fab jumpsuit options out right now, but these two beauties caught my eye for different reasons.
This bright royal red number with HELLO RUFFLES is a show stopper. All this gorgeous jumpsuit needs is a great pair of statement earrings or clutch and a simple pair of metallic heels for instant awesome. The one shoulder styling is bang on trend this Spring too.
If you're after a more bra friendly option, this wide legged, cold shoulder black jumpsuit is super versatile and can be dressed up with heels or a pair of blinged up sandals. With black as your canvas you can really play with accessories here too – again, a great pair of earrings or a statement clutch and bold lip are all you need.
The inclusion of the cold shoulder also adds some interest and with it's skin revealing properties, breaks up all the fabric of the jumpsuit.
If you're looking to update a favourite jumpsuit or dress, there are some fab, well priced accessories about now, just in time for the end of year/Christmas party season. While researching this post, I found loads of great options at Seed Heritage, Portmans, Forever New, Sportsgirl and Sussan.
This last outfit combo is fun, colourful and yes, very me!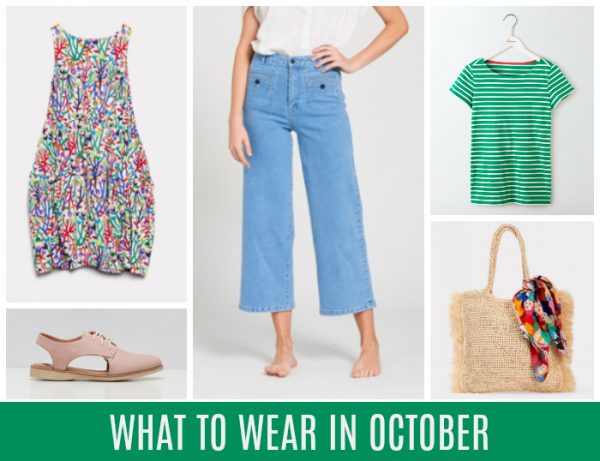 ABOVE, CLOCKWISE FROM TOP LEFT: Best Buds Cotton Dress, $189 from Gorman; Wide Leg Jeans, $159 from Bohemian Traders; Short Sleeve Breton, $31.50 (on sale) from Boden; Pink Slingbacks, $159.95 from Rollie Nation; Field Trip Tote, $159 from Gorman.
I'm definitely on the culottes/wide leg pant band wagon – as you'll see in this post and later this week – and I'm loving this 70s inspired, high waisted jean style from Bohemian Traders. Paired with a simple striped tee – I love the awesome range of short and long sleeved Bretons at Boden – and a great pair of flats and you've got a fun, comfortable and fabulous casual outfit.
If dresses are more your thing, a statement print dress like this Gorman one always creates plenty of options in the accessories and shoe departments, as there are plenty of colours to play with. I've chosen to pick up the soft pink – one of this year's most popular hues – as it works back beautifully with all the neutrals and varieties of denim from light shades through to black and indigo.
I'd also substitute white trainers here – I'd wear my NAT sneakers.
Finally, a tote is always handy for kid wrangling or working from a cafe – large enough to stow snacks, drink bottles, laptops and all the other usual essentials. This Gorman version is fun and fabulous but you'll find more budget friendly options at Seed Heritage here.
This post contains some affiliate links. You don't pay any extra and I earn a small commission. Read more in my Disclosure Policy here.
What's your go to outfit for Spring? Which of the above outfits would work best for you?