With the scent of blossoms in the air and the arrival of daylight savings here in the southern states, it's beginning to feel a lot like Spring.
More hours of daylight and milder days are also bringing with them some optimism (of the Dan 'slow and steady' variety of course), that we may even have some sort of Summer after all.
So as I've been trawling through my favourite fashion retailers' websites, I can imagine a time when I could actually wear the new season clothes on offer – and I'm not talking about Spring loungewear. Jumpsuits, dressy tops, fun frocks and accessories other than face masks could actually be a reality.
My reality.
WOW. SO good!
And on that note, in today's post I've put together three outfits I would happily wear in or post lockdown.
Drinks for two in the park anyone?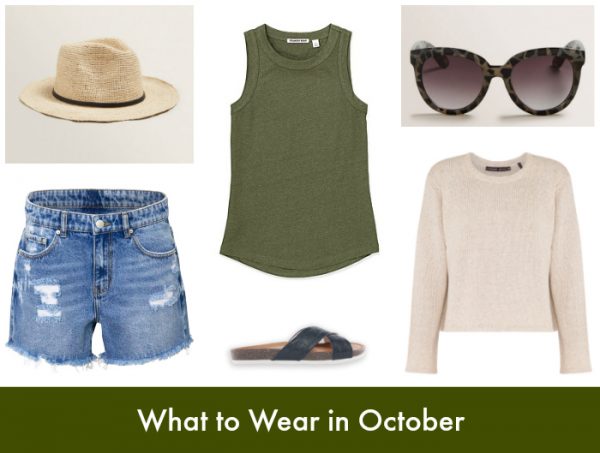 ABOVE, CLOCKWISE FROM TOP LEFT:
Hat, $59.95 from Seed;
Linen jersey tank, $49.95 from Country Road; 
Sunnies, $39.95 from Seed;
Knit, $139 from Mister Zimi;
Brenda Slides, $159.95 from FRANKiE4 Footwear;
Distressed shorts, $69.95 from Decjuba;
This first outfit is ideal for those warmer Spring days that start – and end – on the fresh side. I love that this look incorporates layers, comfort and neutrals all working together for a relaxed but put together look.
I'm the first to check and refresh my tank situation as soon as it begins to warm up, and I'm loving this linen jersey tank from Country Road. I bought one last Summer, and loved how this relaxed fit, higher tank style worked back with shorts and slides, jeans and a merino cardy or tucked into a printed skirt. With five neutral colours to choose from, I'll be adding more to my stable.
Denim shorts are a warm weather staple for many of us too, and this distressed pair adds a boho casualness that I'm loving. Throw on a light knit – such as this new Mister Zimi style – and you're good for those socially distanced drinks at the park or a BBQ with friends.
I've included a pair of new season Brenda Slides too – I'm here for anything which is slip on but also has arch support.
This next outfit is a bit of a fantasy for me, but I'm all for positivity right now and I know there are many of you in other states who have a stack of social occasions coming right up.
How fun is this jumpsuit from Mister Zimi's latest collection, Kokomo?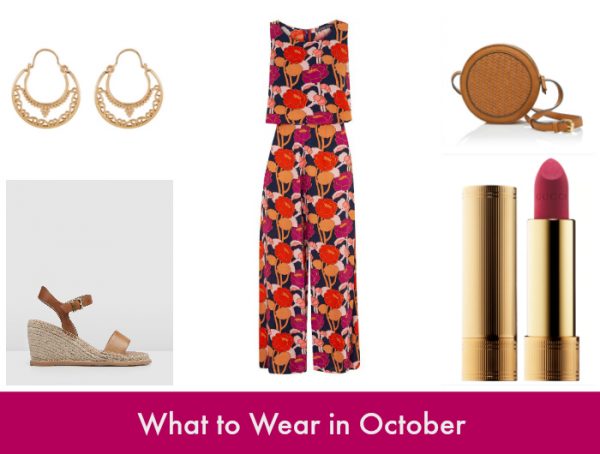 ABOVE, CLOCKWISE FROM TOP LEFT:
Boho earrings, $12.95 from Sportsgirl;
Jumpsuit, $189 from Mister Zimi; 
Bag, $39.95 from Sportsgirl;
Gucci Three Wise Girls lipstick, $42 from Sephora;
Espadrille wedges, $99.95 (on sale) from Jo Mercer.
This divine 'Oasis' print was super popular on Mister Zimi's new season launch day last week, with many styles selling out within hours. At the time of writing this post, this style is still available in this print in sizes (6 – 12) and in the white colourway in all sizes here.
As well as providing coverage from pesky mozzies and lockdown neglected legs, I do love that jumpsuits are a great trans-seasonal alternative to dresses. I prefer to wear mine with a decent wedge which complements the boho vibe while elongating my legs as I've done here, and minimal but complementary accessories. I'd also work a big pair of hoops here to channel those '70s feels. These leather covered pair of hoops, $16.95 from Sussan, like the Sportsgirl ones above, are another budget friendly option.
A bright pop of lippy – I love fuchsia paired with orange – and you're good to go.
If you prefer a dress to a jumpsuit, this block coloured, tiered pink Olivia Midi Dress, $189 from Mister Zimi could be easily substituted in for the jumpsuit and worn with all the same accessories.
For a new season update on a classic smart casual look, this final outfit fits the bill.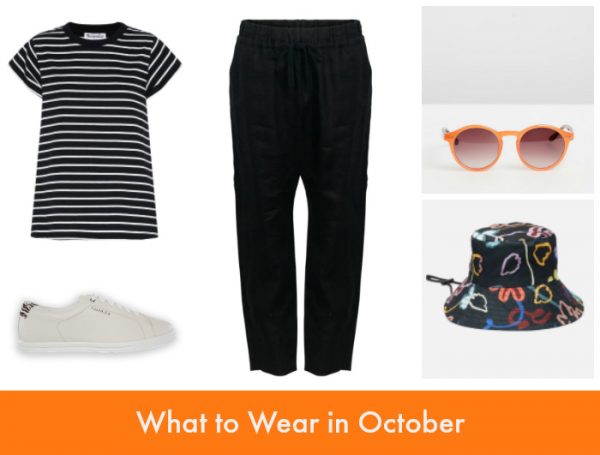 Striped tee, $59.95 from Bohemian Traders;
Drop crotch linen pants, $89.95 from Decjuba;
Sunnies, $59.95 from The Iconic;
Sunhat, $69 from Gorman;
Chloe sneakers in Zebra, $239.95 from FRANKiE 4.
I'm always looking for – and wearing – striped tees with jeans and white trainers for an easy every day look. To mix things up a bit, I change up the pants to a relaxed jogger style jean or printed or block coloured pants or culottes.
I do love a pair of linen pants at this time of year after a long Winter of jeans and leggings, and find them endlessly versatile and easy to wear, particularly on those in between, trans-seasonal days. Even better if they have an elasticised waist. These drop crotch linen pants pictured above are a relaxed shape and fit and a good option if you're a fan of or want to try drop crotch pants. For something similar but different shape wise, I recently bought myself these linen culottes from Sussan which I'm looking forward to wearing post lockdown.
A couple of fun accessories – how cute is this printed sunhat and I'm loving this tangerine sunnies! – create some interest and a pop of colour too. For a lower key, neutral approach, the hat and the sunnies in the first outfit would also work here too.
This post contains some affiliate links. You don't pay any extra and I earn a small commission. Read more in my Disclosure Policy here.
So over to you, which outfit is your pick? Are you ready for Spring fashion?