December really covers the spectrum when it comes to wardrobe requirements.
From dressy cocktail parties and long lunches right through to casual picnics, BBQs and the beach, not to mention the business-as-usual days whether they're spent at home, the office or somewhere more exotic.
It's all happening.
And it can be tricky to work out exactly what's required across all scenarios.
I know that for me lately, after several years of 40ths and other formal functions, this year I've had to consciously steer myself away from the glam frocks that always take my fancy because most of what's coming up for me has a dress code of smart casual at most.
That's why in this month's What to Wear post, I wanted to include a variety of fun and fab options for whatever your month holds.
Like me, you might be almost done and dusted with the dressy do's and looking for some relaxed, holiday outfits for Christmas Day, New Year's Eve and beyond.
Alternatively, it may have just begun and you'll practically be in heels and bling all month – Christmas Day and NYE included.
Well, whatever is on the calendar this month, today you'll find loads of fresh and fabulous options, from the formal right through to the casual; from the inexpensive through to investment pieces and plenty of fun accessories in between to complete your look.
One last thing before we launch in.
My advice – particularly if you're on a budget and looking to maximise your bang for your buck – is to try and stick within a colour palette as I've done below and try a broad range of retailers – not just your usuals. You'll hopefully find some less expensive pieces to bulk out your options and you can also mix and match, creating a mini capsule wardrobe. This is especially helpful if you're travelling and need pieces to earn their suitcase real estate.
Always start with checking your wardrobe before you shop, so you can see what you can build on too.
ABOVE: 1. Feeling Festive Dress, $275 from Birdsnest; 2. Mexicola Tassel Earrings, $24.95 from Seed Heritage; 3. Pantone Spot Dress, $169 from Gorman; 4. Parker Double Strap Sandals, $159.95 from Jo Mercer; 5. Frill Midi Dress, $39 from Target; 6. Birkenstocks, $143 from Styletread.
If you're looking for some options in the blue department, there are plenty of options about from bold cobalt and wedge wood blue tones through to navy.
Add a pop of citrus and some metallic accents for some extra interest.
Textured accessories and OTS and different necklines are another modern take on this summer classic too.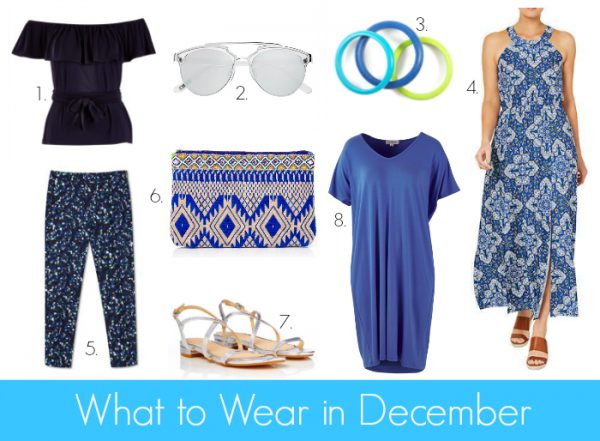 ABOVE: 1. Sacha Drake Off The Shoulder Frill Top, $149 from Birdsnest; 2. Allegra Aviator Sunglasses, $79.95 from Witchery; 3. Atlantis Bangle Mix – Blue, $35 from Ruby Olive; 4. Split Front Maxi, $39 from Target; 5. Animal Print Slim Fit Pants, $159 from Marcs; 6. Take Me to Mykonos Clutch, $29.95 from Dotti; 7. Gypsy Strap Sandals, $49.95 from Portmans; 8. V Neck Shift Dress, $79.95 from Birdnest.
If you're after a printed OTS dress, the Riri Tropical Dress, $89.95 from Portmans is well worth a look.
For simple silver earrings that go with everything – including the metallic accessories above – the Maya Teardrop Earrings by Nicole Fendel, $69 from Birdsnest are a good option too.
If monochrome is more your thing, this collection might be just the ticket …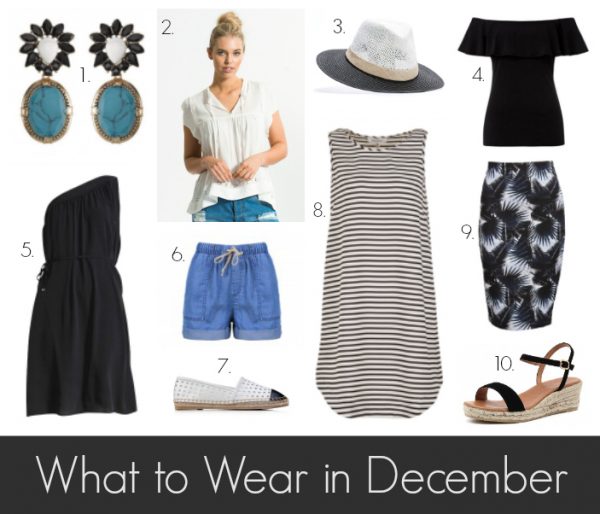 ABOVE: 1. Midnight Dahlia Earrings, $189 from Samantha Wills 2. Embellished Boho Top, $109 from Bohemian Traders; 3. Tina Fedora, $79 from SABA; 4. Frilly Off the Shoulder Top, $49.95 from Seed Heritage; 5. Sansa Mini Dress, $279 from SABA; 6. Positano Draw String Short, $69.95 from Decjuba; 7. Kylo Perforated Espadrilles, $159.95 from Jo Mercer; 8. Sleeveless Shift Dress, $79.95 from Birdsnest; ; Cannes Ponte Tube Skirt, $89.95 from Decjuba; 10. Sofia Cruz espadrilles, $169.95 from Styletread.
Other pieces that would work with this collection include the Birdkeepers Denim Skirt, $69.99 from Birdsnest; Easy Linen Coverall, $149 from Bohemian Traders; Yellow Brick Road Mini, $110 from Tiff Manuell or the Gone Bananas Tote, $59 from Gorman for a printed clutch/tote with a pop of yellow. The Cebu Maxi dress, $159.95 from Decjuba is also a winner for hot summer nights.
Finally, if you're heading to the beach/poolside shortly, you might be interested in this post on Where to Shop for Swimwear.
This post contains some affiliate links. You don't pay any extra and I earn a small commission. Read more in my Disclosure Policy here.
Are you looking for mostly casual or dressy pieces right now or are you sorted for December and beyond?