Today's post is in response to a reader request from Deb:
"Just wondering if you have done a post on bathers? If you haven't, could you?!! I need to know where I can find bathers that fit a normal woman with boobs. I need lift and underwire if possible!!"
I hear you sister and I'm answering your call in today's post.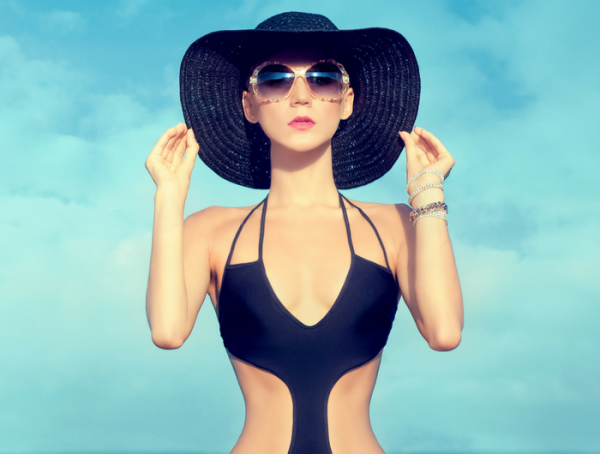 As much as I might dream of wearing a tiny crochet triangle bikini or a high fashion cut out number like the one above, the harsh reality is that my girls need waaay more than a 10cm square of crochet come Summer.
I need support, and lots of it – usually underwire – and don't mind a bit of ruching for my post baby stomach too.
But shopping for bathers can be a major ordeal as far as first world problems go – worse than jeans shopping, and that's saying something.
Today's post is designed to not only answer Deb's question but to also help you find the right togs for you – no matter what your size and shape.
Firstly, here are my tips for buying the perfect cossie:
1. Don't expect to buy the first pair you try on – expect that it's going to take several attempts to buy the right pair. Allow enough time and head space.
2. Don't be too hard on yourself – I doubt even Jennifer Hawkins loves herself in bathers – fluro lighting in change rooms is no-one's friend.
Be kind to yourself and keep things in perspective. On the beach or at the pool, people are more concerned about how they look/what shenanigans the kids are up to – they're too busy to look at you, so go with something YOU feel comfortable and fabulous in.
3. Go with a friend and help each other – you might be your own worst critic but your friend will tell you what suits you and can help you sort between the options, especially if you do the same for her.
Similarly, ask the store assistant for help. She'll be able to save you time and know exactly where to direct you.
4. Don't go after lunch or a big meal – try and go when you feel at your best. If you only hit the pool/beach with a tan, go while you're faux tan is still visible so you get a better picture of how you'll actually look.
5. Size Up – like strapless bras, I nearly always go up a size when I buy swimwear. I'd rather have the length and sufficient coverage in a bigger size (I have a long torso) than risk a Pamela Anderson circa Baywatch situation.
6. Try on a variety of different styles, necklines and brands – try on different styles and colours to find what suits you.
Many of us – especially post kids and if you have big boobs – gravitate to a one piece. Be open to the idea that a two piece combo may suit you better, particularly if you have a long torso or need underwire support.
In fact, many retailers make only two piece swimwear for bigger cup sizes as the tops offer the support of a bra. Don't think this means a triangle bikini though – most offer tankini styles if you're concerned about showing your stomach. Then it's just a matter of finding a pair of bottoms to match and there's usually a few options on that front too.
Try styles with moulded cups and internal bra shelfs as well as underwire options too, if you're looking for support for the girls too.
Keep an open mind when it comes to colours and prints too – they may be more flattering, even though you may naturally gravitate to neutrals or block colours.
7. Don't expect this to be an inexpensive exercise – decent togs with excellent support aren't cheap but you often get what you pay for. For example, I bought an eye wateringly expensive pair of Jets bathers back in 2012 that are still going strong. I have some less expensive back up pairs from Boden for pool side cocktails.
So where do I shop for bathers? I'm glad you asked …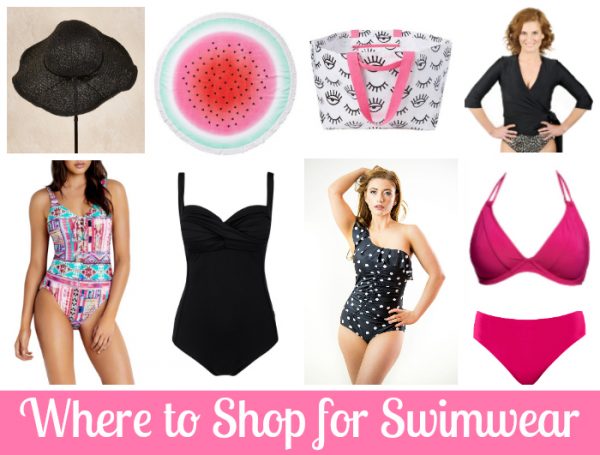 TOP ROW, LEFT TO RIGHT: Trinidad Hat, $59.99 from Birdsnest; Round Towel, $34.95 from Cotton On; Winking Eye Oversized Tote, $22.95 from Project Ten; Black 3/4 Swim Wrap, $149 from Aquacove.
BOTTOM ROW, LEFT TO RIGHT: Beach Bazaar Lace Up Mailliot, $169.95 from Myer; Rival D Twist Front One Piece, $99.99 from Swimwear Galore; Greta Ruffle Spot, $199 from Sirens Swimwear; DD/E Cup swimsuit (with underwire), $199 from JETS;  Triangle Bikini Top, $94.95 from JETS; Full Bikini Bottoms, $64.95 from Jets.
This swimwear supermarket is a great place to go when you really don't know where to start i.e if you haven't bought bathers for ages, you're pregnant, recently had a baby, or you just want access to loads of styles.
There are six bricks and mortar stores in Victoria (I usually go to Fitzroy but they're also bayside at Mornington, Sorrento and Geelong) but you can also shop online.
I love that they stock over 100 brands and that their collection covers all shapes and sizes – petite to plus size and for cup sizes A to H. They have maternity and mastectomy friendly options too.
I haven't shopped online there before, but they pledge to mirror their "exceptional in store service by offering quick and simple returns and exchanges". There's also a Shop by Shape feature to get you started. For example, the styles recommended for big busted ladies can be found here.
There's also a great range of men's and children's swimwear too.
2. David Jones/Myer
Major department stores stock a range of leading brands making this a great one stop shop that's not too overwhelming size wise.
David Jones stocks JETS, Zimmerman, Camilla, Speedo and Shona Joy among many. They no longer stock Isola by Megan Gale though – head to Swimwear Galore instead.
At Myer, you'll find Cosi by Jennifer Hawkins, Seafolly, Piper, Freya and Heidi Klum Swim among others.
You'll also be able to earn store credits and take advantage of seasonal promotions too.
3. Seafolly 
At Seafolly (online and in store) you can shop according to cup size so you can quickly narrow down which styles will give you the support you need. For DD/E cups, shop here.
If you like vintage style swimwear and the opportunity to try bathers on at home before you buy, definitely check out Sirens Swimwear.
They have a range of swimwear including a plus size range which includes one and two piece styles in a range of fun retro prints.
They also offer a Try 5 at Home deal where you can choose 5 pairs to try on at home if you pay the requisite $199 refundable deposit. Details here.
5. Jets
JETS have a great range of bathers and their online store can help you find the right bathers for you. Using the search function, I found all their underwire styles here.
I've found JETS togs to be great quality and the in store assistance helpful too.
6. Speedo
If you're someone who loves to swim or spend a lot of time actually in the water (I don't mind a dip but I'm happiest poolside, book and refreshing beverage in hand) you can't go past Speedo.
They do a range of styles from traditional racer back to more fashionable prints and they tolerate chlorine extremely well.
Many local pools stock a limited range but you can check out the new range at The Iconic here.
7. Boden
While they don't specialise in swimwear, I've always been a big fan of the well priced and great quality swimwear at UK brand Boden. All last summer's range is currently on sale (limited sizes but still plenty on offer, shop here).
In particular, I'm a huge fan of their wrap swimsuit – I have 5 pairs at last count, all picked up for a song off season. It's not an underwire style but the moulded cups and wrap style give my girls the support they need. The stomach firming ruching is excellent too.
Their new SS17 swimwear range should be available early January, so stay tuned.
If bust support is not your biggest concern, also try the following:
Finally, don't forget your beach/pool accessories – a wide brimmed sunhat; a swim wrap from Aquacove for fabulously fashionable sun protection; a fun beach towel (how fun are these roundie towels from Cotton On, above); and beach carryall like this oversized option from Project Ten.
And if you're looking for some fab poolside/beachside frockery, check out the great range at Adrift. Nikki over at at Styling You has some great tips for choosing pool side coverups in this post too.
This post contains some affiliate links. You don't pay any extra and I earn a small commission. Read more in my Disclosure Policy here.
Where have you found great togs? What could you add to the list above?