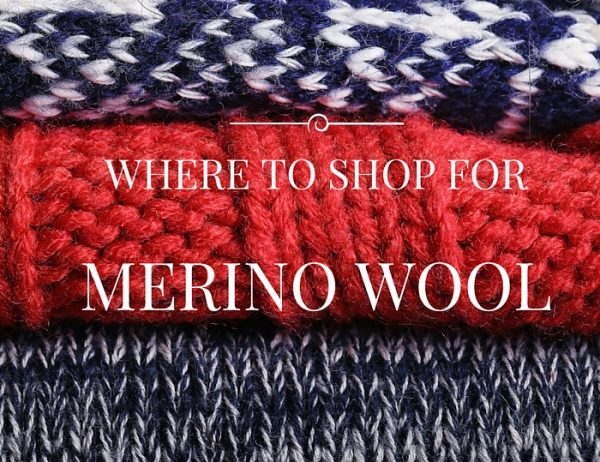 Dressing for warmth – while avoiding bulk – can sometimes be tricky.
I'll never say no to a puffer coat for the school run, for example, but there's nothing streamlined going on there.
While that's OK some of the time, other times, I'm looking for options that are flattering as well as warm.
And that's where merino is such a winner – it's fine (as opposed to thin) and warm, without the bulk.
As I get older I'm finding myself more and more sensitive to texture too – I love that merino is soft on my skin and breathable. I do love a chunky knit but increasingly, I'm finding them scratchy and uncomfortable.
As a result, I'm always on the look out for quality merino for my winter wardrobe. You can imagine how thrilled I was then, to receive this Women's Sweater Dress, $159 from Woolerina, which I'm wearing below …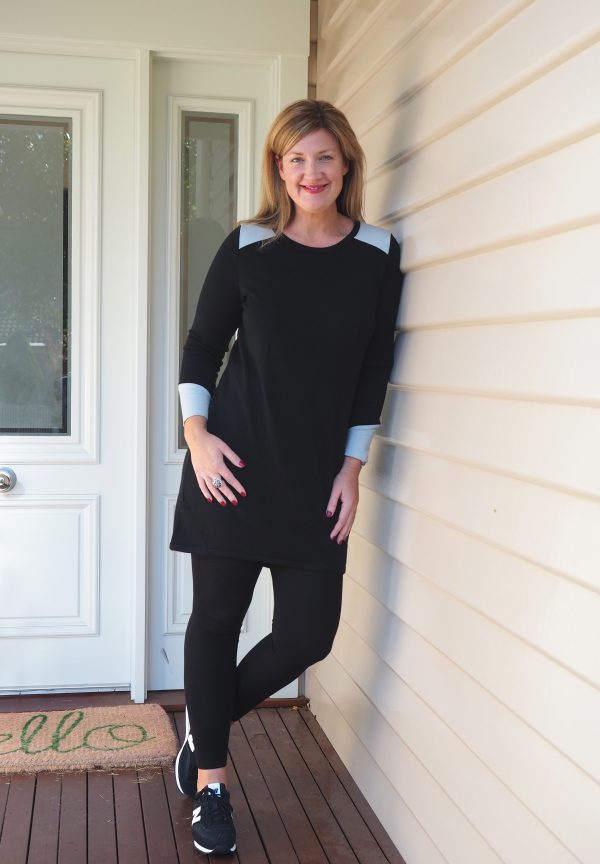 I'm wearing the Women's Sweater Dress, $159 from Woolerina* over leggings from Boden. My New Balance trainers are from The Iconic and my ring is from Angus & Celeste.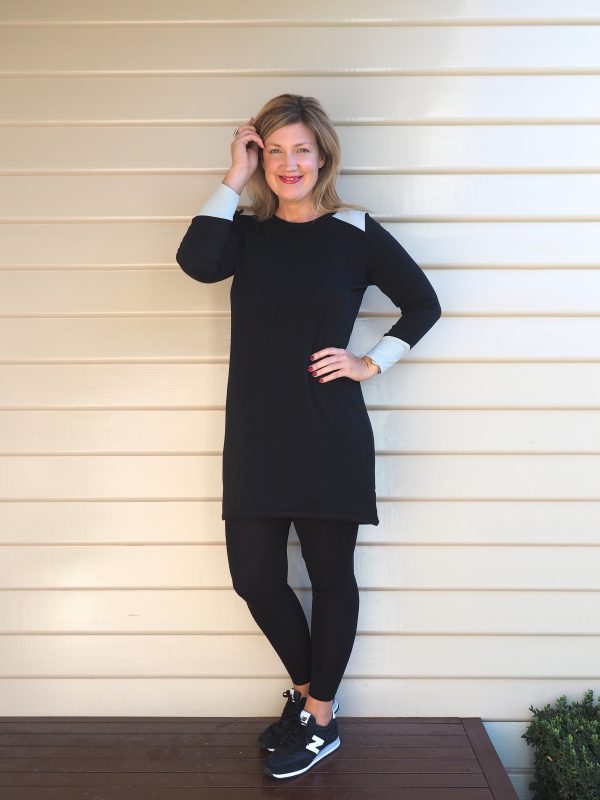 Made from 95% merino with 5% lycra, this sweater dress is the perfect tunic length on me.  I'm wearing it with leggings above, but it would also work over ponte pants and skinny jeans. I'm 5'9″ so if you're shorter, this would be an above the knee length dress.
With it's scoop neck and full sleeves it's practical but the curved hem – it's slightly lower at the back – and silver cuffs add some interest and detail.
The super soft merino means it's lovely to wear against bare skin too – I'm not wearing a tee or tank underneath – but I'm still comfortable and warm.
If you're after a longer style, check out this style. You'll find sizing info and styling ideas for it in this post too.
So where to buy merino wool this winter? Here are some tried and true options below together my edit of what I'm loving in store right now …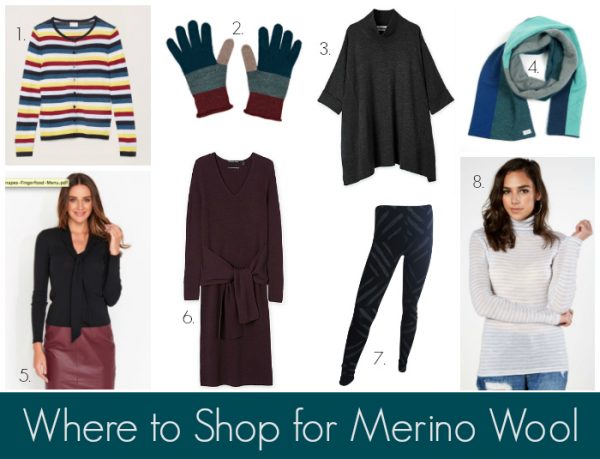 ABOVE: 1. Swiss Family Cardigan, $119 (on sale) from Gorman; 2.Frankie Gloves, $59 from Uimi Store; 3. Merino Draped Poncho, $169 from Trenery; 4. Rocco Scarf, $119 from Uimi Store; 5. Merino Wool Pussy Bow Knit, $79.95 from Portmans; 6. Rib Tie Front dress, $149 from Country Road;  7.  Women's Printed Leggings, $139 from Woolerina;  8. Stripe Roll Neck Merino Top, $39.99 from Glassons.
Woolerina – I'm a big fan of Woolerina, a family run business producing a small but quality range of merino wool for women, men, kids and babies. I've found their products (machine) wash and wear well and are great for travelling. I took a Woolerina dress with me to the US last year which you can read about more here.
Portmans – I've been impressed with the on trend (colour and shape wise) range of knitwear available at Portmans over the last couple of winters. This year I've been loving their longline merino wool cardis – I've bought both black and navy – which are great over skinny jeans and ponte pants.
Their peplum styles are great options for work as they're perfect over pencil skirts and under suits as is this new season pussy bow style above. Check out the full range here.
Glassons – Like many of you, I've been buying the well priced merino knitwear at Glassons for years. They do great, block colour and striped knits that work well for work or weekends. They pair perfectly with printed skirts and pants too.
The colour range isn't as broad this year – mostly neutrals with a couple of stripes in a few styles – but hopefully more colours will be brought out over the coming months.
Uimi Store – designed and made in Melbourne, Uimi Store's range of merino covers clothing and home wares. You'll find a rainbow of colour and beautiful printed scarves and gloves here in amongst some beautiful pieces for home. Check out the full range here.
Gorman – Much of Gorman's winter knitwear range is made from merino wool. The only drawback is that the care instructions nearly always require hand washing, so if you're looking for hardwearing pieces that you can throw in the washing machine, this might not be your first port of call.
If you're after beautiful statement knits and have the time and patience to follow the care instructions though, you'll find plenty of great options here.
Trenery – I've found the quality of Trenery knitwear to be excellent. It washes and wears well and there's usually a great variety of styles and colours in store. Check out the full range of merino knitwear here.
Country Road – Every winter, Country Road includes a great variety of merino wool. From cardigans to dresses to skirts and accessories and across all their ranges (women, kids, men and home).
* This dress was gifted to me in accordance with my Disclosure Policy.
This post contains some affiliate links. You don't pay any extra and I earn a small commission. Read more in my Disclosure Policy here.
Do you wear merino wool? Where do you usually shop for it?