Welcome to day #1 of the #snstexture challenge.
Of course we are beginning with wool.
Why?
Well, for most, a fine wool knit is an essential wardrobe basic for Winter. They are also handy trans-seasonal options for layering in colder climes.
For those really chilly days, I love to wear a chunky knit over jeans and with boots. Oh and a glass of red wine and a roaring fire wouldn't go astray.
For work, a wool dress is a Winter winner and keeps you looking good but also toasty on the chilly commute to and fro.
Then there's the ultimate investment piece – a quality wool coat which will see you through many Winters.
Are you sorted in the wool department?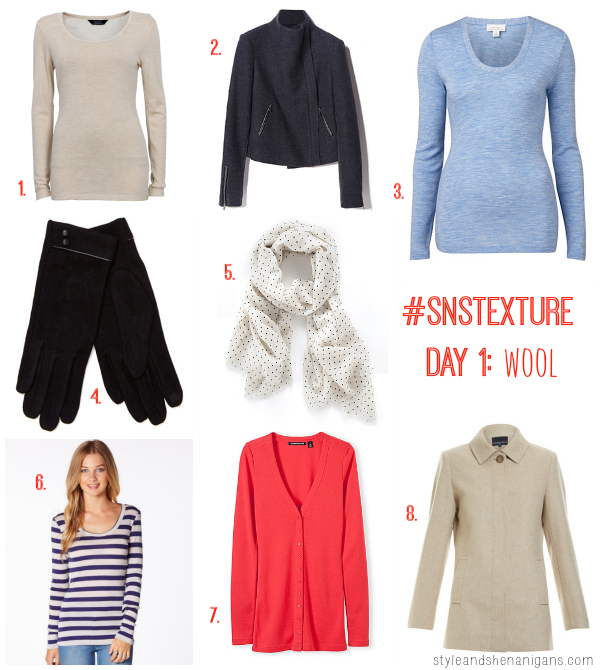 1. Scoop Neck Babywool Jumper, (on sale) $59.95 from De Cjuba;  2. Felted Wool Crop Jacket, $279 from Marcs; 3. Scoop Neck Babywool Jumper, $89.95 from Witchery;   4. Two Button Knit Gloves, $19.95 from Portmans; 5. Spot Wool Scarf, $69.95; from Country Road; 6. Striped Scoop Neck Merino Knit, $29.99 from Glassons; 7.  Long Sleeve Cardigan, $99.95 from Country Road; 8. Cecilia Melton Coat, $249 (on sale) from Sportscraft.
At this time of year, most of the chunky woollen knits are sold out although you might be lucky enough to find the odd one on a sales rack. They are definitely worth snapping up but it's worth checking the cleaning instructions. I recently bought a long line woollen cardy which I later discovered requires dry cleaning. Not happy Jan.
Where to buy wool
If you are looking for 100% merino and don't want to pay the earth, it is hard to beat Glassons (6) for their 100% merino range which is currently on promotion for $29.99. Unbelievable value and quality and all machine washable.
De Cjuba (1), Witchery (3) and Portmans also carry baby wool ranges and a wider variety of styles. I've seen several styles on the sale racks at the moment for around the $50-$60 mark.
I always make a bee-line for Country Road's slim line cardigans (7) each autumn – they wash and wear very well and in Melbourne, I wear them 9 months a year.
Quality woollen coats like (2) and (8) are well worth the investment and if you can pick them up on sale in a colour and style that flatters, you are seriously winning. Try Alannah Hill, Marcs, Zara, Witchery and Country Road.
Check out Sportscraft for woollen dresses. I bought a beauty on sale a couple of years ago that will never go out of style.
Then there are the accessories – if you are out and about early in the morning or late at night, a pair of woollen gloves, a scarf or a beanie is the way to go. Country Road usually have a range of woollen scarves (5) in their Autumn/Winter drops and Alannah Hill go the extra mile with gorgeous embellishments and details. These 100% wool gloves from Portmans (4) are seriously great value too.
Is wool a must have item in your wardrobe? What's your favourite way to wear it? What's your pick of the above?