When I think of leather, memories of Suzi Quatro in her full leather ensemble spring to mind.
Remember this? Suzi rocked leather like nobody's business.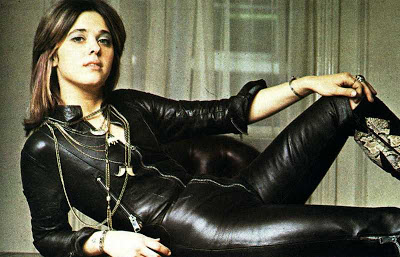 You might not be rocking your leather at the local supermarket/cafe/park a la Suzi Q, but chances are, you are wearing plenty of it: shoes, bags, wallets.
I've certainly covered those bases. In fact, until recently, most of my leather goods have been in the accessories department only.
This season, however, I've made a couple of investments – a genuine leather jacket from Gorman and a "vegan" leather skirt from Marcs which I wore here. They've added a new depth and layer for me this Winter, although I am still workshopping different ways to wear them.
When I scouted around to see what's available in store now, it was refreshing to see not only the classic leather jacket but plenty of colour and up to the minute trends such as (1) and (6) below.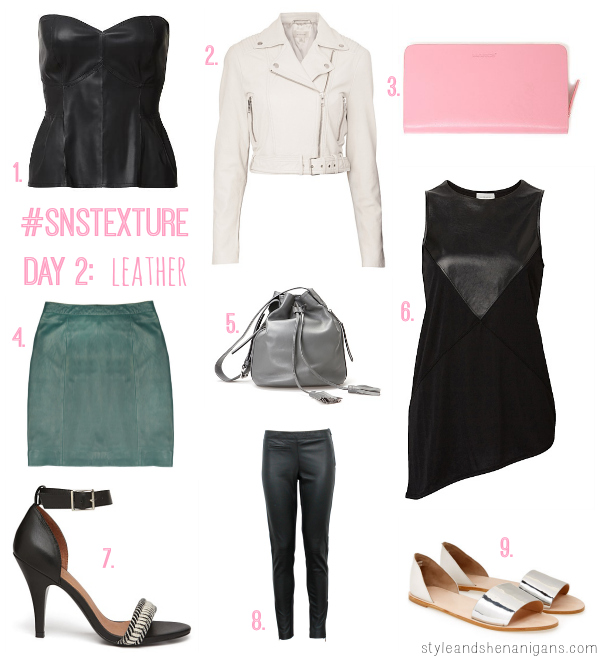 1. Leather Effect Bustier, $89.95 from Seed Heritage; 2. Leather Jacket, $599.95 from Witchery; 3. Leather Wallet from Marcs, $129;4. On a good wicket mini, $134.50 from Gorman; 5. Naomi Bucket Bag, $279 from Country Road; 6. Leather Insert Top, $99.95 from Witchery; 7. Cindy Woven Heel, $149.95 from Witchery; 8. Hanford Leather pant, $80 (on sale) from De Cjuba; 9. Ellie Leather Flat, $79.95 from Portmans.
Where to Shop for Leather
De Cjuba has a great range of leather – think jackets, pants (8) and boots.
Portmans has a 100% leather range too which is well priced and on trend. This season you'll find skirts, shorts, tops and shoes (9), most of which come in under $130.
Gorman always do a great range of leather goods, from skirts (4) to jackets, bags to shoes. There are also some great leather skirts and jackets still available in the Gorman sale.
There are some great picks at Witchery at the moment too including (2), (6) and (7) above.
You'll always find a classic leather bag and a range of colourful wallets at Country Road (5), Marcs and Mimco.
How do you like your leather? What's your favourite way to wear it? What's your pick of the above?