I'm an 80s girl at heart.
I spent my primary and early high school years wearing chambray, ankle socks, (fake) Chuck Taylors, boxy knits and pleated jeans. I also shopped at Cherry Lane, watched The Henderson Kids and listened to A-ha, Feargal Sharkey and Yazz.
It's taken a few decades to recover from the long list of fashion faux pas although the music has stood the test of time.
Despite this, a couple of years ago, I found a rather fabulous multi coloured silk pencil pleat skirt from Veronica Maine for a Christening. It was my first foray into pleats for many, many years. I was surprised to find it was flattering, fabulous and modern.
Yes modern.
Since then, I've kept an eagle eye out for a similar style and finally chanced upon this Winter equivalent – a Vegan leather (the PC term for pleather) pencil pleat skirt from marcs (which I am wearing below) which I picked up in the sales recently.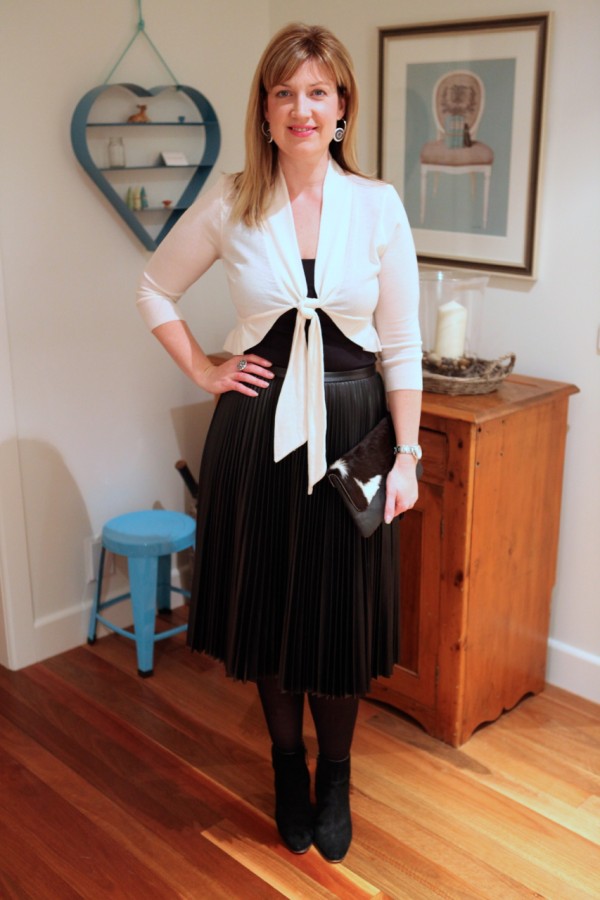 Wearing: Meet Me After School Cardi from Alannah Hill; Seamless tank from Zara; Marcs Vegan Leather skirt (sold out); Seed ankle boots (for similar, try these); clutch from Bali market – details in this post; earrings and ring from Angus & Celeste.
Since then, I've noticed pleats practically popping up everywhere – across all stores and price points. Little details like subtle pleating on necklines through to pintucks, box and pencil pleats.
I have to say I'm loving these pretty details but appreciate that some may approach pleats with caution, either having had a previous bad pleating experience (I feel your pain) or just feeling unsure.
If that sounds like you, here are a few tips to get you pleating stat:
1. Pleats will draw the eye and become a focal point – look for clothes that are pleated in the "right" place for you. For me, this a waisted pencil pleat skirt that emphasises my waist. I would avoid a pleated pant as it would draw attention to my thighs, which would not be flattering on me;
2. Pleats add volume – if you don't want bulk, opt for a pencil or narrow pleat with finer detailing;
3. Pleats add structure – pleats can flatter in tailored pieces as they can balance out proportions. If you are smaller chested, a dress with a pleated crew neckline can enhance this area;
4. Approach box pleats with caution – a little goes a long way. As they can add bulk, look for shorter styles (skirts and dresses) or pair them with fitted, tailored pieces to create a flattering silhouette.
 1. Christina Pleated Maxi Dress, $159.95 from Forever New;  2. Navy pleat neck dress, $49 from Target; 3. Floaty Pleat Shirt $149.95 from Seed Heritage; 4. Pleat Neck Top, $49 from Target; 5. Spliced Pleat Midi Skirt, $129.95 from Witchery; 6. Chambray Pleated Pant, $129.95 from Country Road; 7. Pin Tuck Midi Skirt, $79.95 (on sale) from Country Road.
Are you a fan of pleats? Are you already on the pleated bandwagon or sitting this one out?