This week's Style Update is inspired by a message I received from the lovely Annette:
"Hi Vanessa, I really enjoy reading your posts. I am a mum of three (ages 8, 6 and 10 months) and like your 'Melbourne'-style posts. Anyway, I am looking, but can't find, a denim, A-line knee length skirt. I have a denim skirt but it sticks out at the tummy area which makes it look like I'm still pregnant. If you get a chance, a post on denim skirts that are A – line (and flat fronted) would be great. Thanks!"
Thank you for your question Annette, for getting in touch and for giving me permission to share your message in this post.
Annette's question got me thinking. Even if you have some great statement pieces in your wardrobe, at the end of the day, for many of us, great denim basics form the backbone of our casual, everyday wardrobe.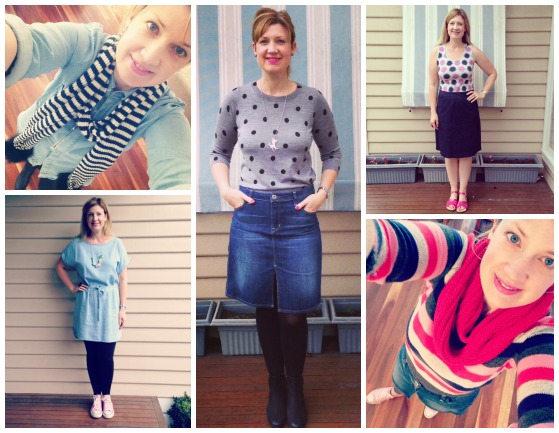 But sometimes, it can be really tricky to find the denim basic that will work with pretty much everything else in your wardrobe. Like Annette, you might be looking for a particular style that you just know will work, is flattering and will give you endless styling combinations and variations.
So in today's post, I've found a range of denim basics from luxe to less. It's great to see that style is accessible, affordable and covers all price points.
You'll also notice that I haven't included jeans. Instead, I'm focusing on the "other" denim options: dresses, shirts, skirts and denim jackets. I'm guessing that most of us have the jeans sorted but some of these other denim basics can be trickier to find.
If, however, you are on the look out for some jeans, my current jean de jour is the Country Road Mid Rise Jegging and info on sizing can be found here. If you are looking for skinny jeans and tips on how to wear them, check out this post here.
1. Denim Dresses
Denim dresses are versatile options year round. In winter, team them with scarves, tights and boots. In Spring and Autumn, they work well with leggings and either ballet flats or Converse for comfortable, everyday style (as I am wearing mine in the photo above). As the weather warms up, a simple pair of ballet flats or sandals and a colourful accessory are all you need for a whole new look.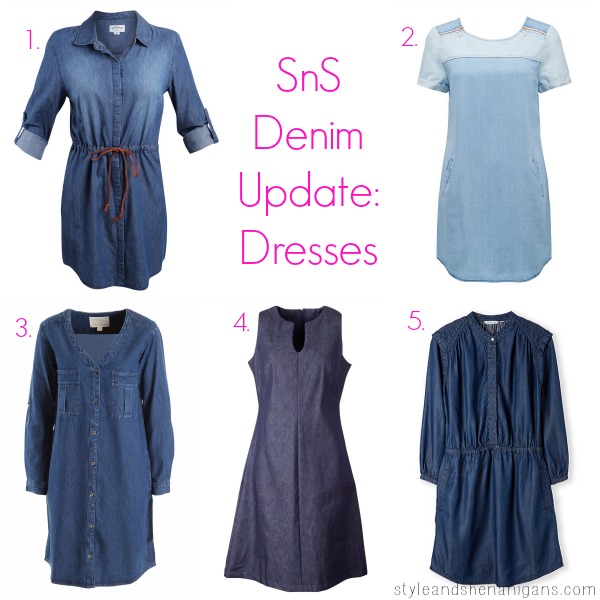 1. Lee Cooper Shift Dress, $29 from Big W (limited sizes available online, check instore); 2. Lilly Contrast T-Shirt Dress, $79.99 from Forever New; 3. Denim Love Dress by Boho Bird, $109.95 from Birdsnest; 4.Plain Denim Tunic Dress by Essaye, $150 from Birdsnest;  5. Chambray Quilted Dress, $179.95 from Country Road.
2. Denim Shirts
I'm loving the new wave of Denim Shirts this winter. I picked up a soft Chambray shirt from Country Road in the recent sale. I'm planning to wear mine with black jeans and leopard ballet flats. In the photo above, I'm wearing it with ponte pants, riding boots and a scarf. In the warmer months, they look great with white jeans or over shorts.
If you're not convinced that you can "do" the denim shirt, check out this great post by Iris May which features denim shirt #3 below.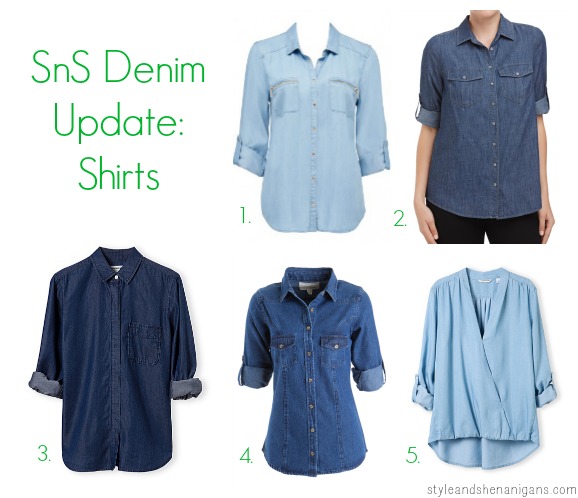 1. Carrie Zip Pocket Shirt, $69.99 from Forever New (limited sizes online, try instore); 2. Dark Chambray Shirt, $79.95 from Sussan; 3. Denim Boxed Frame Shirt, $99.95 from Country Road; 4. Boho Bird Denim Shirt, $99.95 from Birdsnest; 5. Wrap Chambray Shirt, $119.95 from Country Road.
 3. Denim Skirts
I'm ticket holder #1 when it comes to denim skirts. I have every style and length imaginable: pencil, tulip, A-line, full skirt. I find that like denim dresses, they work across all seasons and with all colours and prints.
In winter I wear mine with knits, layers, boots or trainers. In trans-seasonal weather I like a cardy and a pair of ballet flats for comfortable, everyday style. The options are endless really. The hardest task is to find a shape/colour/style that will work for you. Trying on a few different styles (remember to wear the shoes you'd wear with them) is a good way to start.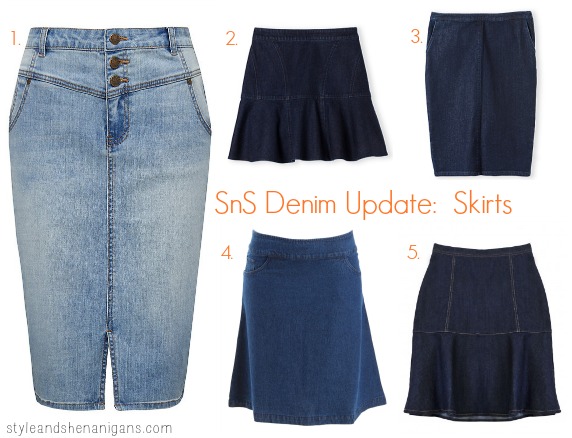 1. Jesinta High Waisted Split Pencil Skirt, $59.99 from Forever New; 2. Denim Peplum Skirt, $59.95 (on sale) from Country Road; 3. Denim Pencil Skirt, $119.95 from Country Road; 4. Daisy Chain Denim Skirt by Boho Bird, $99.95 from Birdsnest; 5. Beatnik Skirt, $149 from Gorman.
4. Jackets
I have a couple of denim jackets which I have literally worn for years. I tend to go for a mandarin collar style jacket (like #1) which lets me layer scarves over the top. I wear my denim jackets over boho dresses and skirts in warmer months and over knits in Winter. They also break up a block colour outfit nicely, as in #4 below.
As the selection below demonstrates, you don't have to spend a bomb to find great styles. There are fab options at every price point.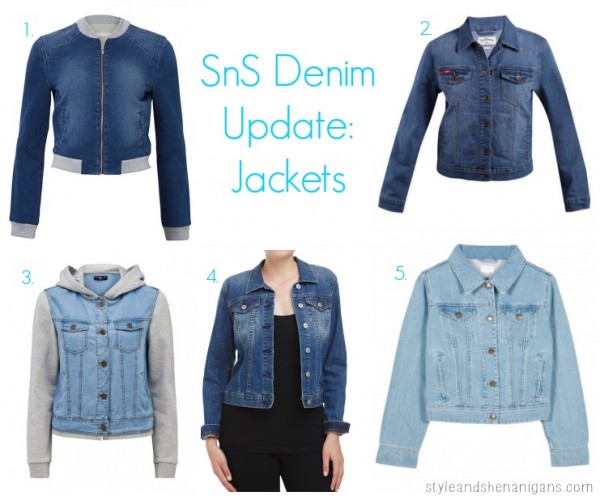 1. Hot Options Denim Bomber Jacket, $24 from Target; 2. Lee Cooper Denim Jacket, $35 from Big W; 3. Claire Fleece Denim Jacket, $89.99 from Forever New; 4. Lady Denim jacket, $99.95 from Sussan; 5. Casual Friday jacket, $169 from Gorman.
What's on your denim watch list? Are you on the hunt for a particular denim basic? Aside from jeans, what is your fave way to wear denim?