If it's not full blown winter in your neck o' the woods right now, but you're hankering for some autumn/winter dressing, I reckon your best bet is a new season skirt.
Why?
Well, you can wear it with heels or ballet flats now, and then, as it cools down, simply add tights and boots.
A good idea, no?
And it's a very good time to shop for skirts if you're in the market.
In stores right now, you'll find everything from minis to maxis; block colour to printed; jersey to wool; denim to silk.
Seriously, there really is a skirt to suit everyone this autumn.
So, in today's post, I've picked out three skirt styles that are as timeless as they are practical: the pencil skirt; fuller and a-line skirts; and the always handy denim skirt.
Below, you'll find 18 new season skirts – 6 of each style – beginning at $19.95.
Let's start with pencil skirts.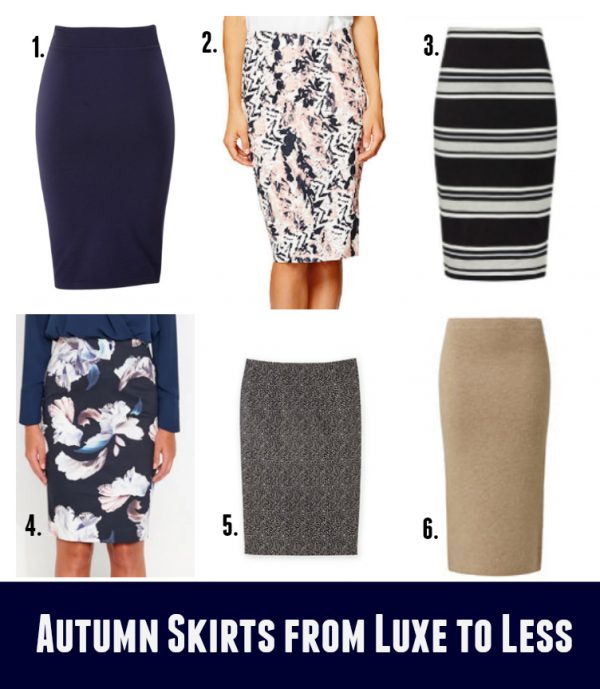 ABOVE: 1. Alicia Midi Skirt, $19.95 from Birdsnest; 2. Ponte Pencil Skirt, $35 from Target; 3. Variegated Stripe Skirt, $59.95 from French Connection; 4. Floral Affair Zip Skirt, $79.95 from Portmans (limited stock online, check instore); 5. Textured Print Skirt, $99.95 from Country Road; 6. Textured Wool Skirt, $129.99 from Seed Heritage.
I'm a big fan of the pencil skirt for work. A classic black or printed style, like (2), (4) or (5) above, looks effortlessly chic with a tucked in shirt, peplum knit or matching suit jacket.
This is also classic Clare Underwood of House of Cards look. She works a pencil skirt like nobody's biz.
In a more casual fabric, like a cotton jersey, a pencil can be a handy alternative to pants or a dress.
I love to wear this style with an oversized knit or a long sleeveless cardy (as a contrast against the fitted skirt) and a pair of trainers.
There are some great options available at modest price points too, such as (1) and (3) above.
One of the biggest trends this season – not just in skirts – is the midi length. This woollen Seed number (6) above, is bang on trend and would work back beautifully with a fitted tee, and a leather or denim jacket.
If you prefer to accentuate your waist, it's hard to go past a classic a-line or a fuller shaped skirt. Below, I've rounded up a variety of styles below, covering a variety of fabrications and lengths.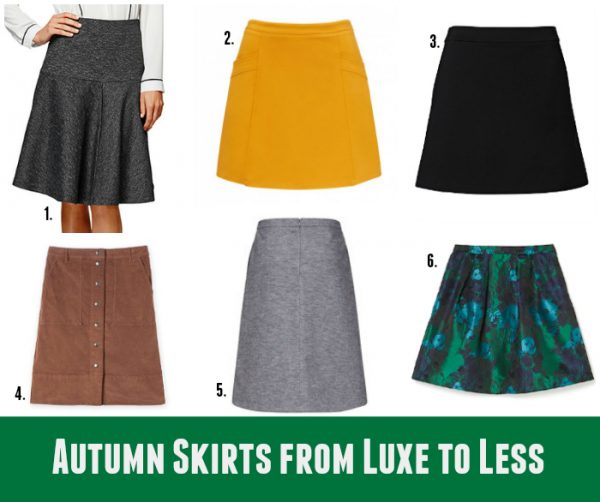 ABOVE: 1. Textured Flip Skirt, $49 from Target; 2. Alice A-Line Mini, $49.99 from Forever New; 3. Ponte A-Line Skirt, $89.95 from Witchery; 4. A Line Cord Midi Skirt, $119 from Country Road; 5. A Line Midi Skirt, $129.95 from French Connection; 6. Les Fleurs Skirt, $199 from Marcs.
If you love a bit of retro styling, a fitted knit tucked into a full skirt is always a winner. Simply add a pair of pointed pumps and a statement handbag to complete the look.
For casual, everyday style, opt for cord and coloured styles like (2) and (4) above and pair with a polo or fitted knit and flat boots. There are some great knitwear options in these styles currently at Gorman.
Textured, ponte and woollen styles are great options for your work to smart casual wardrobe, particularly in neutral colours such as black, charcoal and grey, like (1), (3) and (5) above. Simply add a coloured knit or printed shirt or top.
Finally, here's my edit of new season denim skirts.
Again, midi styles are trending but there are some great pencil and a-line styles still around.

ABOVE: 1. Dorothy Perkins Denim Skirt, $59.95 from The Iconic; 2. Bird Keepers Denim Skirt, $69.95 from Birdsnest; 3. Chelsea Denim Longline Skirt, $69.99 from Forever New (limited sizes online; check in store); 4. Denim Button Through Midi Skirt, $89.95 from Seed Heritage; 5. Chambray Skirt, $129 from Trenery; 6. Jag Midi Denim Pocket Skirt, $129 from Birdsnest.
I love to wear my denim skirt with a striped knit, leggings and Converse for everday or with a knitted polo, tights and heeled boots for dressier do's. I reckon these new season midi length styles would look great with a boxy knit and trainers.
This post contains some affiliate links. You don't pay any extra and I earn a small commission. Read more in my Disclosure Policy here.
What style of skirts feature in your wardrobe? What's your go to shape or style?