As I write this, I'm sitting under the air conditioning duct and trying to stay cool on a 35 – 39 degree day – the max seems to depend on the app – and it seems inconceivable that I will ever be cool again.
Let alone need to layer up.
And yes, even my usual after school Frosty Fruit isn't cutting it today.
Yet, in a few weeks time, we will no doubt be experiencing cool mornings and evenings in the southern states again, as autumn rolls in. In fact I'm looking forward to them on days like these!
While it's tricky to mentally make the transition to knits straight off the bat, most of us are not averse to popping on a scarf over our usual outfits. As well as creating a bit of warmth, I love the pop of colour and textured look a scarf adds to an outfit.
Here's my latest acquisition …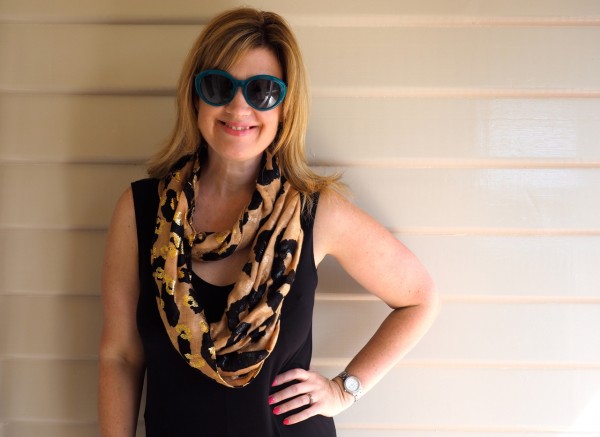 Wearing my new Traditional Foil Animal Snood, $29.95 from Portmans with a Sussan dress from a couple of years ago and my Coach sunnies.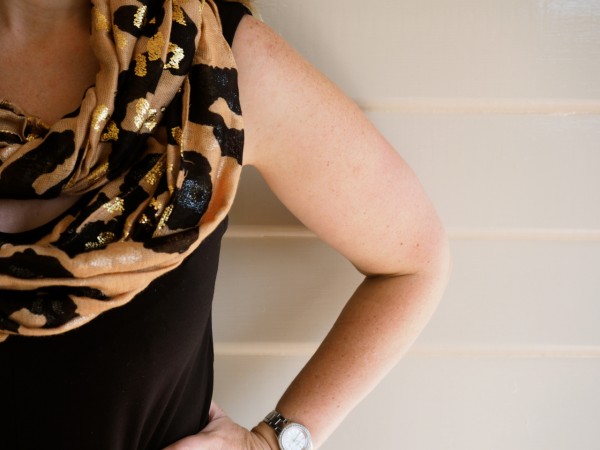 If you're on the look out for a new scarf or snood, there are loads of new styles in stores now and below, I've curated eighteen of my favourite styles, at a range of price points. As you'll see, there are a few key looks:
Metallic accents – Rose gold, gold and silver are everywhere this Autumn. I love this look, especially paired with metallic ballet flats or brogues. If you're a fan of this trend, check out more new metallic pieces here;
Texture – from pom poms to tassels through to boucle, there's a textural element to many of this autumn's snoods and scarves;
Animal print done differently – leopard print has been HUGE over the last few years. New takes on animal print incorporating new colour ways (greys, khakis, creams) and metallic accents are everywhere and one of my favourite new season looks;
Print – from checks and spots through to florals, paisley and abstract geometric patterns, there's a great range of printed scarves and snoods to choose from.
Here are some of my favourite snoods below, including the Portmans snood I'm wearing above.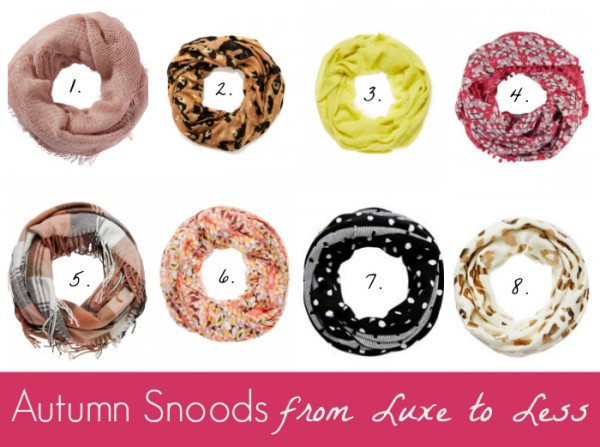 ABOVE: 1. Grid Weave Snood, $20 from Target; 2. Traditional Foil Animal Snood, $29.95 from Portmans; 3. Yellow Loop Scarf, $29.95 from Sussan; 4. Polly Snood, $34.99 from Jeanswest; 5. Geo Multi Loop Scarf, $39.95 from Sussan; 6. Bonnie Check Snood, $34.99 from Forever New; 7. Spot Snood, $59.95 from Seed Heritage; 8. Metallic Ocelot Snood, $59.95 from Seed Heritage.
If scarves are more your thing, there's plenty to choose from, from the light decorative styles through to more substantial, knit options.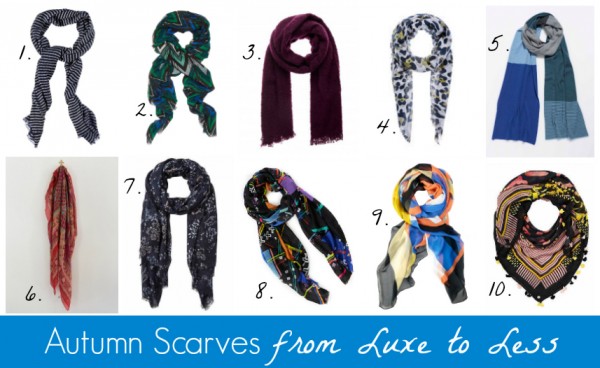 ABOVE: 1. Stripe Scarf, $12 from Target; 2. Jade Jungle Scarf, $29.95 from Sportsgirl; 3. Dakota Boucle Scarf, $34.99 from Forever New; 4. Reverse Animal Scarf, $49.95 from Seed Heritage; 5. Stripe Scarf, $51 (on sale) from Nancy Bird; 6. Gypsy Silk Scarf in Rouge, $59 from Bohemian Traders; 7. Winter Floral Scarf, $59.95 from Witchery; 8. Video Games Print Scarf, $79 from Marcs; 9. Imogen scarf, $79 from Sportscraft; 10. Into the Groove Scarf, $79.95 from Mimco.
If you are looking at all of these and not sure what you'd like or need, consider this.
If your wardrobe is full of neutrals or block colours, perhaps opt for printed or metallic scarves and snoods as they're a great, not to mention easy, way to introduce a bit of pattern or colour without over committing.
Conversely, if you've got a lot of colour and print in your wardrobe (this certainly applies to me), simple but interesting textured, block coloured snoods and scarves are a great, versatile option. If you've been following me over on Instagram for a while, you know I've got three knitted snoods  in grey, red and cream which I get loads of wear from over Winter every year.
Finally, in researching this post I've noticed that the price of scarves and snoods has really shot up. Mid price is now around the $60 mark which seems high to me. If that's beyond your budget, wait for your favourite store's next Spend and Save (Country Road, Seed Heritage, Trenery, Witchery and Saba do these regularly) or head to Portmans, Target, Forever New and Sportsgirl for more reasonably priced options.
This post contains affiliate links. You don't pay any extra and I earn a small commission. Read more in my Disclosure Policy here.
Is it scarf or snood weather in your neck of the woods? Which style takes your fancy? Where do you usually shop for yours?