One of the best things about Autumn-Winter fashion wise, has to be the opportunity to add a scarf to any outfit.
To my way of thinking, they more than justify their wardrobe real estate too.
Not only to they provide a practical warmth factor, they can also add a much needed pop of colour, texture or interest to a simple outfit or block coloured basics.
I really do think there is a scarf for every occasion too.
I love a printed scarf to add interest to an everyday knit, jeans and boots/trainers situation.
For crisp mornings doing school drop off and hours spent watching the kids play sport, I can't go past a chunky knit scarf or snood to keep me warm in between coffee runs.
I also love having plenty of options in the snood department for those many occasions when I'm too tired to put my scarf on properly or prefer the warmth to be concentrated all around my neck – say if I'm wearing a V-neck knit or top for example.
For work, the addition of a silky slimline scarf can transform hard working basics.
For evenings or special occasions, a beautiful, blinged up scarf can really finish an outfit or freshen up an old favourite.
So whatever your scarf requirements, personality or preferences, in today's post I've rounded up twenty of my favourite styles. They are all under $100 – in fact over half are under $50 – and with all the promotional storewide sales and spend and saves going on all the time, there's sure to be a style to fit most budgets. The best value spots for scarves though have to be Portmans, Forever New and Susan and Seed Heritage gets the blue ribbon for best colour range – they currently stock bright pinks, pinky reds, mustards and bold emerald greens.
I'd love it if you could tell me in the comments below, which style or colour is speaking your name this Autumn?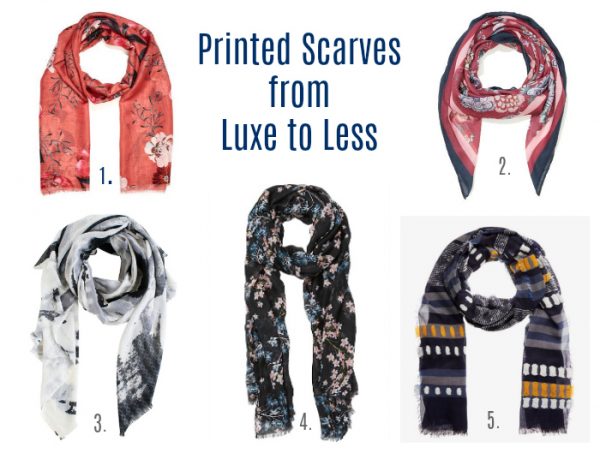 ABOVE: 1. Winter Brights Floral Scarf, $29.95 from Portmans;
2. Winter Chintz Square Scarf, $29.95 from Portmans;
3. Spaced Out Swirl Scarf, $39.95 from Decjuba;
4. Winter Blossom Scarf, $49.95 from Witchery;
5. Diamond Jacquard Scarf, $49.95 from Seed Heritage.
Also check out this Shadow Play Scarf, $69.95 from Marcs.
If block coloured snoods are more your thing, head right this way.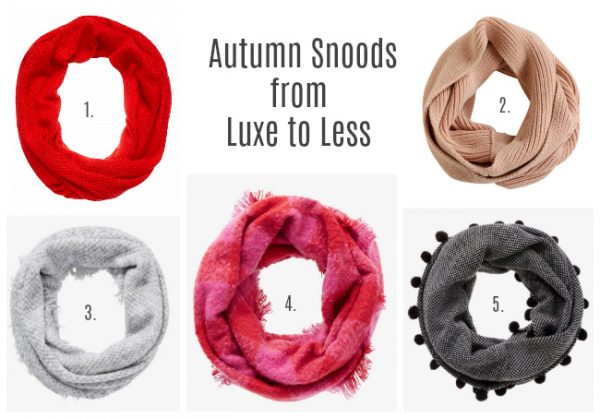 ABOVE: 1. Poppy Snood, $29.95 from Susan; 
2. Knitted Snood, $49.95 from Decjuba;
3. Basket Knit Fringe Snood, $49.95 from Seed Heritage;
4. Check Snood, $49.95 from Seed Heritage;
5. Pom Pom Snood, $59.95 from Seed Heritage.
If you've identified that your work or evening wardrobe could do with a colour injection, adding a scarf is an easy way to go.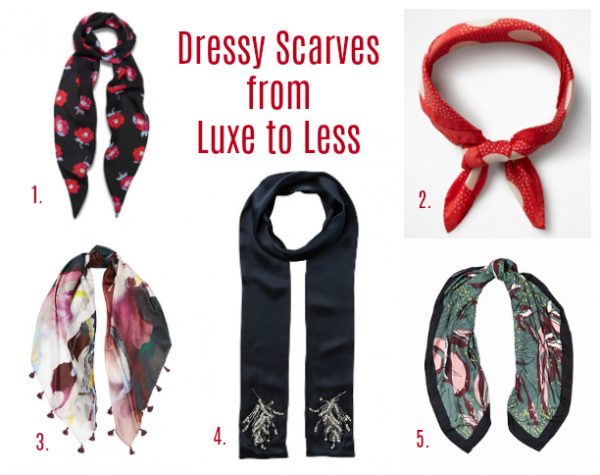 ABOVE: 1. Camilla Print Scarf, $69.95 from Marcs;
2. Loralie Silk Scarf, $75.00 from Boden;
3. Our Watch Scarf, $99 from Mimco;
4. Embellished Silk Scarf, $99.95 from Witchery;
5. Synthesis Scarf $99.95 from Mimco.
If warmth, colour and texture are your idea of a good time, you'll love these chunky knit scarves …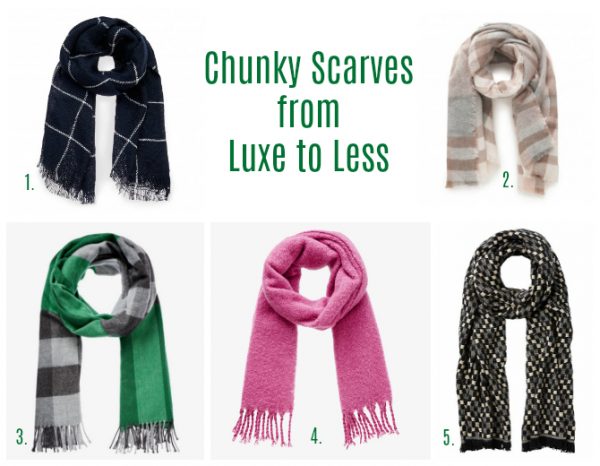 ABOVE: 1. Jess Check Scarf, $39.99 from Forever New;
2. Olivia Check Blanket Scarf, $39.95 from Forever New;
3. Colour block Check Scarf, $49.95 from Seed Heritage;
4. Plush Fringe Scarf, $59.95 from Seed Heritage;
5. Woven Basket Scarf, $89.95 from Witchery.
Finally, if you have a higher budget check out the offerings at Elk, Uimi Knitwear and Nancybird.
This post contains affiliate links. You don't pay any extra and I earn a small commission. Read more in my Disclosure Policy here. 
So over to you, what style or colour of scarf is your pick?