I've been a massive fan of metallic accents in fashion and home wares over the last twelve or so months.
It's been one of those enormously popular trends I've been more than happy to embrace.
On all fronts.
Compared with home wares, in fashion, the metallic trend has been a bit more subtle though: a metallic spot here, a gold thread there, foiled t-shirts everywhere.
What I love about this trend in fashion is how it elevates simple everyday pieces into something a little bit special or just plain fun to wear.
Take my rose gold spotted Country Road sweater I bought last year. As you can see below, I wear it with jeans, trackies, trainers or my rose gold Rollies. Even though I'm technically in "leisure wear" territory, I feel like I still look more than presentable without losing the important comfort factor.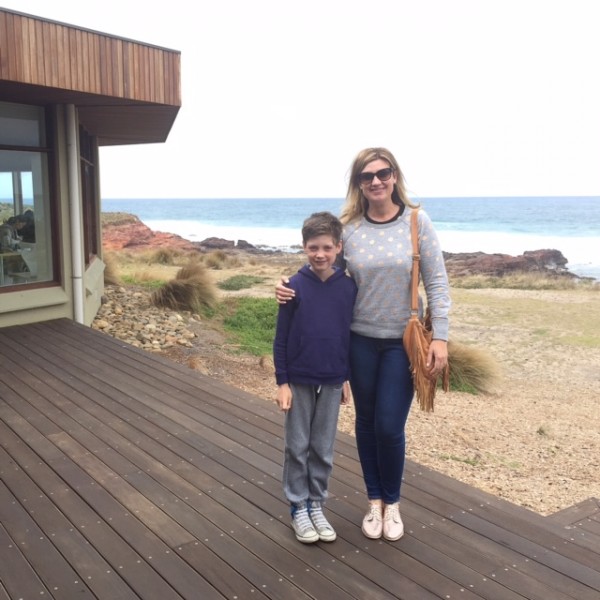 Above, I'm wearing a CR sweater from last Autumn, with CR crop jeggings, Coach sunnies and my Side Cut Punch Rose Gold, $159.95 from Style Tread.
I also love that, unlike with expensive/sentimental jewellery, you no longer have to stick to one of silver, gold or rose gold. With great inexpensive costume jewellery everywhere, it's possible to mix and match and have a bit of fun.
As the new season fashion gradually rolls out, I've been thrilled to see metallic accents carrying through to AW16 (and hopefully beyond). Nothing brightens up a grey day (literally or metaphorically) than a pop of glam, however it comes.
Here's my edit of what's in store now …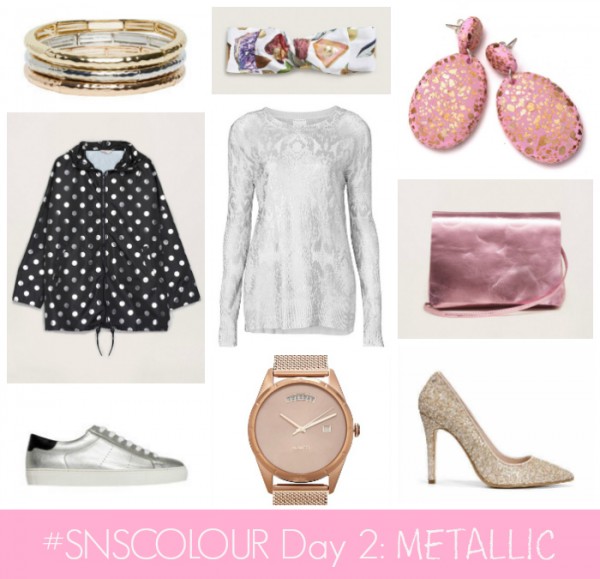 TOP ROW: Mixed Metal Bracelet Set, $19.95 from Seed Heritage; Stacks on Headband, $39 from Gorman; Earrings, $49 from Emily Green.
MIDDLE ROW: Dot raincoat, $99 from Gorman; Foil Snake Knit, $119.95 from Witchery; Connie Bag in Rose, $119 from Gorman.
LAST ROW: Georgina Sneakers, $129.95 from Seed Heritage; Kinetica Timepiece, $249 from Mimco; Red Carpet 100 Pump, $199 from Mimco.
I'm seriously loving all of the pieces here, particularly the Gorman raincoat and the silver foiled knit which are great statement pieces.
Accessories are always an easy way to dip your toe in a trend if you're less convinced, and as far as metallics are concerned, shoes not only look good but can be a really practical neutral. They go with nearly everything and can add a touch of sophistication to a casual outfit. I personally find it hard to go past a pair of metallic trainers or ballet flats for this reason.
Likewise, a great pair of metallic heels or boots can take a block coloured dress or outfit to much more interesting territory.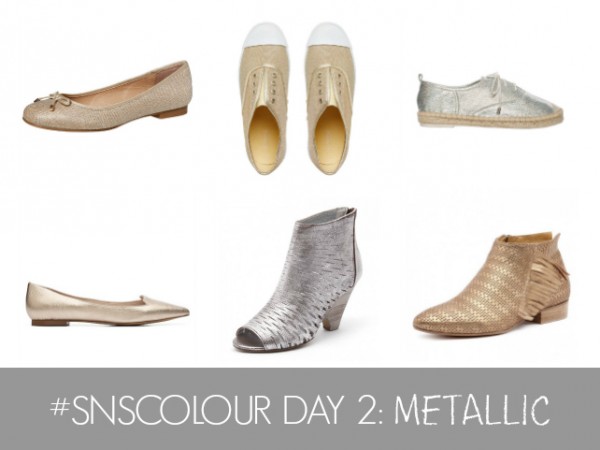 TOP ROW, L-R: Stevie Flats in Gold, $29 from Target; Amber Sneaker in Gold Sparkle, $59.95 from Seed Heritage; Ali Espadrille Flat, $99 (on sale) from Gorman.
BOTTOM ROW, L-R: Elena Flat in Soft Gold, $129.95 from Witchery; Baccio Pewter by Django and Juliette, $199.95 from Style Tread; Vixen Oro ankle boots, $249.95 from Style Tread.
This post contains affiliate links. You don't pay any extra and I earn a small commission. Read more in my Disclosure Policy here.
Do you love a pop or a lot of metallic? How do you like to wear yours? What appeals to you of what's include above?