As some of you might know, I've run the #SNSCOLOUR challenge in the last week of February for the last couple of years (you can read more about them here and here) and I'm bring it back.
Next week in fact!
The very simple idea is to incorporate the colour of the day in your outfit for five days, as a way of mixing things up a bit and also to encourage all of us to shop our own wardrobes.
I know I fall into a wardrobe rut at the end of any season, and with all the busy business of Term 1, I've been in Ruttsville even more than usual.
This year, I'm still working with a colour prompt each day. This time though, it's either a colour that has not only been a strong trend this summer past, but is also being carried over to Autumn/Winter styles already in store (navy, white and metallic); or it's a category that allows you some choice but also allows me to feature some current pieces (neutrals, brights and pastels).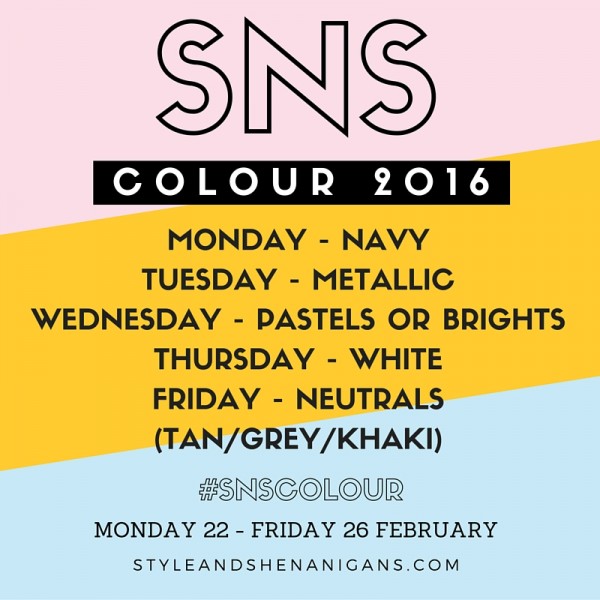 So on Monday, we'll be adding navy to our daily outfit – from nautical stripes and fun spots and prints through to block colour and accessories, navy has been a huge hit this Summer.
On Tuesday, add some metallic to your outfit – whether you've got silver, gold or rose gold happening, it's a chance to add some sparkle to your everyday outfit.
On Wednesday, find your favourite pastel or bright, bold colour and wear it with pride. Whether it's pale pink or cobalt blue, I promise you'll feel fabulous!
On Thursday, it's all about the simplicity of white. You might have a crisp white shirt, a boho dress or a favourite tee. Getting back to basics is always a good thing.
Finally on Friday, we'll be playing with all the neutrals – whether you're a fan of grey or the classic autumnal tones of tan and khaki, I'm sure there is a piece hiding in your wardrobe that needs to be rediscovered.
As with previous years, the idea is to give you a reason to rediscover some of the gems hiding in your wardrobe. Wear a little or a lot of the colour of the day, however you like to wear it.
From frocks to shoes, bags and accessories – there are no rules, just an opportunity to have a bit of fun. Play every day or when you can in the privacy or your own home or feel free to join the fun over on Instagram using the #SNSCOLOUR hashtag with your daily outfit photo. A picture of any of your outfit is fine too of course, whatever you prefer.
Every day on the blog next week, I'll be featuring my edit of new season pieces in each of the above categories along with some styling suggestions.
I'll also be posting my daily outfit photo both on Instagram and Facebook and I'd love to see yours too – just use the #SNSCOLOUR hashtag along with your usuals (#everydaystyle, #syheat, #ootd etc) and I'll find you.
Please feel free to share this graphic on social media too!
Would you like to play along? What day are you looking forward to the most? Is anything a challenge?