Well that was a fabulous week!
Thank you to each and every one of you who joined in #snscolour last week, whether it be for a day or two or the full five days.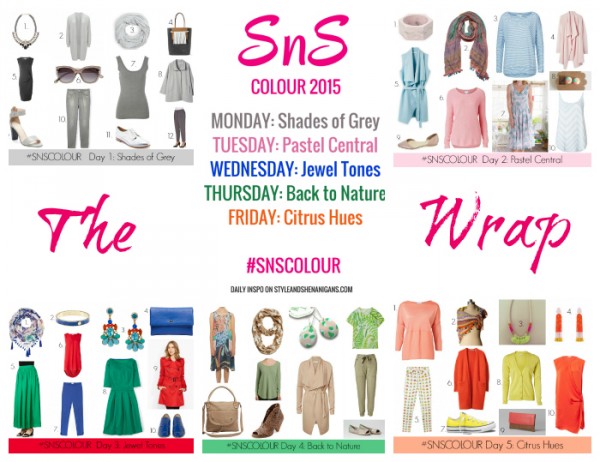 It was awesome and inspiring seeing you every day over on Instagram. I love how IG allows us all a peek into each other's wardrobes and the opportunity to see how everyone interprets and wears the colour/s of the day. So many great looks. So much style out there, covering all sorts of weather, locations, work and play.
Thank you also to those that cheered us all on, gave lovely compliments and virtual high fives that generally kept the vibes positive and uplifting.
And it was also lovely that the only naked lady photo this time around on the #snscolour hashtag was from one of our favourites –  a special thanks Styled by Bec for her literal interpretation of Back to Nature. Bec, you are a deadset ripper.
Below is a visual of the week that was. I loved seeing the different tones, styles and interpretations en masse here. So much fashion inspo happening here!
There were some interesting take home messages from last week too:
– Everyone loves grey and seems to have plenty of it to work with in their wardrobe. My challenge to you moving forward is to wear it a new way – not just casually but dress it up or perhaps try grey jeans or a dress instead of a grey tee for example;
– People seem to be on Team Pastel or Team Neutral but few find themselves batting for both teams. Perhaps we can each take some inspiration and styling ideas from the other;
– Jewel Tones seem to be a collective favourite – most people could identify a favourite and had a statement piece at the ready;
– Citrus Hues were another favourite – people seem to love wearing them and had a favourite hue from acid yellow through to soft peach.
So, now it's your turn. I'd love to hear what you thought. What was your favourite day? What did you enjoy about the week?