Welcome to our fifth and final day of #snscolour 2015.
I know, already!
Today, the focus is on Citrus Hues, those bright, zesty colours that really pack a punch, even in small doses.
As we farewell summer for another year though, it's time to say goodbye to the lemon and acid yellow that has featured in many a summer collection.
If you love a pop of citrus here and there, as many of us do, fear not though, for these shades are being carried through to Autumn/Winter ranges in various shades of orange, tangerine and peach.
Below are some of my favourite picks from what's in store at the moment.
I absolutely love Gorman's new moth print (5) and their colourful new range of jewellery (4) and this warm and cosy oversized cardy (6) from Country Road. Oh and can you believe that this fabulous drapey orange frock from Tarjay will give you change from a $50? Me neither!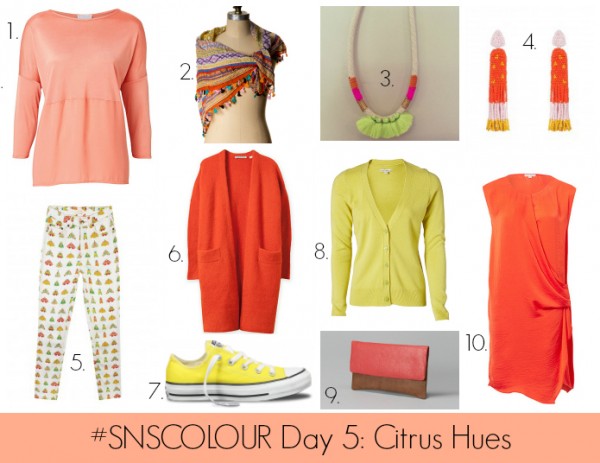 1. Drop Shoulder Top, $69.95 from Witchery; 2. Tree Boundary Scarf in Yellow, $49 from Adrift; 3. Tropical Necklace, $40 from Emeldo; 4. Big Drop Earrings, $69 from Gorman;  5. Wing it high waisted jeans, $189 from Gorman; 6. Ovoid Cardigan, $179 from Country Road; 7. Chuck Taylor All Stars in Citrus, $90 from Converse; 8. Cashmere Feel V Neck Cardigan, $25 from Target; 9. Otta Wallet in Tangerine, $125 from Elk Accessories; 10. Drape Front Dress in Orange, $49 from Target.
So how to incorporate some citrus hues into your every day wardrobe? Try these:
1. Find the shade that works for you. For example, if you like bold tones, a bright orange will work for you. If you prefer softer shades, find a tangerine or peach that works with your skin tone. I love the cooler pinkier tones of tangerine but love a bright pop of orange with navy;
2. Wear your citrus hues now with white and denim (especially chambray) and navy, black and charcoal come Winter;
3. Accessories with citrus tones pack a real punch. I have a pair of yellow Converse that I love to wear on grey, rainy Melbourne days for a lift and a bit of DIY sunshine. A scarf of great pair of earrings is another way to go;
4. Shades of yellow and lemon paired with grey are a match made in heaven and can work across the seasons, depending on the tones and depth of colour. For example, pair acid yellow/lemon with soft grey in Summer and mustard and charcoal in cooler weather.
Do you tend to wear citrus hues? What's your favourite hue?