If there was such a thing, I'd be the #1 ticket holder at Club Pastel.
Or the Mayor of Pastel Central.
Or if I was Prince, it would have been a Pastel Beret.
You get the drift.
I love them.
And I hope they love me.
Last year, at the beginning of spring, it was refreshing to see the return of pastels – mint greens, soft aqua, blush pink and lemon.
I went to town. I invested.
Particularly after a couple of summers of bright, neon tones.
And after years of dressing my babies in pale blue, it was nice to finally wear it myself.
So, it's great to see the pastel blues and pinks carried through to many Autumn/Winter 15 collections. The Autumn pink tone is a soft blush pink which is being featured in everything from textured cardigans (4), resin bangles (1) through to patent flats (9).
Below are a few of my favourites, from Summer ranges and the new, Autumn ranges, all available in all sizes.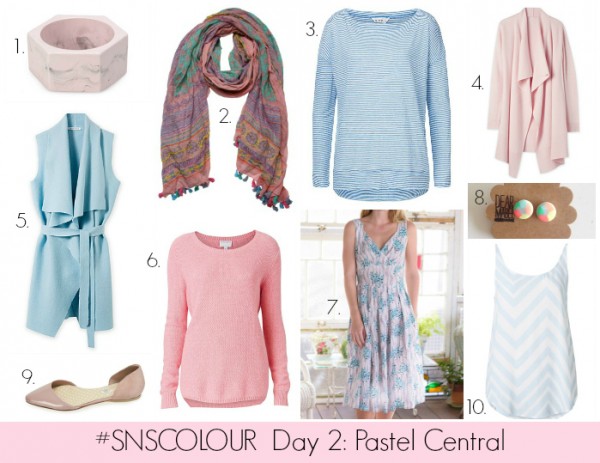 1. Resin Marble Bangle, $29.95 from Country Road; 2. Pastel Pink, Purple and Mint Tassel Scarf, $49 from Blue Bungalow; 3. Linen Striped Tee, $79.95 from Seed Heritage; 4. Textured Collar Cardigan, $149 from Trenery; 5. Boiled Wool Drape Vest, $199 from Trenery; 6. Curved Hem Knit, $99.95 from Witchery; 7. Alice Dress in Port Fairy, $72.50 from Lazybones (on sale); 8. Multi Coloured Sorbet Clay Stud Earrings, $19.95 from Dear Mabel Handmade; 9. Vienne Points in Cheek Pink, $108 from Boden; 10. Print V Back Cami, $49.95 from Witchery.
You can't really go wrong with pastels but if you are looking for some inspiration this coming Autumn/Winter, try the following:
– As I wrote last week, the blues mixed in with soft tones of grey are great combination. Layered and worn together, they are casual but stylish;
– Blush pinks with denim, charcoal and black are also classic combinations and flattering to many skin tones. Even just a pop of blush pink can inject new life into a neutral wardrobe in a safe, non threatening way;
– If you prefer a more modern, urban look, pair your pastels with something edgier, such as a leather jacket or skirt, biker boots or distressed jeans.
As the weather cools down, bolder colours will become de riguer so if you're a fan of the pastel, it's probably a good time to pick up a couple of favourites.
Are you a fan of pastels? Would I find any in your wardrobe? What's your favourite tone?