Darker shades of blue often appear in summer fashion but it's not until Autumn proper that we usually see deep jewel tones in stores.
From ruby reds through to emerald greens, these intense, rich colours are striking and make an impression, even in simple block colours.
A sapphire blue clutch with an all black outfit; a pair of jewelled earrings with a simple emerald green dress; a pair of statement brogues with jeans and a tee. They are all easy ways to make a statement without trying too hard or investing too heavily.
Below are some of my favourite picks from the incoming Autumn/Winter 2015 ranges. It's great to see this trend being embraced at all price points too, from Target through to Mimco.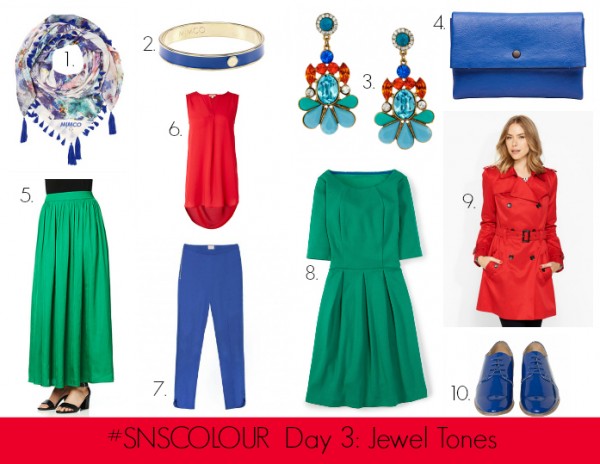 1. Remotica Scarf, $79.95 from Mimco; 2. Narrow Enamel Bangle in Electric Blue, $49.95 from Mimco; 3.  Aster Summer Festival Earrings, $109 from Peter Lang; 4. Allegra Pouch, $49.95 from Witchery; 5. Silk Touch Maxi, $40 from Target; 6. Sleeveless Tunic in Chinese Red, $30 from Target; 7. Mid Rise Skinny Pants, $189 from Gorman; 8. Lindsay Dress, $148 from Boden; 9. Basic Trench, $129.95 from Portmans; 10. Electric Blue Lucido Patent Derby, $165 from Elk Accessories.
If you are looking for ways to incorporate jewel tones in your wardrobe repertoire this Autumn/Winter, here are a few ideas:
– If you have a predominantly black work/corporate wardrobe, jewel tones are your friend. Add a pair of patent shoes, a silk scarf or a coloured handbag in a jewel tone to add simple sophistication to your outfit;
– If you wear a jewel tone in a block colour (such as the red trench coat, emerald green maxi and dress above), keep the rest of your outfit simple and neutral. For example, black patent shoes, skinny belt and a handbag with a block coloured dress;
– Find the jewel tone that suits you and don't be afraid to invest in a statement piece. Red often suits blondes and many of my brunette friends look a million bucks in cobalt blue. For me, I know anything emerald green is always a winner and a special frock or pair of earrings is a worthwhile, long term investment;
– Jewel tones love luxe. For a dressy evening do, add a little fur, leather, suede or sparkle to add some instant old school glamour.
How do you feel about jewel tones? Do you wear them? What's your favourite?