Natural tones and botanical prints are making a welcome comeback this Autumn.
From earthy neutral tones of sand and stone through to all shades of green, it's easy to get in touch with nature without going any where near the garden.
And it's a very good thing.
Why? Well, neutral block coloured pieces make great wardrobe basics.
For example, a cream wrap cardigan (like 8, below) will work over denim for every day smart casual and black pants for work.
A quality pair of tan heels will see you through many outfits over many years.
A pair of skinny khaki pants (9) will take you from day to evening too if you change up your top from a tee to a silk tank and your shoes from trainers to heels.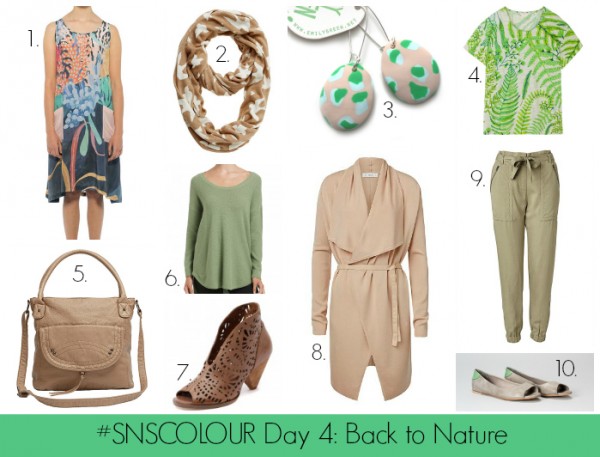 1. Olive Dress in Coralscape, $126 (on sale) from Nancy Bird; 2. Knitted Bird Print Snood, $49.95 from Seed Heritage; 3. Emerald Painterly Earrings, $49 from Emily Green; 4. Greenhouse Tee, $89 from Gorman; 5. Chiara Double Handed Tote, $49 from Target; 6. Textured Longline Top, $89.95 from Sussan; 7. Omera Heels by Django & Juliette, $199 from Style Tread; 8. Collection Tie Wrap Cardigan, $189.95 from Seed Heritage; 9. Slouch Tie Pant, $129.95 from Witchery; 10. Flekker Peep Toe Ballet, $159 from Elk Accessories.
There are a few new takes on nature this season too. I'm loving Gorman's new Greenhouse print (4) above, which is carried through pants, dresses, kimonos, shirts and bags in their new Autumn range.
Coral (1) and butterfly prints (2) are further examples of what you can find this Autumn.
If you are looking to buy a couple of key neutral/nature inspired basics this season, I've found the following have served me well over the years:
– A longline cream/milk coloured cardigan – I have a lighter Metalicus cardigan which I wear during trans-seasonal weather and a heavier, chunky knit Boden cardy which I wear in winter. Both are several years old but get a regular showing in the cooler months. They are not statement pieces by any means, but they make other less weather appropriate clothes much more wearable;
– A quality pair of tan boots or sandals – In summer, I've worn my tan Salt Water Sandals loads. They go with everything and are perfect for holidays when your options are fewer. Four years ago I bought a pair of tan Sambag flat boots. They were expensive even with 50% off but I have worn them loads in the years since. A pair of heeled boots also dress up jeans and can be worn with tights and dresses;
– A neutral coloured coat – whether it be a trench, a pea coat or a parka, a neutral coloured coat will go with everything and be a worthwhile long term investment. If you prefer some colour, add a printed scarf or bright earrings (like 3, above) to break up the sea of neutral;
– A quality tan handbag – this will go with everything above and finish off all your outfits. Buy the best quality you can afford or look out for affordable imitations, such as 5 above.
Do you "do" neutrals? What do you consider to be your wardrobe basics? Are you loving these new season prints as much as I am?