Just between you, me and the back fence, I reckon there might be a few fashion designers with a quiet penchant for Mr Christian Grey.
Why?
Well, grey has been trending for a couple of winters now but this Autumn/Winter, it's bigger than ever.
Several major fashion stores have a "Grey Story". Layers upon layers of knits, scarves, jackets, jewellery, sports wear and snoods in every shade from light grey through to silver and charcoal.
It's big.
Bigger than Mr Grey's, ahem, bank account.
Below, are my picks of what's currently available, and yes, there is loads to choose from in a range of stores at a variety of price points.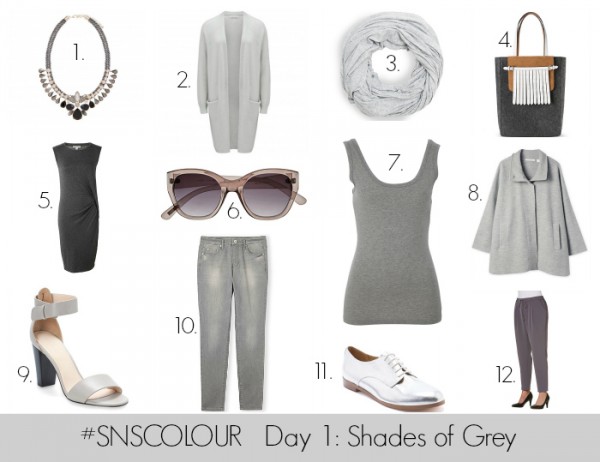 1. Nadine Statement Rope Necklace, $39.99 from Forever New; 2. Sussan Long Mohair Blend Cardigan, $69.99 from Forever New; 3. Jersey Snood, $49 from Marcs; 4. Fringed Pocket Tote, $99 from Country Road; 5. Side Twist Dress in Dark Grey, $30 from Target; 6. Mara Sunglasses, $69.95 from Witchery; 7. Emma Scoop Tank by Betty Basics, $14.95 from Birdsnest; 8. Boiled Wool Cape Jacket, $240 from Trenery; 9. Alek's Leather Heels, $199 from Trenery; 10. Mid Rise Crop Denim Jean, $119 from Country Road; 11. Lavinia Derby, $149.95 from Country Road; 12. Yours Sincerely Cropped Drape Pants, $69 from Target.
So how to wear grey? Here are my tips for this coming season:
1. Pair with denim and white for a fresh, casual look (check out this post for some sporty grey numbers);
2. Layer different shades of grey together – a charcoal knit over a grey dress or silver pair of brogues with a grey longline cardigan;
3. For a soft, romantic look, pair your lighter shades of grey with blush pink;
4. For darker shades like charcoal, contrast with a red lip or a white knit for a dramatic, bold look.
5. While you'd normally pair greys with silver jewellery, this season, greys are being paired with gold accents (such as 6, below) for a modern, less predictable look;
6. If you'd like a change from black as your base wardrobe colour, try a few key basics in grey. They'll work back with your black pieces but are a great neutral in their own right and work with everything that black does.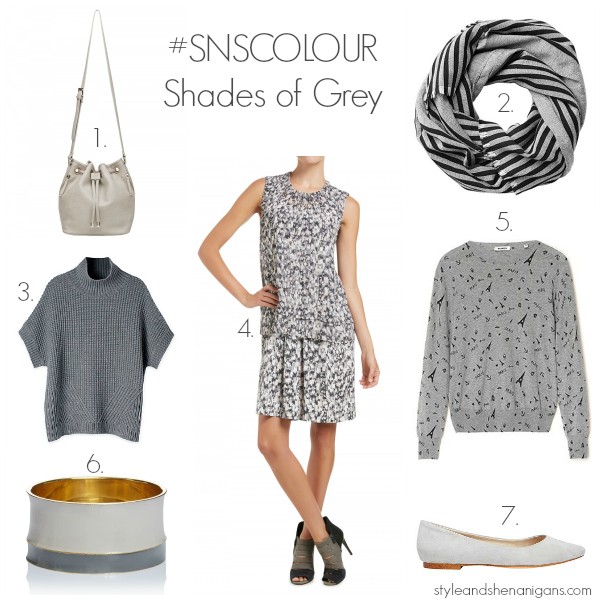 1. Ashley Pocket Bag, $69.95 from Sussan; 2. Stripe Blanket Scarf, $59.95 from Witchery; 3. Cable Stitch Wool Knit, $149 from Trenery; 4. Printed layer dress, $149.95 from Sussan; 5. Paris Print Scoop Neck, $129 from Marcs; 6. Kira Two Pack Bangles, $39.95 from Sportscraft; 7. Lily Flat Point, $99.95 from Seed Heritage.
Is there a little or a lot of grey in your wardrobe? What's your favourite tone? What's your pick of the above?