There's a category of clothes out there that needs a name.
They are the clothes you wear when you need to be comfortable running around after the kids, working from home or stylishly mooching around on the weekend.
While they look "sporty", they are not clothes you would necessarily exercise in or wear to the gym though.
However, they still call for a pair of sneakers or trainers of some description, or in milder weather, a pair of birkies would do.
Some might call them "active wear" or "leisure wear", although the latter conjures up images of retirees, golf buggies and extremely sensible shoes for me.
In the absence of any other name, I'd call them "not quite sports wear". They suggest activity but really, you're more likely to be running errands than running on a treadmill. They often involve a slightly dressier version of trackie dacks and a hoody of some description.
On a slightly different but related (stay with me, I'll get to it) note, last week, I popped in to my local Trenery, having received a friendly reminder that my Spend and Save was eagerly awaiting me. I wandered around the store, grabbed a handful of new season pieces and headed into their lovely change rooms.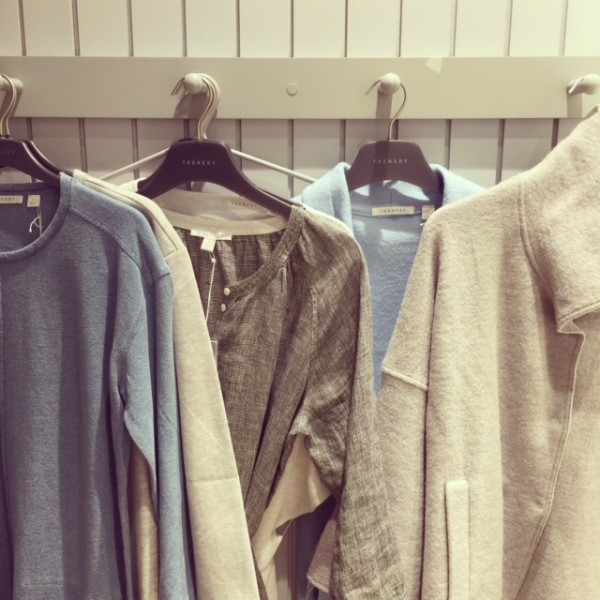 I noticed that I'd been drawn to all the gorgeous powder blue and light greys in store – not surprising really, as I absolutely love this colour palette, particularly in the cooler months. It's not dark and gloomy, like Melbourne in winter, but light and refreshing. I particularly love wearing blues and greys in cosy, textural prints and fabrics such as marles, wool and jersey as the thermostat dips.
Many of the pieces I tried on were basically pieces that fit into the "not quite sports wear" category. I've been trying to find a few pieces to add to a capsule wardrobe I'm building to wear on our upcoming trip to the US that will layer and be comfortable on planes, in transit and for long days of sight seeing. Not quite sportswear is basically what I'm on the look out for.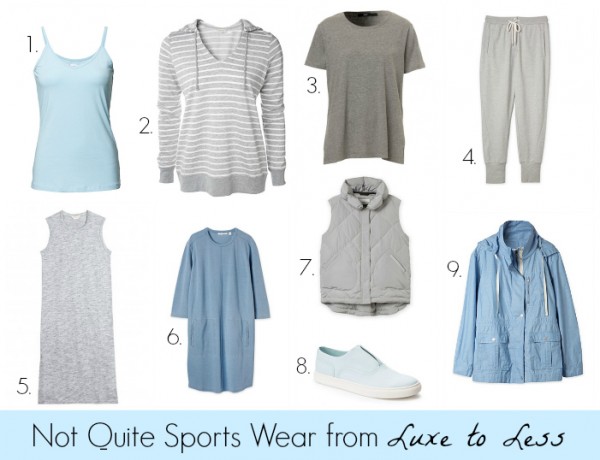 1. Lip Elastic Singlet, $9 from Target; 2. Active Stripe Hoody, $25 from Target; 3. Crew Tee in Dark Grey, $29.95 from Sportsgirl; 4. Harem Sweat Pant, $79.95 from C0untry Road; 5. Muscle Tank Dress, $99.95 from Gorman; 6. Washed Indigo Dress, $119 from Trenery; 7. Puffer Vest, $149.95 from Country Road; 8. Jada Slip On Sneaker, $99.95 from Country Road; 9. Coated Chambray Anorak, $229 from Trenery.
I couldn't go past #6 above which is basically a windcheater dress that I can wear bare legged or with leggings and layered up for cold days. I've also picked up #4 from Country Road – basically posh trackies, perfect for the plane, hanging in the hotel room and layered up for cold days of sight seeing.
Puffers and light anoraks are great for casual trans-seasonal dressing too and I can always do with a new tee or tank to freshen up my basics. The laceless sneaker is everywhere this Autumn/Winter too and is an easy casual option.
All the pieces above will work with the white and denim basics in your (my) wardrobe. The dresses can be worn with sandals or thongs now and layered up with knits, leggings and trainers later. If you have a largely monochrome or neutral wardrobe, a few pops of light blue will freshen things up too.
Are you a fan of "Not Quite Sportswear"? Do you love a pair of trackies? Are you loving these greys and blues too?