I think I'm having a wee colour "hangover" from last week.
Don't get me wrong. I love colour. And I've still been wearing it every day since, but a full week of colour wearing has made me long for the classic simplicity of monochrome.
Why?
Well, as with anything in life, it's all about light and shade.
For me, this translates to mixing up colour, which I generally gravitate to and wear most days, with the odd monochromatic outfit, often a frock. I suspect there might be a few people out there who do the opposite – that is, wear mostly monochrome and throw in a bit of colour every now and then.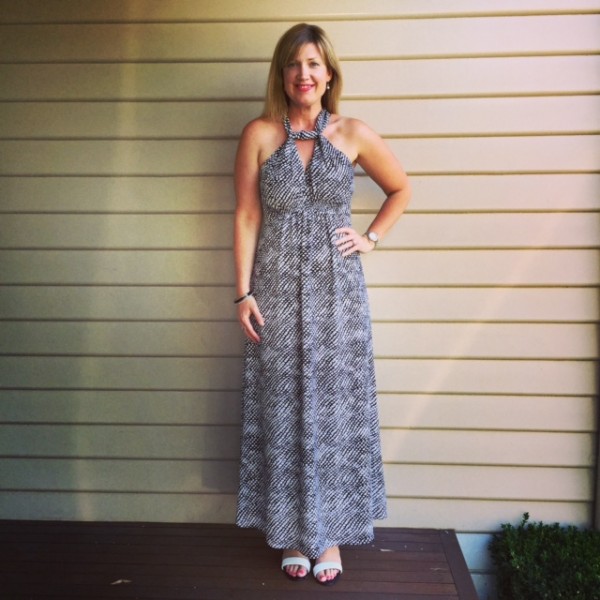 (I bought a couple of great black and white frocks from Witchery this summer, including this tie knot maxi, above which I wore out to dinner for a family 40th birthday dinner).
I'm a bit of a lazy girl at heart and monochrome – just black and white, nothing more, nothing less – is as easy as it gets. Add a bright lip and you're done. Too easy.
Monochrome is having a bit of a moment as far as trends go too. It usually pops up in between seasons (the end of summer and winter, typically) and allows people to refresh their wardrobe basics. Particularly if you work in an office, a couple of fresh monochrome pieces can inject a bit of life into your every day wardrobe.
As monochrome is such a strong trend this Autumn, the stores are currently filled with a great variety of styles. You'll find excellent pieces across all stores and price points too.
Below, I've selected a range of monochrome frocks that cover work and play, beginning at $49. In terms of the cut, some are fitted, some flare from the waist and some are shift styles. They all can be dressed up or down depending on your footwear, hair and make up.
Wear them with peep toes or sandals now and with a cardy, tights and boots as it gets cooler.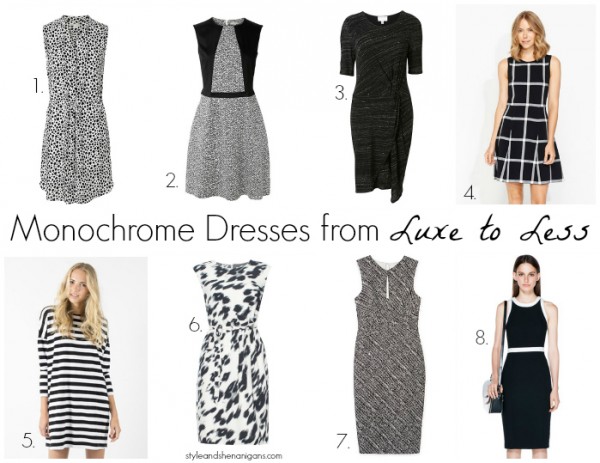 1. Sleeveless Shirt Dress, $49 from Target; 2. Scratchy Print Dress, $59 from Target; 3. Wrapped Jersey Dress, $99 from Witchery; 4. Check it Out Knit dress, $119.99 from Portmans; 5. French Terry Dress in Black and White, $129 from Bohemian Traders; 6. Chase Me Up The Stairs dress, $199 from Alannah Hill; 7. Textured Print Dress, $199 from Country Road; 8. The Graphic Fitted Dress, $269 from Cue.
Monochrome is perfect for a travel capsule wardrobe too – Kirralee from Escape With Kids has you covered from head to toe in this post.
Are there any monochrome frocks in your wardrobe? How do you style yours? What's your pick of the above?