Are you a fan of tunics?
I am. Very much.
Why?
Because they work.
If you spend half your day bending over to pick up toys/children/miscellaneous items, you'll appreciate their midriff covering talents.
They are flattering.
Not just on me but on a variety of shapes and sizes.
A slightly a-line shaped tunic can hide tummies as well as cover bottoms. If you prefer more shape, look for an empire line or a more fitted style, one that drapes and flatters or simply add a belt.
If you are tall like me, tunics cover bottoms and the tops of legs and look great over a pair of skinny jeans, fitted pants or leggings. Add a pair of ballet flats, ankle boots or up the boho-ometer by popping on a pair of heeled brown boots and you are good to go.
If you are shorter or have a great pair of pins, tunics are even bigger wardrobe winners. They can be worn with opaques or leggings in Winter. In summer, they transform into fabulous frocks depending on the length and your comfort levels when it comes to showing off a bit of bare leg.
As for wearing tunics over jeans, this will depend on the length of the tunic and your height –  for me, it's all about the tunic still looking like a long top if you want to avoid the dress over jeans look.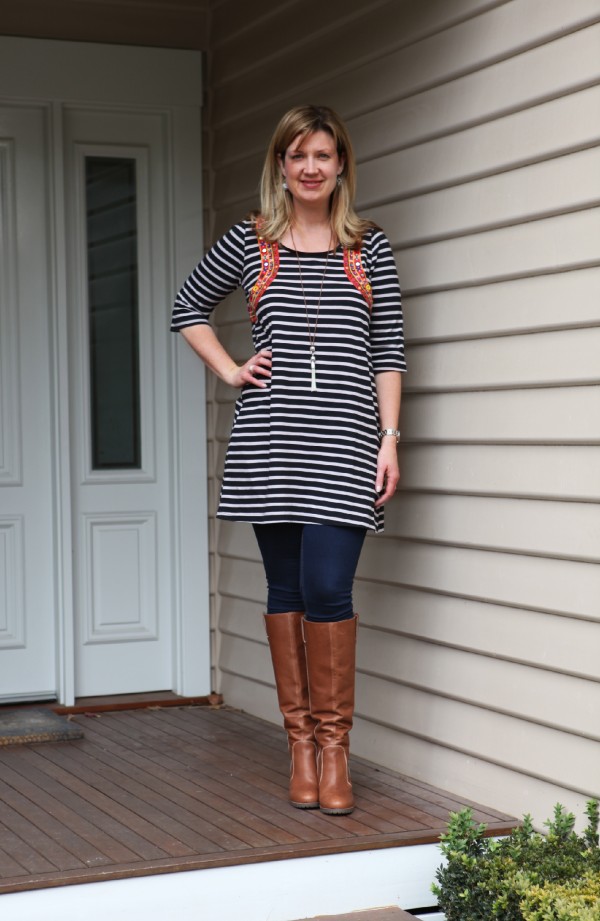 I'm always on the search for the perfect tunic. They can be hard to find as they don't feature in every store, every season.
I've learned to look across a wide range of stores and to think laterally – such as buying a short dress to wear as a tunic, as I've done with this rather gorgeous Boom Shankar Striped Dress above. (If you like this, head straight over to Birdsnest stat – this is new stock but is already selling very quickly).
Below, I've done the legwork to find a range of currently stocked tunics at a range of price points. You'll be happy to know that half of them (1-4) come in under $60.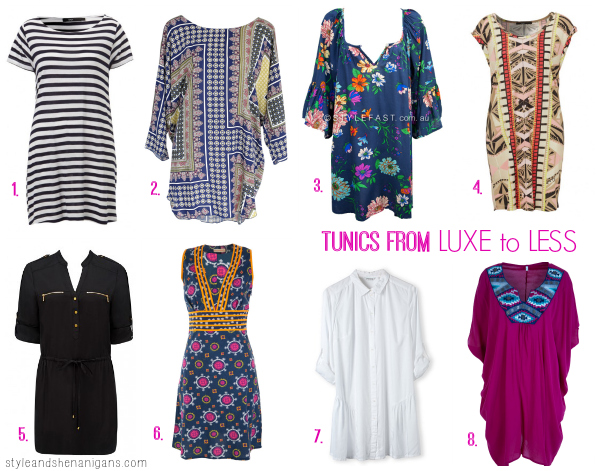 1. Boat Neck Tunic, $39.95 from Sportsgirl; 2. Marrakech Navy & Olive Tunic, $49.95 from Blue Bungalow; 3. Boutique Navy Tunic, $55 from Stylefast; 4. Desert Rose Tunic, $59.95 from Sportsgirl; 5. Cleo Zip Pocket Tunic, $69.95 from Forever New; 6. Olivia Tunic in Blue by Boom Shankar, $89.95 from Birdsnest; 7. Drop Waist Tunic, $99.95 from Country Road; 8. Kaftan Tunic by Vigorella, $139.95 from Birdsnest.
Looking for more tunics and style inspo? My blogging pals Sonia Styling and Kimba Likes are also tunic devotees. Head over to their blogs to see how they've styled the latest tunics from Katies here and here.
Are there any tunics in your wardrobe? Where have you found great tunics lately? What's your pick of the above?