This week I've been re-acquainting myself with my Winter wardrobe.
In the four weeks we were away, Autumn has well and truly morphed into Winter, bringing with it cold mornings, drizzly rain and cool days. As I write this post, the forecast for the next few days in Melbourne is 14, 14 and 14. And it's not even May!
Each morning, as I've dressed for the school or kinder run, I've needed to throw a warm jacket with a hood over the top – padded or quilted for warmth and a hood for the inevitable drizzle at drop off or pick up time.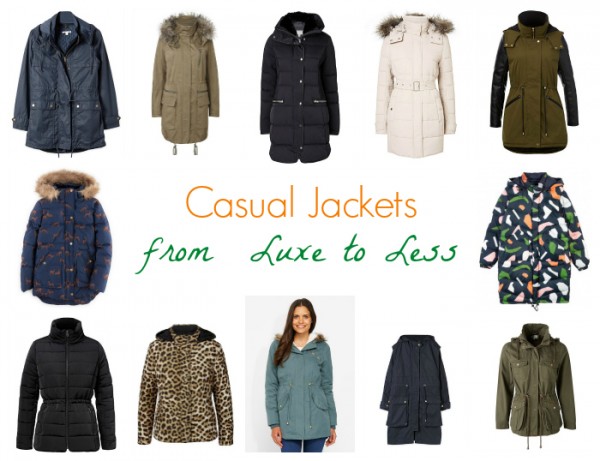 A casual jacket has definitely been my go to wardrobe item this week and for me, definitely a Winter wardrobe must have. When I did a quick audit, I realised I've well and truly covered the options here with several parkas, puffers and raincoats of varying warmths, lengths and colours. While I've accumulated mine over many years, these casual jackets have been excellent investments and continue to serve me well, year in year out, often for 9 months of the year here in Melbourne.
In today's post, I've curated a selection of new season puffer jackets and anoraks from luxe to less. While sitting at the casual end of the fashion spectrum, these casual jackets are excellent cool weather friends, keeping you warm and look stylish. They are perfect for weekends, holidays or even every day wear, depending on what your day holds.
This season's anoraks come in varying lengths and warmth (some are unlined while others have fleece or padded linings). It's worth trying on a few to see what level of warmth you need, factoring in what you'd wear underneath it and where you live.
In Melbourne, I need an anorak with some serious fleecing or padding. If you live in warmer climes, an unlined anorak with a knit underneath may be sufficient for mild Winter days. I also prefer styles with a hood so I can leave the umbrella at home when it's drizzly.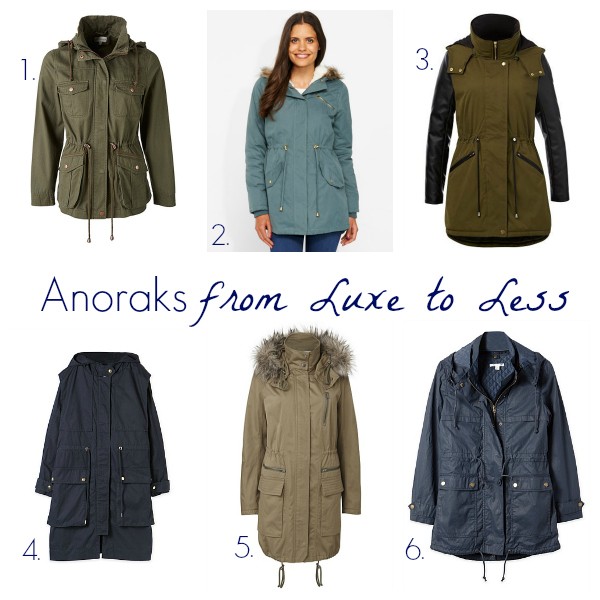 1. Multi Stitch Jacket in Khaki, $79 from Target; 2. Fur Trim Anorak, $169.95 from Portmans; 3. Splice Anorak, $169.95 from Seed Heritage 4. Pocket Detail Parka, $199 from Country Road; 5. Oversized Anorak, $199.95 from Witchery; 6. Cotton Coated Anorak, $249 from Trenery.
As you can see from the selection above, there are plenty of on trend khaki offerings around this season. This is a classic casual look and looks great over denim and black. If you're after something a bit different, try one of the new navy styles. (For ideas how to wear navy this season, check out this post).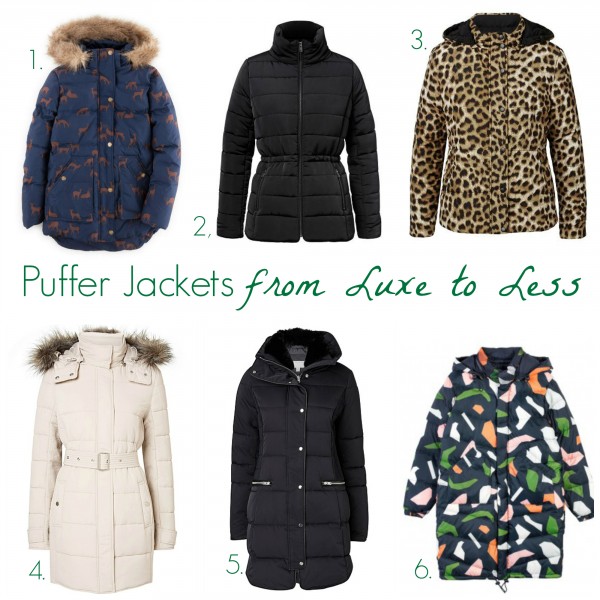 1. Padded Parka, $80.40 (on sale) from Boden; 2. Puffer Jacket, $129.95 from Seed Heritage; 3. Reversible Cheetah Reversible Puffer Jacket, $149.95 from Seed Heritage; 4. Longline Puffer, $199.95 from Witchery; 5. Luxe Puffer, $249.95 from Witchery; 6. Jigsaw Puffer Coat, $389 from Gorman.
I do love a puffer jacket for the warmth it provides without the weight. Some days I like to feel like I'm wearing a doona without the accompanying bulk!
This season, it's great to see some fun prints breaking up the usual neutral offerings. There's no doubt that a black puffer jacket is an excellent investment, but if you've got that covered and are looking for a different length or style, check out a different colour or one of the fun prints, like the leopard print (3) or jigsaw print (6) above.
Are you a fan of the anorak or puffer jacket? Do you have one? What's your pick of the above?