This week's fashion post was inspired by SnS reader, Hannah:
I "accidently" gave my favourite winter cardigan to the op shop two years go and am still in mourning (well that's where I think it is) and then I shrunk the replacement that I bought last year. My perfect cardigan was a country road cropped wool cardigan, really thick so I wore it as my mummy coat. It had a BIG collar that if it was cold, doubled as a scarf if I did all the buttons up. It was a cardigan so when it was warmer, I could wear it open. It was wool so I could wash the spilled milkshake etc. I'm looking for something that is just as easy to wear, is smart enough that I can wear as my work coat when I'm, running late, but that I can just wash myself, that is stretchy (I find coats too restrictive), but that looks good. I've decided that maybe a poncho could be my new thing.
So my question is .. As I don't think I should try and find an exact replica of my favourite cardigan, what is available now that would do the job.. and in our Melbourne climate, do you think that the poncho would work just as well?
Thanking you Vanessa
Firstly, thanks so much for your question Hannah.
I'm sure there are plenty of us on the look out for quality outerwear to take us through Autumn, or if you live further north, a mild Winter. Outerwear that's not quite in coat/parka/anorak territory but that can still keep you warm and look stylish enough for work.
Unfortunately, I can't find anything in store now that compares to Hannah's much loved cardigan (if someone does, please let us know in the comments below). However, Hannah is right on the money about the poncho. A poncho would be a good substitute for a few reasons:
– ponchos are easy to throw on over any outfit including work clothes;
– while they come in a range of neutral colours and prints, a black or grey poncho would be a practical option and wouldn't show up spills quite as easily;
– this season, they come in at a range of price points, so you are bound to find something at your preferred price point;
– there are plenty of styles that are machine washable – I've included this where the information has been provided;
– while some styles are more casual, there are some dressier/chunkier styles that would almost substitute for a coat on milder mornings or in milder climates, such as 2, 4 and 6 below;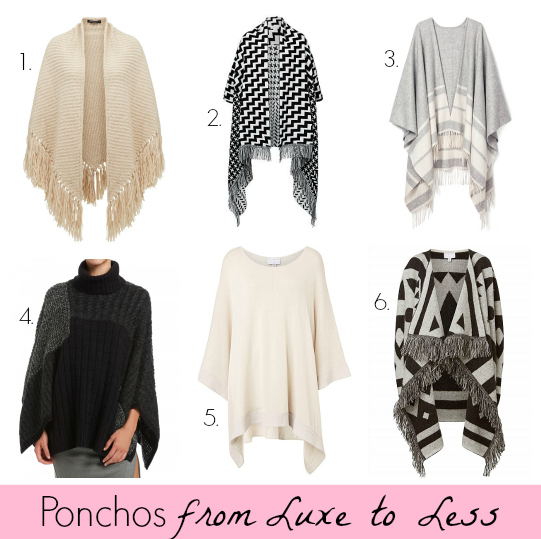 1. Fringed Poncho, $69.95  from French Connection; 2. Chunky Knit Wrap, $79.95 from Seed Heritage; 3. Striped Poncho, $129 from Country Road; 4. Patchwork Poncho, $149 from Sussan; 5. Suede Edge Poncho, $169 from Witchery; 6. Jacquard Coatigan, $229 from Witchery.
In addition to ponchos, I also think it's worth taking a look at this season's capes – some styles are slightly dressier than the poncho and some come with collars (2 and 6 below) which can be turned up for warmth. Other styles can be buttoned too which provides further protection against the cold and wind.
While there's overlap between the styles, from what's available in store now, some styles of capes tend to be more akin to a coat without full length sleeves and ponchos tend to be a slightly more casual option with signature fringing.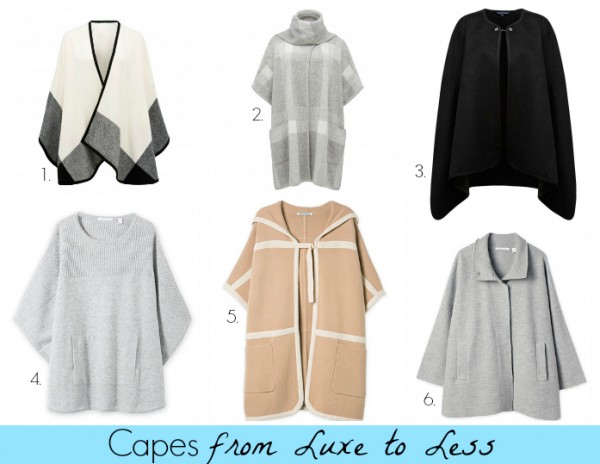 1. Indiana Border Cape, $49.99 from Forever New; 2. Ebony Check Blanket Cape, $129.95 from Forever New; 3. Winter Cape, $149 from French Connection (machine washable); 4. Jersey Knit Cape, $149 from Trenery (hand wash); 5. Pocket Cape, $199 from Country Road; 6. Boiled Wool Cape Jacket, $249 from Trenery (hand wash).
It's great to see from a maintenance point of view too, that several styles of capes are hand or machine washable.
In terms of how to wear your cape or poncho, wear it as you would a coat or jacket.
Are you in Camp Poncho or Camp Cape? Do you have one and how do you wear it? Would a cape or poncho fill a gap in your wardrobe this Autumn?