I'm going to try very hard to resist Village People references here and launch straight in to today's post …
Welcome to a new regular post on the blog where I'll be turning the spotlight on a particular colour featuring strongly across fashion and home wares.
After all, it's no secret around here that I love colour.
As with my #snscolour style challenges, the idea is to shine the light on an individual colour and showcase some new season products together with some styling inspiration and perhaps some ideas for how it might complement your existing wardrobe, accessories or home furnishings.
Today, let's start with navy blue.
I've always loved navy but it has long been associated with conservative fashion, school uniforms and all things nautical. And colours, like styles, come in and out of fashion.
Right now however, navy is definitely having it's moment and there are plenty of new and interesting ways to incorporate it this Autumn/Winter. There is no doubt that the impeccable Duchess Kate's penchant for navy – from her navy tailored blazers to breton tops and espadrille wedges – has helped.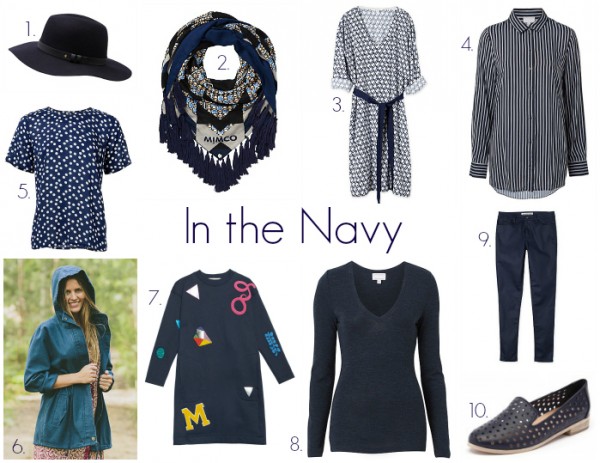 1. Stud Trim Fedora, $79 from Witchery; 2. Luxathon Scarf, $129 from Mimco; 3. Eyelet Printed Dress, $149 from Trenery; 4. Urban Long Sleeve Shirt, $89.95 from Witchery; 5. Polka Dot Print Spot Shell Top, $20 from Target; 6. Anorak in Navy, $229 from Bohemian Traders; 7. Team Miranda dress, $169 from Gorman; 8. Babywool V Neck Knit, $89.95 from Witchery; 9. Wet Look Mid Rise Jegging, $99.95 from Country Road; 10. Queff in Navy by Mollini, $149 from Styletread.
So how to wear navy this Autumn/Winter?
1. Pair it with black for a sophisticated, modern look. The Mimco scarf (2) above incorporates both tones along with powder blue and cream, creating a striking palette. Up the fashion anti again by contrasting it with patent black shoes and accessories;
2. For a classic, preppy look, team a crisp white shirt with navy jeans (9) and a great pair of flats (10) with a knit casually thrown over your shoulders;
3. Most of us associate navy and white stripes with smart casual, particularly classic Breton style horizontal stripes This season, the new take is a vertical stripe on a tailored shirt (4), a fun yet modern update;
4. Navy will always work well with tan accessories. Navy dresses, such as (3) and (7) above and tops (5) worn with tan block heels or boots will never go out of style;
5. Navy knits (8) and jackets (6) are worth investing in for every day wear, even if only for a trip to your local YMCA (boom). They look great with denim and can be thrown over virtually anything;
6. Hats can be a flattering and practical addition to a winter outfit. This gorgeous fedora (1) is an easy way to introduce some old school glamour too.
If you'd like to be In the Navy this week, head on over to Instagram or Facebook and tag your navy selection with #snsnavy – whether it be something you're style stalking, wearing or have in your home – and I'll find you.
Do you wear much navy? Are you glad to see it having it's moment right now? What of the above would work in your wardrobe?