It's impossible to open a fashion mag or watch an episode of reno reality TV these days without seeing that metallic accents in both fashion and home wares are trending big time.
They are everywhere.
But it's not just the usual suspects on show.
While silver and gold have traditionally covered the metallic field, the arrival of rose gold in fashion and copper in home wares has introduced a third, warmer option. Personally, I'm very happy to see this warm, pinky hue now coming through the Winter ranges too.
Until recently, most of the rose gold you'd see in fashion retailers would be in the accessories department – jewellery, shoes, wallets and bags and so on.
But, as you can see from the selection below, rose gold is now being carried across to knitwear and other apparel.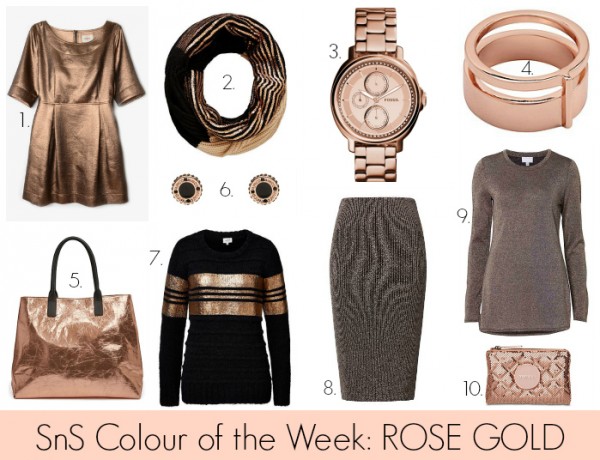 1. Donatella Dress, $269 from Obus; 2.Rose Gold Foil Snood, $59.95 from Seed Heritage; 3. Chelsey Watch by Fossil, $229 from The Iconic; 4. Double Band Ring, $29.95 from Witchery; 5. Katia Tote, $89.95 from Witchery; 6. Mimco Enamel Stud, $79.95 from Mimco; 7. Collection Stripe Knit, $169.95 (on sale) from Seed Heritage; 8. Collection Crepe Knit Skirt, $99.95 (on sale) from Seed Heritage; 9. Sheer Lurex Top, $69.95 from Witchery; 10. Mim Mesh Mash Pouch, $89.95 from Mimco.
Now if you are looking for a statement dress, call off the dogs, the hunt is over. It's hard to to go past this red hot little Obus frock (1).
So, how do I go about incorporating rose gold into my Winter wardrobe?
While I'm not about to go replacing all my white gold and silver jewellery, I have a few gorgeous (but inexpensive) statement accessories that breathe new life into old outfits. To give an example, I'm loving how the simple addition of rose gold jewellery changes the look of my Winter LBDs – hello old school glam!
I also have the Witchery Lurex Top above (9) which looks great with a pair of black skinny trousers or jeans, with a simple pair of rose gold earrings or a bracelet. The metallic elements dress up what is basically a simple yet comfortable outfit. And that, friends, is winning in Winter.
Here are some other ideas for how to style rose gold this Winter:
– A little goes a long way and brings a sophisticated edge to any outfit. A single statement item such as a scarf (2) or earrings (6) is an easy way to lift an outfit;
– If you're not sure where to start, begin with an inexpensive piece of jewellery like this Rose Gold Spinning Hope Necklace, $15 from Sportsgirl;
– I love the contrast of rose gold with black and charcoal for Winter. Perhaps it's the contrast of the warm pink tones against dark, cool blocks of colour;
– If you love it but aren't sure it suits you (I'm sure it does), try a statement bag or wallet. I'm loving the Mimco mesh range (10, above) and this Penny Large Metallic Wallet from Country Road.
– Don't be afraid to mix metals. I wear white gold rings and a silver watch but happily wear rose gold or gold as well. Gone are the days of everything having to match. It's about having fun, experimenting and finding what works for you.
* This post contains affiliate links. You don't pay any extra but I earn a small commission.
Are you a fan of rose gold? How do you like to wear it?