Well hello Winter.
It's been one seriously cold week here in Melbourne town.
How have you fared in your neck of the woods? A bit chilly?
Here at Shenanigans Central, I've been hunkering down this week with a steady supply of crumpets and countless cups of tea. I've ventured out only when necessary, cranked up the heater, blown my head off with a Thai curry or two and tried to stay warm.
Baby, it's cold outside.
If you're looking for ways to warm up your wardrobe, an injection of red might be just the ticket.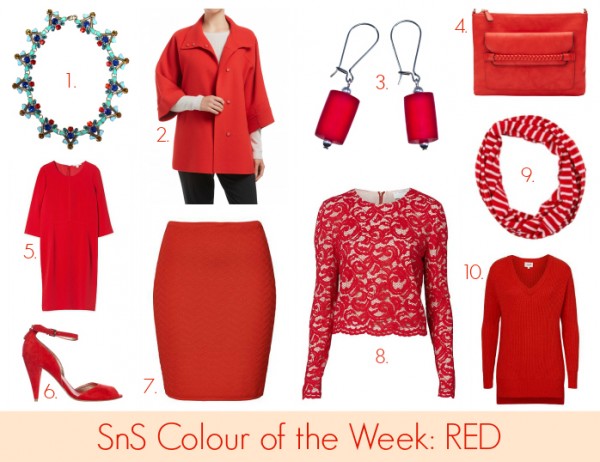 1. Festival Crystal Necklace, $139 (on sale) from Peter Lang; 2. Red Funnel Neck Coat, $249.95 from Sussan; 3. Polka Luka Earrings, $30 from Birdsnest; 4. Jenna Red Slong Bag, $59.95 from Sussan; 5. Crepe Shift Dress, $99 (on sale) from Trenery; 6. Alpha Fem Heels in Red, $189 (on sale) from Alannah Hill; 7. Textured Crepe Skirt, $129.95 from Seed Heritage; 8. Crop Lace Top, $129.95 from Witchery; 9. Boom Shankar Striped Scarf, $49 from Birdsnest; 10. V Neck High Low Sweater, $149.95 from Seed Heritage.
Despite the majority of fashion stores being packed to the rafters with black, grey and camel (see my camel edit here), every few weeks or so a new accent colour appears, to brighten up stores and wardrobes everywhere.
There was blush pink early on, then mulberry/shiraz/marsala, and now it's time to turn up the heat with a nice bright pop of vermillion. You might also know it by it's less salubrious name, tomato red – this year's red sits firmly on the orange end of the spectrum.
Personally, I love a nice big pop of red in Winter, although I tend to gravitate to pinker or bluer reds. A beautiful red coat, a pair of shoes (6) or even a glossy red lip looks gorgeous and adds a touch of glam to any outfit, while happily working back with all the usual Winter neutrals.
(On the subject of lips, my favourite red lipstick is Christian Dior's Rouge 999. I'd love to hear your favourite shade in the comments below).
If you're after a classic look, a simple but elegant dress (5) is perfect for a corporate workplace teamed with black accessories or with metallic accents, like this beautiful necklace (1), for a Winter wedding or dressy do.
If you're looking for an on trend statement, it's hard to go past this beautiful lace top from Witchery (8). Wear it with high waisted jeans, trousers or the matching skirt for some serious chic.
Likewise, this Seed skirt will add a focal point to your outfit if you'd like to accentuate your lower half.
If you'd like to add just an accent to your predominantly neutral wardrobe, perhaps a pair of earrings (3), a scarf (9) or a oversized clutch (4) would fit the bill.
* This post contains affiliate links. You don't pay any extra and I earn a small commission.
Do you love a pop of red or more in Winter? What's your favourite red lipstick?