Choosing this week's colour was complicated.
And almost involved a thesaurus.
Why you ask?
Well, there are oodles of different names for the deep pinky red that is one of Autumn/Winter 2015's key accent colours. Mulberry, shiraz, marsala, deep berry and ox blood are but a few.
Back in the early '90s we just called it burgundy.
This time around, to be fair, there's more variation colour wise – some shades are heading towards the pink side of the colour wheel; others have an almost plum, brown or black undertone and it's renaissance is no doubt due in part to marsala being named Pantone's colour of the year. However it comes though, this warm, rich hue will turn up the heat this Winter faster than you can pour a glass of Shiraz.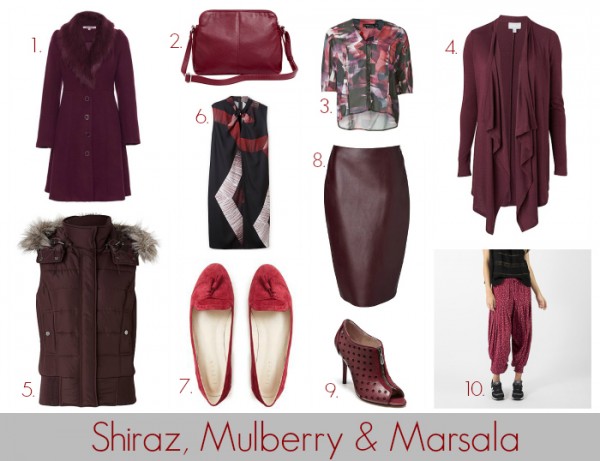 1. Lacy Fur Trim Coat in Shiraz, $329.99 from Review; 2. Cross Body Bag, $25 from Target; 3. Runway to Rack Hi Low Top, $69 from Target; 4. Babywool Waterfall Cardigan, $119 from Witchery; 5. Sleeveless Puffer, $149.95 from Witchery; 6. Knot Detail Print Dress, $179 from Country Road; 7. Brogue Loafer, $185 from Jigsaw; 8.Bonded Pencil Skirt, $129.95 from Witchery; 9. Mechanica Shoetie, $299 from Mimco; 10. Spotted Poppy Pants, $129 from Bohemian Traders.
So how to wear this intense red this Winter?
Given it is such a striking colour, I think the key this season is to wear one statement piece, two max if that includes an accessory. So, for example, the dress (6) above would be complemented by a bag (2) or shootie (9) in the same hue and perhaps a neutral coat (perhaps black or Winter white) to balance out the print and colour.
To dress it up, work it back with black. Below I'm wearing the gorgeous Bohemian Traders Dreamer Wraparound in Marsala* with a black seamless tank from Witchery and slim line pants from Forever New. I've added simple fine gold jewellery from Kate Spade New York to keep this gorgeous marsala silky top the hero.
Another example would be the bonded pencil skirt above (8), paired with a crop black knit or fitted shirt and a black stiletto or shootie. Matching deep red lipstick and nails will turn up the dial even further.
Anything with a luxe texture like fur, lace or velvet will complement this rich colour perfectly too.
For something a little bit different, team with navy and dress it up or down with shoes and accessories.
For day, team your rich reds with charcoals, greys, creams and denim. I'd wear this puffer (5) or cardigan (4) over a long sleeved cream or white tee with jeans and boots. A chunky cream knit over these relaxed pants (10) and tan ankle boots would work well too.
A print, like the top (3) or dress (6) is an easy way to play as it can be easily worked back with black wardrobe basics.
* This top was gifted to me in accordance with my Disclosure Policy. 
Do you or would you wear this colour? How do you wear it?