There's so much to love about the arrival of high Winter fashion.
The stores are now completely decked out in new season fashion, with new styles and colours dropping weekly, all the while developing the overall "look" for the season.
It's been a season dominated by neutrals with a modern twist – higher necklines, lower crotches, asymmetry and longer lengths from knee length knits through to midi skirts and maxi dresses.
Grey and caramel have been prominent colour wise, with black and navy rounding out the neutral options.
In amongst all of this, the other neutral – Winter white – stands out for me with its sophisticated simplicity. I say Winter white as there is a milky creaminess to it as opposed to a retina burning bright white. A block of winter white is a bold style statement on the one hand, a no-brainer on the other.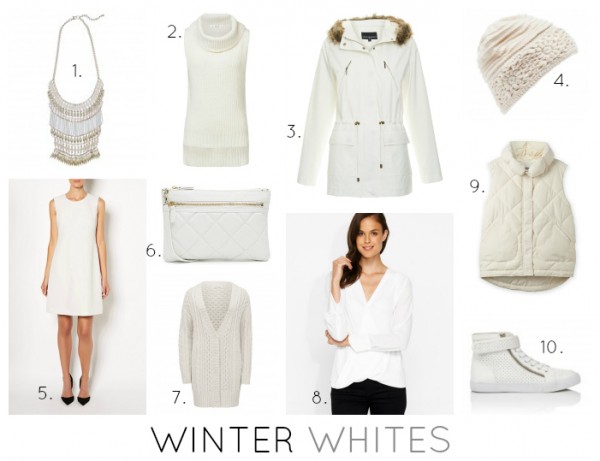 1. Beaded Layer Necklace, $29.95 from Sportsgirl; 2. Cotton Roll Neck Knit, $89.95 from Seed Heritage; 3. Leah Hooded Parka, $249.99 from Sportscraft; 4. Ellie Crochet Beanie, $19.99 from Forever New; 5. Seam Detail Shift, $149.95 from Witchery; 6. Candice Cross Body Bag, $79.95 from Witchery; 7. Mila Long Line Cable Cardigan, $89.99 from Forever New; 8. Elizabeth Wrap Top, $69.95 form Portmans; 9. Puffer Vest, $149.95 from Country Road; 10. Willow High Top, $59.95 from Sportsgirl.
While many of us have plenty of white basics in our wardrobes – singlets, t-shirts and long sleeved tees – white can also be a great option for the layers above.
So how to wear whites and creams this Winter?
– Layer it by staying in the same colour palette but varying the textures. For example, a cotton top layered with a puffer vest (9), a statement piece of jewellery (1) over a white top (8) or a roll neck knit (2) under an anorak (3). This layering of textures creates depth and interest;
– When wearing a white dress, keep your footwear simple with a classic style shoe, such as the cutaway black pump in (5) above;
– For a modern, sophisticated look, reverse the monochrome trend with a pop of black;
– For a fun, fresh day look, pair your Winter whites with distressed or faded denim.
Are you a fan of Winter whites? What, of the above, would give your wardrobe a shooj?