So, tell me. What jewellery to you normally wear? Silver or gold?
Me, I'm a silver girl. I have white gold wedding rings and wear a silver Fossil watch. Anytime I buy/am fortunate enough to be given an investment piece, it's always silver. It seems to suit me and all works together.
It's not that I don't like gold. I do. It's just that I don't wear it often as I don't have any gold fabulousness and I'm not sure it really works with my colouring and pale skin tone.
That's partly why I have been so happy to embrace the rose gold trend. The warm tones of rose gold are lovely and seem to suit everyone. There is something classic and sophisticated about it as well – its the "other" gold. And maybe, just maybe, those warm tones are also signalling the changing of the seasons and for me, the golden and red tones of falling autumn leaves.
If you are a fan, you won't find a rose gold jumpsuit or frock at your local Westfield though. What you will find, however, are great accessories with a rose gold finish which give a new look to basics. I am especially loving the mix of rose gold with snakeskin. Just LOVE!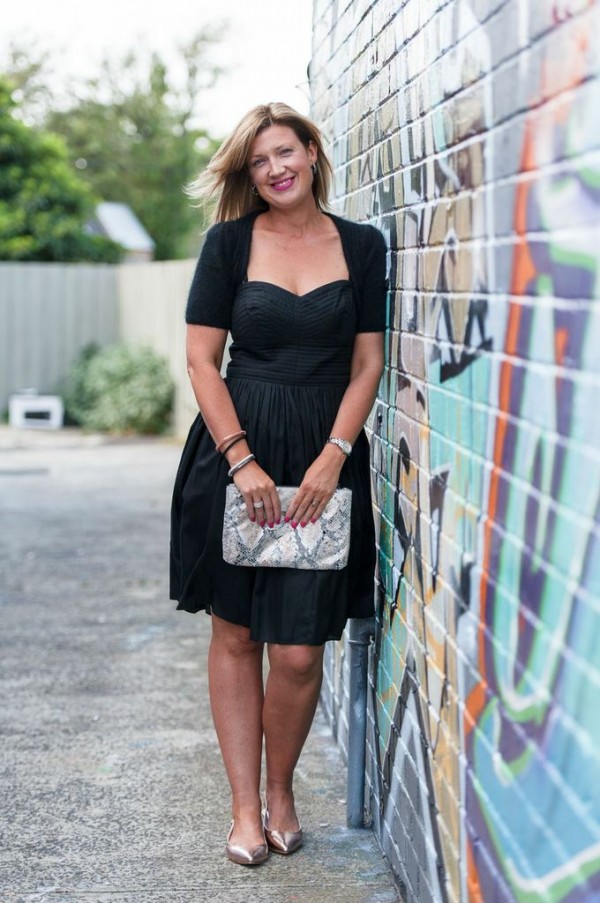 As you can see in this photo, I like my rose gold worn back with a block colour – in this case black. I'm wearing a pair of Boden rose gold flats (last season), which are complemented by a Witchery snakeskin clutch (see below) and a Witchery bracelet set featuring a rose gold band (sorry, now sold out). It's a little but not too much and breathes new life into the basic LBD. (If you are looking for some new season LBDs, look here).
I think the key, when it comes to wearing rose gold, is to keep it simple. Stick to block colours like black and cream and add a little bit of bling, here and there.
A little rose gold will go a long way.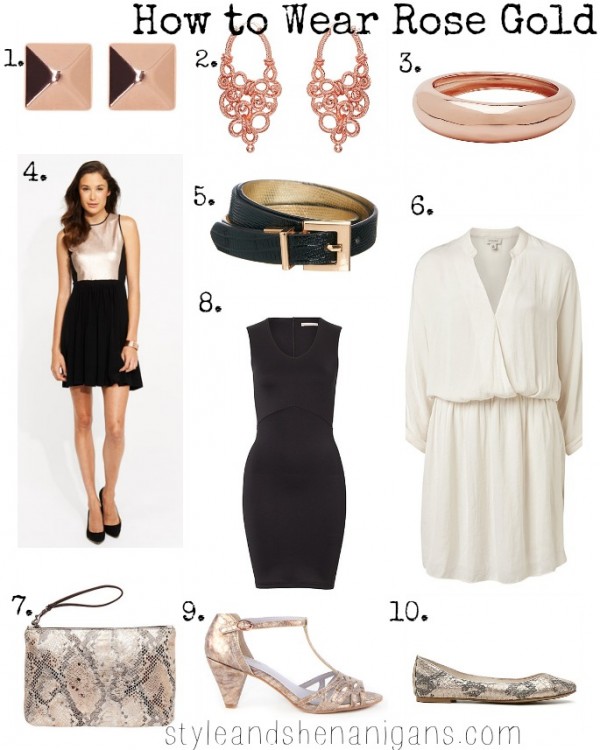 1. Block Metal Earrings; $19.95 from Witchery; 2. Novella Knot Creole, $59.95 (sale) from Mimco; 3. Curve Bangle, $49.95 from Witchery; 4. Charlize Cracked Ponte Dress, $69.95 from Portmans; 5. Desk to Bar Reversible Belt, $24.95 from Portmans; 6. Cross Front Dress, $129.95 from Witchery; 7. Rosie Clutch, $59.95 from Witchery; 8. Hot Options Scuba Dress, $40 from Target; 9. Everybody Dance Heel in Rose Gold, US$90 from Seychelles Footwear; 10. Carla Ballet Flats in Soft Gold, $99.95 from Witchery;
As you can see from what's included above, Mimco, Portmans and Witchery have lots of lovely rose gold in their current collections.  Mimco also have a great range of black bags (on sale!) with rose gold metallic finishes which are divine.
So, are you on team silver or team gold? Are you a fan of rose gold? What's your pick? 
Photo Credit: This photo is from my Missy Confidential photo shoot and was taken by the lovely Bek from Little Red Photography.