I've always been a fan of Solid Gold.
The leotards, big hair and Donna Summer tracks were hot stuff indeed. I also love don't mind Dionne Warwick and singing songs around the grand piano. That's what friends are for, right?
As the 80s faded (together with Solid Gold's ratings) however, I ditched all things gold for silver and am now firmly in the silver/white gold camp when it comes to sentimental jewellery, bags and shoes.
But still, I dabbled in a bit of gold costume jewellery here and there but it was nothing serious. No commitment. Just a, you know, casual kind of relationship.
This summer has seen a big change of tune. I always love metallics for summer, but recently, I changed camps. Yes, I've become a devotee of gold once again.
Here's the photographic evidence documented over on my Instagram account …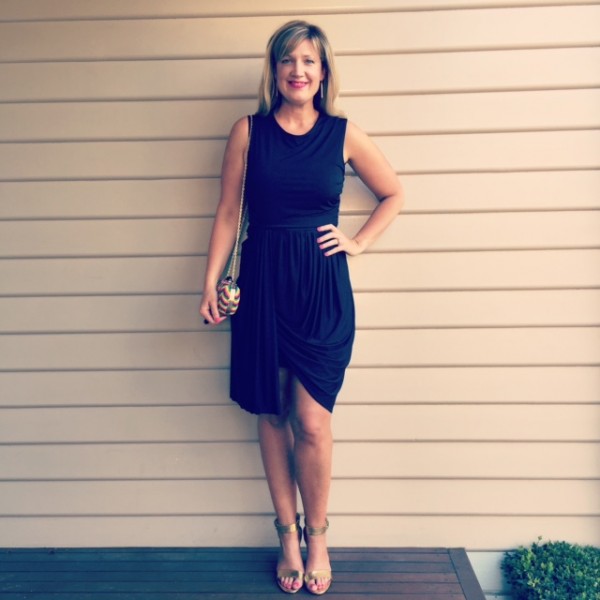 Above & below are pics of my outfit for the Kidspot Voices 2014 Gala Awards night. I decided to work a classic grecian styled draped black dress with some statement accessories. My beaded clutch did most of the talking but the simple earrings and gold shoes finished it off nicely.
Most of my outfit is from last summer (Witchery dress and Mimco clutch – sale bargains – yay for the wins!) except for the shoes which are part of the Gorman SS14 range but sold out online but it would be well worth checking your local store if you're partial as they are comfortable and fabulous. I'm also wearing a pair of Bar Earrings from the new Country Road jewellery range – (5) in the collage below.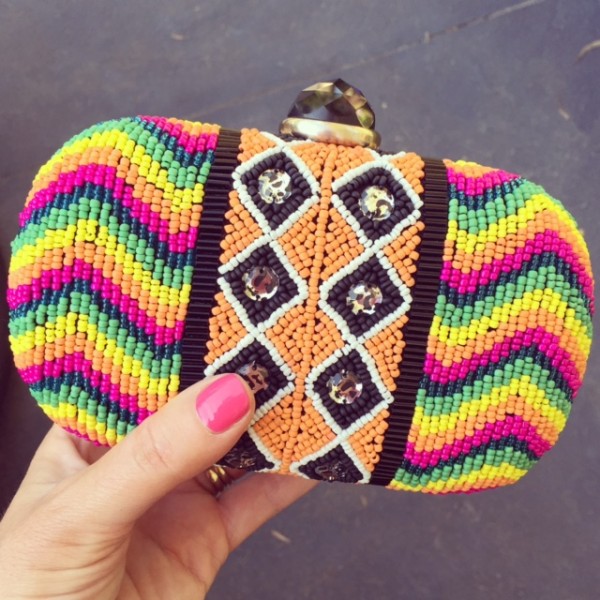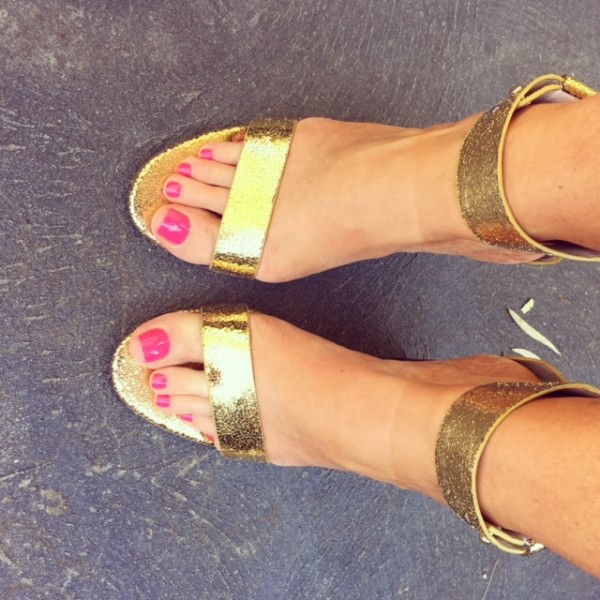 Gold accents work well for summer, perhaps because they complement tanned, bronzed skin and naturally sun highlighted hair. I particularly like gold accents worked back with block colours too – classic black and white, cobalt blue, pink and emerald green. And it doesn't take much to make an impact – a couple of co-ordinating gold accessories can go a long way.
Below, I've sourced a variety of gold accessories at a range of price points which might put the finishing touch on your outfit this long hot summer … and give you plenty of options depending on how "committed" your relationship is!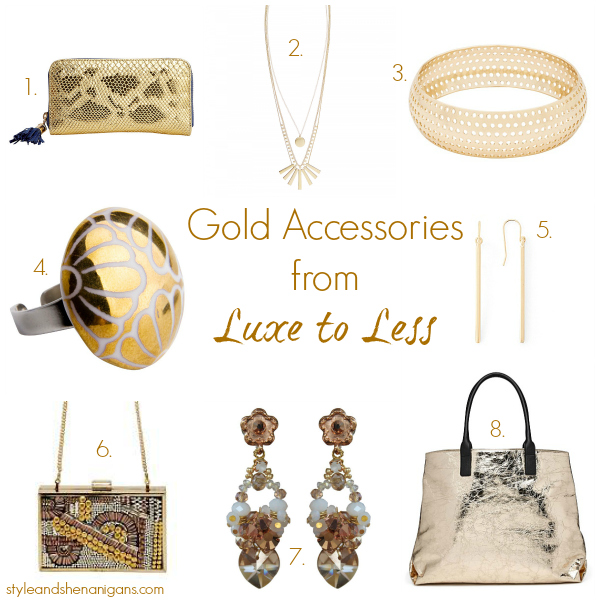 1. Jacinta Continental Wallet, $20 from Target; 2. Gold Layered Necklace $13.97 (on sale), Sussan; 3. Bora Perforated Bangle, $29.95 from Witchery; 4. Gold Fan ring, $49 from Angus & Celeste; 5. Bar Earrings, $49.95 from Country Road; Decorated Hard Case Clutch, $89.95 from Seed Heritage; 7. Elegant Beaded Love Heart Earrings, $65 from Hello Sailor Accessories; 8. Katia Tote, $79.95 from Witchery.
As you can see, I'm also now a raving fan of the gold shoe. I've already bought two pairs this summer! Below, I'm wearing the Sambag sandals which are (6) in the collage below.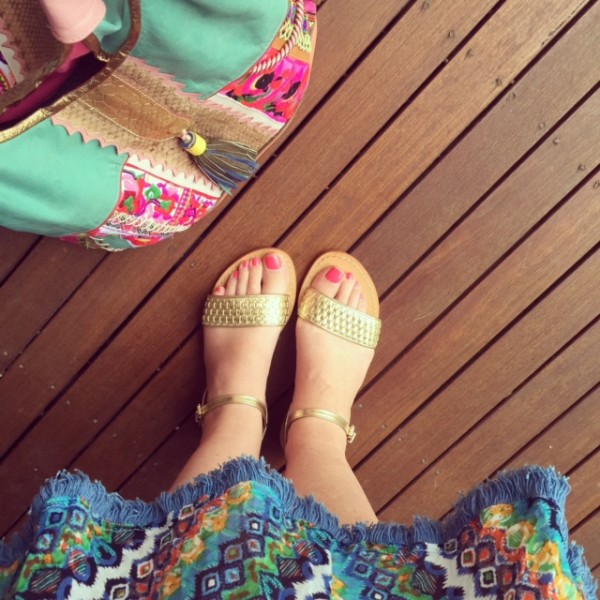 If you want to go to town and make a small or larger investment on the gold shoe front this summer, here are my picks of gold shoes from Luxe to Less.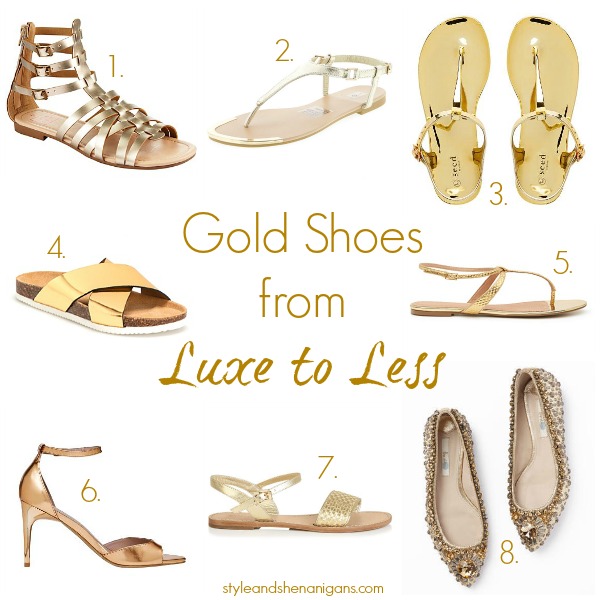 1. Lyla and Co Gladiator Sandals, $18 from Big W; 2. Florida Sandals, $20 from Target; 3. Liv T Bar Jelly Sandal, $49.95 from Seed Heritage; 4. Harriet Slide, $79.95 from Country Road; 5. Simona Sandal, $79.95 from Witchery; 6. Claire Strap Heel, $159.95 from Seed Heritage; 7. Mim Gold Woven Leather Sandal, $180 from Sambag; 8. Jewelled Pump, $198 from Boden.
Have you a little or a lot of gold in your wardrobe? Shoes, accessories or clothes?  What's your pick of the above?