Have you noticed that there is a lot of black and white in Spring fashion this year? I have been struck by it when I have popped into Witchery, Seed and Country Road of late. While there are some good basics on offer, en masse, I find it all a bit corporate and a little conservative.
Thankfully, some metallic accents and embellishments in silver, rose gold and bronze are being added to the collections which inject a bit of interest and texture. Metallic highlights and colours are also trending in home wares, adding a touch of sophistication to every day objects.
Below is a round up of 9 gorgeous products I have curated that highlight this trend.
The women's clothes, shoes and accessories work well together or separately with denim or white.
The home wares work with pretty much anything and update existing neutral furnishings.
As for the gorgeous girl's silver back pack, I am sure any discerning young lady would love it.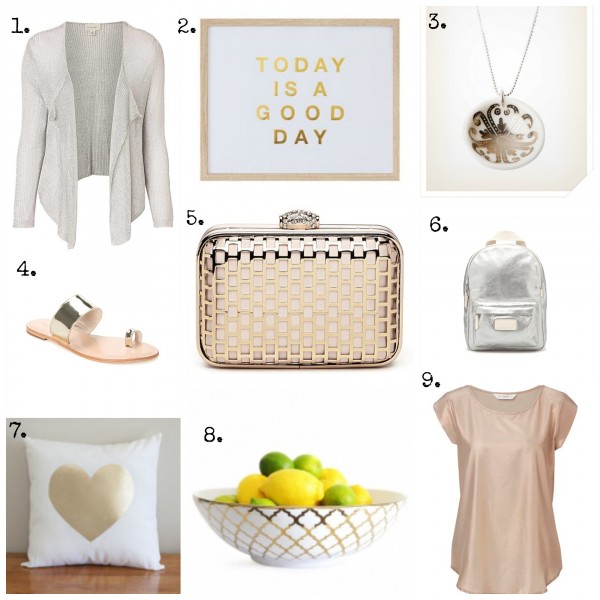 1. Cardigan – This gorgeous Metallic Drape Cardi is a versatile option for Spring/Summer evenings and is $129.95 from Witchery;
2. Art Print – I love the simple, stylish design of this "Today Is A Good Day" paper print (on white) by 'White Horse Home'. It is $74.95 and comes unframed but is delivered in a custom postal tube. The paper stock size 40 x 50cm and has been designed to fit a 42 x 52cm IKEA Ribba frame, or a 52 x 72cm IKEA Ribba frame with a border;
4. Pendant – This lovely Cup Necklace with Star Swirl from Angus & Celeste adds a touch of sophistication to any outfit. It is $69 from Angus & Celeste.
4. Sandals – You can't go wrong with these Georgia metallic sandals from Country Road. They will go with everything from a Maxi dress to a pair of shorts this summer. They are also available in gold and are $59.95.
5.  Clutch – This Joanie Metal Hardcase clutch has the "wow" factor in spades and is an elegant addition to a special night out or a day at the Races. It is $99.95 from Witchery. 

6. Girls' Backpack – There is a lot of colour and print in girl's fashion at the moment. If you are after something classic but on trend, this metallic backpack, at $39.95 from Country Road might be just the answer.
7. Cushion – I'll find any excuse to include a cushion! This Gold Foil Heart Cushion from Max and Me Homewares is gorgeous, stylish and simple. It is $45 from the MaxandMeHomewares Etsy store.
8. Bowl – For understated sophistication, this St Tropez Large Bowl hits the mark. It is $49.95 from the Brown Trading Co.
9. Top – If you are looking for a top that can go from day to night, this Foil Print Tee in Bronze is ideal. It would look great with a pair of skinny jeans and ballet flats by day or black cigarette pants and heels by night. You can find it at Seed for $89.95.
That's my round up. What do you like? Are you a fan of silver, gold or bronze?