Remember how I mentioned my multiple fashion personalities last week?
Well this week, I am doing a 180 degree turn and coming back to the old romantics: pastels.
Some of us may associate such soft, powdery colours with new born onesies (Bonds Wondersuits, I am looking at you).
For others it may bring back bridesmaid or school formal shock frocks of days gone by and best forgotten.
When I think of pastels, I think of summer hues. I think gelato. I think fresh and fun. So no surprises that I am on Team Pastel and am loving all the gorgeous pastels in store now. Are you?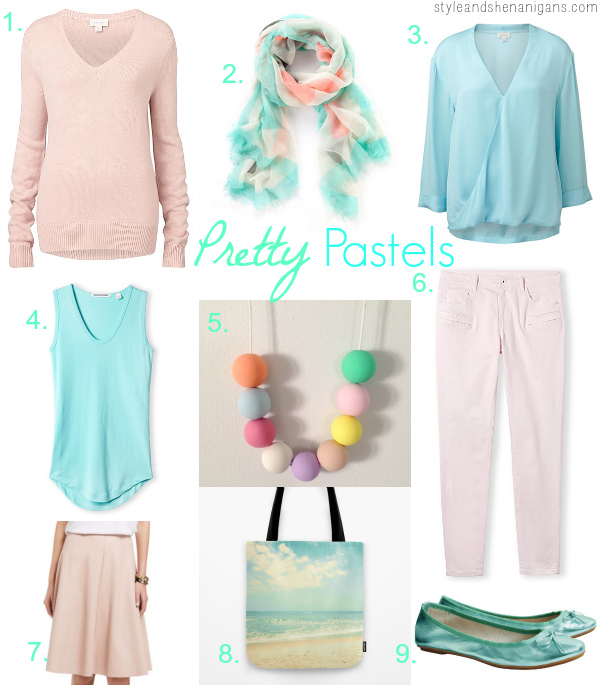 1. Hot Fix Patch Pullover, $99.95 from Witchery;  2. Geometric Shape Scarf; $59.95 from Country Road; 3. Sheer Twist Shirt, $99.95 from Witchery; 4. Scoop Neck Tank $29.95 from Country Road; 5. Polymer Clay Necklace, $35 from Down That Little Lane; 6. Mid Rise Crop Jean, $119.95 from Country Road; 7. Full circle skirt, $99.95 from Sussan; 8. Justlikeadream tote bag, $36.11 from Etsy; 9. Natalie Mint Metallic Ballet Flats, $126 (on sale) from Sambag.
It's going to be a while before the warm weather hits, so if you are a fan of pastels but not sure how to work your pastels into your Winter wardrobe, here are a few tips:
1. Pastels Love Denim – Denim and pastels are BFFs. Think denim skirts, shirts, dresses and jeans. Add a neutral knit, shoe or bag and you are good to go;
2. Pastels Love White – As the weather gradually warms up, team your pastels with white pants, knits and tees;
3. Work Back with Black – If you think pastels are too feminine or wash you out, work your pastels back with black;
4. Think contrast – To add an element of surprise or interest, pair your pastels with leather or look for pieces with hardware and masculine details;
5. Start Small – If you are not sure where to start, dip your toe in with a pretty pastel shoe, necklace or scarf.
Some great places to shop for pastels this season include Country Road, Sussan, Witchery (see links above) and Forever New.
And in the meantime, while we all wait for the weather to warm up, we can embrace Spring now with a few lovely new season home wares. I'm swooning over this palette. Big time. Can you tell?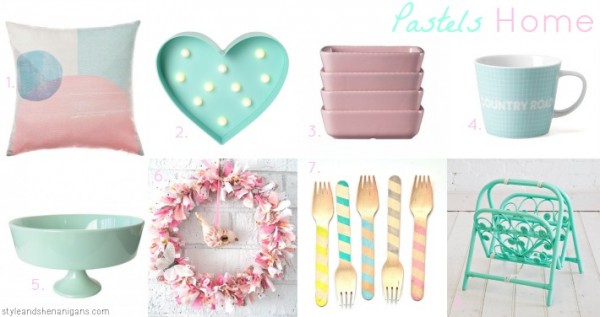 1. Phoenix Pastel cushion, $34.95 from Adairs;  2. Heart Marquee Light, $34.95 from Typo; 3. Pink Baking dishes (set of 4), $24.95 from Lark Store; 4. Grid Logo Mug, $9.95 from Country Road;  5. Compote in Mint, $38.95 from Robert Gordon;  6. Pastel Birdie Wreath, $65 from Down That Little Lane; 7. Disposable Wooden Forks, $8 from Brown Paper Packages; 8. Magazine Stand, $79 from The Family Love Tree.
Are you a fan of pastels? Would I find them in your wardrobe or in your home? Are you as excited about the new Spring ranges as I am?