Have you noticed all the spots around at the moment? They are everywhere and look fabulous for Spring. I am big fan of spots and find them versatile and a bit of fun. They can lend a retro or modern vibe, depending on the colours, design and the product itself.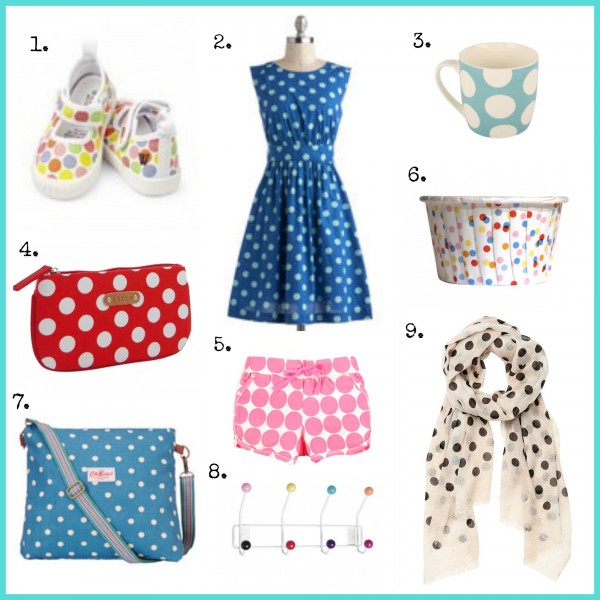 The mug and coat track are quite modern with their clean lines and simple design while the black and white spot scarf is chic and breaks up a monochromatic outfit.
Colourful spots say 'party' and are suited to children's wear and party products and work well with white and denim. Red/Pink and white spots are feminine with a hint of vintage.
This gorgeous retro blue spot dress is officially on my wish list. It can be dressed up or down and will have you Back to the Future in no time! If spots aren't your thing, it is also available in 12 other prints.
1. The girl's Mary Jane Canvas Sneakers in Multi Spot by Walnut are $29.99 from Hard To Find;
2. The Too much fun dress is US$79.99 from Modcloth (US);
3. The blue and white spot Mug is $2 from Kmart;
4. The Josie Cosmetic Bag from Attic Accessories is $21.95 from Hard to Find;
5. The girl's Nadine Knit Shorts are $12.95 from Cotton on Kids;
6. The Baking Cups are $7.95 from Lark Store;
7. The Spot Folded Messenger Bag is 45 Pounds Sterling from Cath Kidston (UK);
8. The Gumball Coat Rack is $29.95 from Lark Store;
9. The Reptile Spot Scarf is $49.95 from Witchery.
Are you a fan of spots? In your home, on your kids or to wear yourself? What is your favourite colour combination?