Hi.
My name is Vanessa and I'm addicted to spots.
I've been wearing them forever, can't go past them and will take them any which way they come.
Any colour, size, style. Has it got spots on it? It's mine or it will be shortly!
How do you feel about spots? Do YOU have any in your wardrobe?
If not, let me make the case for spots.
I like to think of spots as stripes' cheeky little sister.
She's fun, playful and a bit retro.
She loves full skirts and pretty frocks.
She loves to go out at night but is also pretty casual and likes to frolic in the park.
You might not take her to a job interview though, unless she promises to behave and be a little more conservative.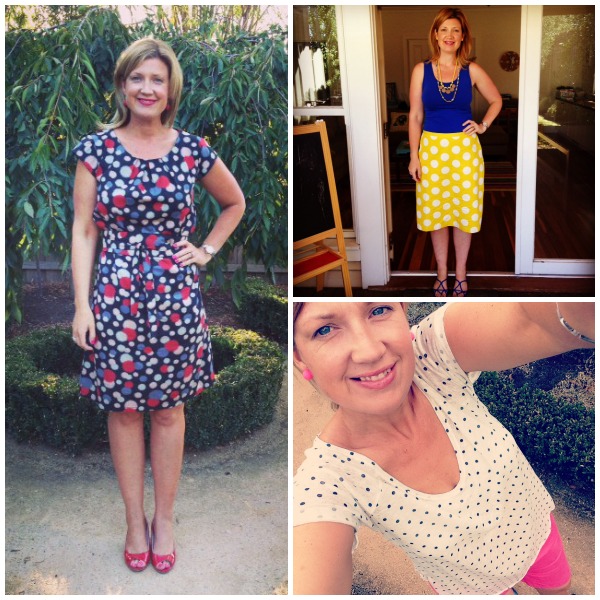 When wearing spots, apply the same principles as apply to stripes:
1. A little can go a long way – think scarves, jewellery and bags;
2. To begin with, maybe stick to classic colour combinations like black, grey or navy and white;
3. A spotty dress is a sight to behold – it's playful, fun and oh so retro;
4. Remember that the spotty part of your outfit will generally be the focal point although this can be offset by a bright block colour (as my pink shorts do in the photo above);
4. Don't over think spots. Provided you are not wearing spots from head to toe, you can't go wrong. Just have fun!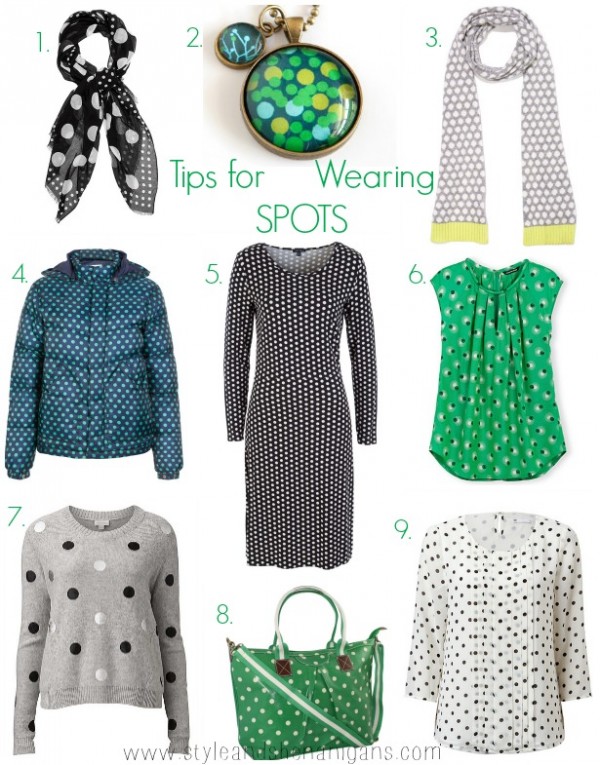 1. Ladies Spot Scarf in Black, $20 from Target; 2. Teal Spots Pendant, $49.95 from Nest of Pambula; 3. Knitted Spotted Bask Scarf, $34.95 from Portmans; 4. Pit Stop Puffer, $299 from Gorman; 5. Round Neck L/S Jersey Dress, $89.95 from Birdsnest; 6. Vintage Spot Top, $129.95 from Country Road; 7. Foiled Spot Knit, $129.95 from Witchery; 8. Megan Bag in Green Spot by Luna Blu, $75 from Down That Little Lane; 9. Spot Print Blouse, $40 from Target.
How do you like your spots? And do you like a little or a lot? Are there any spots in your wardrobe?
Are you a fashion/style blogger?