So let's begin our Friday with some good news:
On Monday, the second SnS Challenge begins.
Hooray!
You might recall the SnS Colour Challenge from February. If not, let me fill you in.
In a nutshell, every day for a week, I nominated a colour and we all wore a different colour every day, for 7 days. Sounds simple, right?
So, what was the point?
Well, some people realised that perhaps they were wearing the same colour/s all the time. By wearing a different colour every day, a few of us wore colours we wouldn't usually wear and found they really suited us. We even happily accepted a compliment here and there.
Others, when challenged to find a piece of clothing or an accessory in the colour of the day, discovered old favourites hiding at the back of the wardrobe, essentially finding new outfitting possibilities without spending a cent.
To top it off, we generally experimented, were inspired by each other and had a bit of fun.  The feedback was overwhelmingly positive.
Even the kids joined in!
This time around, the challenge is to wear a different print, every day for 5 days. And then, with a bit of confidence under our collective belts, we will finish with the Big Daddy – the print clash on the last day.
So why print this time? Well, have you noticed that we are spoilt for choice when it comes to prints this autumn/winter? The shops (online and at your local Westfield) are full of stripes, florals, spots, animal and leopard print, check and geometric prints.
I am a big fan of prints but  they really can work for everyone. Even if you like to stick to a fairly neutral winter colour palette, there are plenty of prints in neutral tones which will bring another dimension to and create interest to your outfit. A print, like colour, gives a welcome lift in a long grey winter too.
And the icing on the cake? A little goes a long way and can be carried forward from season to season.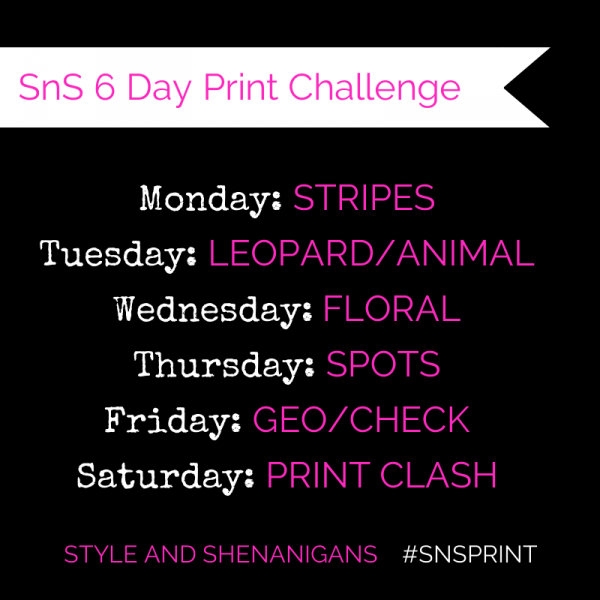 Sound like fun?
All you need to do is wear something with the print of the day beginning with stripes on Monday. You can wear a little or a lot, and your something can be anything from a scarf, knit, pants, bag, dress or earrings.
If you are game, upload your photo onto the Style and Shenanigans Facebook page or use/add the hashtag #snsprint on Instagram and I'll find you!
Every day, I'll post my outfit, some great new season finds in the print of the day  and some styling advice and ideas.
For all the fabulous fashion and style bloggers, if you have a recent post featuring the print of the day, I'll have a link up each day for you to add your post to. The more fabulous fashion intel and inspiration we can pool, the better!
Sound like a plan?
I'm looking forward to seeing you on Monday in all your stripey glory!
Would you like to join in? Could you do with a winter shooj?