So we are officially at the end of the third month of Winter.
Confession: I am officially over my Winter wardrobe.
It's a first world problem I know, but I've been wearing the same things over and over and finding it hard to get excited about getting dressed in the morning. Most days I am aiming simply for comfort and warmth not to mention minimal washing because I spent three hours in our laundry on Monday and barely made a dent.
Anyone else in Winter Ruttsville?
I know I have bought some great pieces this Winter and in Winters past but for some reason or another, I just have not had the opportunity to wear them all. Maybe it's the Winter hibernation factor. I feel like I need an excuse to wear some of my more interesting wardrobe pieces.
Do you know what I mean?
Given we are still in Winter and practicality is still king, I've devised a style challenge that will hopefully:
1. Keep us warm and comfortable;
2. Have us feeling fabulous; and
3. Encourage us to reach for some more interesting layers and textures to bring some spark back into Winter dressing.
What say you? Are you with me?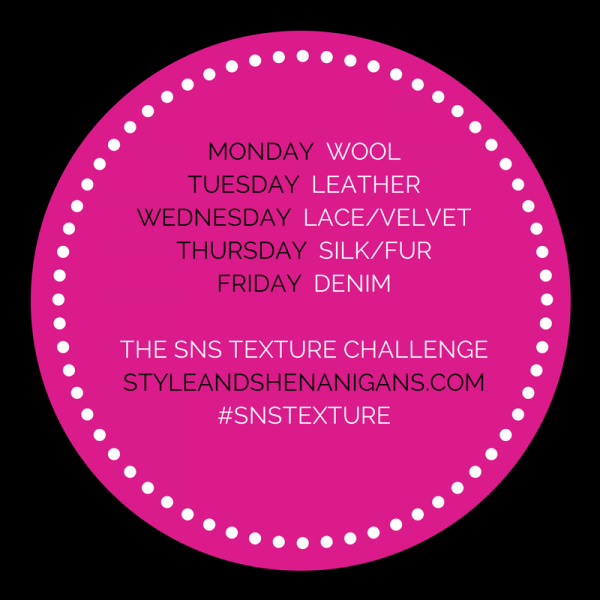 So what's the deal I hear you ask? Well, for five days beginning on Monday next week, we'll be bringing texture to the fore when we dress. We'll be embracing the coarse and the soft and appreciating the intricate and the luxurious. You can wear a little or a lot of the texture/s of the day – it's about having fun and mixing things up.
I've also included a couple of options for some of the trickier days and to hopefully cater for different climates. And hopefully it goes without saying, but just in case, all varieties of faux are welcome around these parts.
So, this weekend, have a look through your wardrobe with fresh eyes. Look for those pieces that are special or unique pieces just waiting for a day out. There's no need to buy anything new – the challenge is to "shop" your own wardrobe and hopefully re-aquaint you with some great pieces you have been looking for the excuse to wear.
Then, every day next week, beginning on Monday, I'll put together a post to let you know the texture/s of the day and also feature some new season lovelies. You'll see my posts on Facebook and Instagram. I'd love to see you in all your textured glory too – feel free to either post a photo on the Style and Shenanigans Facebook page or use the #snstexture hashtag over on Instagram and I'll find you. You can join in without joining the #selfie movement of course!
Monday's texture is wool – so think tops, dresses, scarves, skirts, coats, beanies and more. All you need is one thing but feel free to go for broke – at least you'll be warm!
Fashion and style bloggers, I'll be running the link up again every day next week, so if you have a post you'd like to share on any of the above, you are very welcome to link up.
P.S. You can check out the wraps of the SnS Print Challenge here and the SnS Colour Challenge here to see how we roll.
Are you a bit over your Winter Wardrobe? Are you ready to inject a little texture in to your wardrobe next week? Will I see you over on FB or IG next week in the #sns texture challenge?