We are upping the luxe factor big time today with lace and velvet.
No longer reserved for nights out at the ballet and opera or ahem, boudoir, these luxe fabrics are finding their way into every day wardrobes.
And it's such a good thing.
These details are especially fab for those who favour a neutral wardrobe – they add texture and interest and can lift a simple outfit to new heights. Hello glam!
With lace, if you are not sure where to start and want to steer clear of the lingerie look, think little details – a lace yoke, trim or print.
As for velvet,  it is divine to wear. I love it's substantial fabric which keeps me warm and provides structure and shape while the look is luxurious and adds interest to an otherwise simple outfit.
Given we are at the end of Winter here in Australia, there are fewer new velvet options in store but check your favourite international online retailers as they are currently rolling out their Autumn/Winter 2015 ranges.
As for lace, it is a huge trend right now. Forever New (1), Witchery (2) and Seed Heritage (5) in particular feature a lot of lace in their Spring ranges.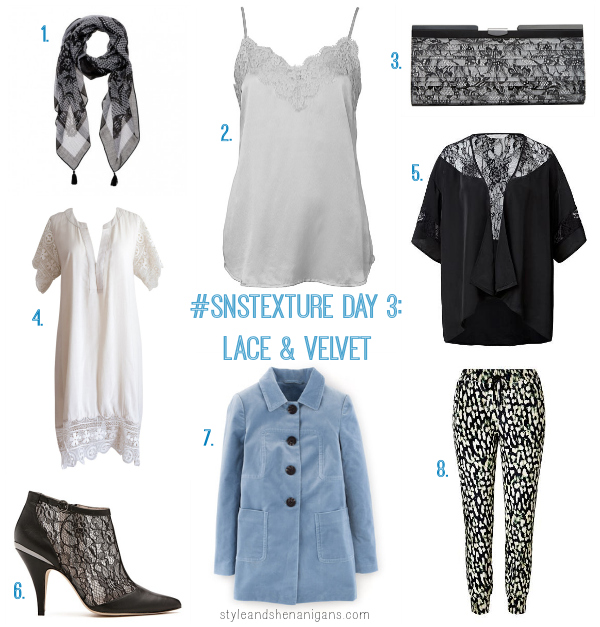 1. Katie Lace Print Scarf, $29.95 from Forever New; 2. Lace Camisole, $89.95 from Witchery; 3. Chrysalis Clutch, $119 (on sale) Mimco; 4. The Dreamer Dress, $139 from Bohemian Traders; 5. Lace Insert Kaftan, $59.95 from Seed Heritage; 6. Tippi Lace Bootie, $249 from Mimco; 7. Catharine Coat, $198 from Boden; 8. Printed Velvet Trackie, $52 (on sale) from Seed Heritage.
Where to Shop for Lace & Velvet
You will always find lacy numbers at Forever New (they have a great range of party frocks at the moment but limited sizes online) and Review.
After a year off, Boden have brought back their fabulous velvet coats in their Autumn/Winter range (7) and velvet trousers and skirts will follow shortly for Winter.
Alannah Hill can always be relied up on for luxe fabrics including both velvet and lace.
If you want to see the beautiful Bohemian Traders dreamer dress (above, 4) worn and styled in black, check out Norlin over at Baubles, Bubbles and Bags and Rachel at Redcliffe Style. Sonia Styling is wearing/has styled the cream version (above) here.
Are you a fan of lace and velvet? Do you have any of either in your wardrobe? Are you ready to jump on the lace bandwagon this Spring?