Like lace and velvet yesterday, we are really talking luxury fabrics and textures with silk and fur.
Both elevate the simple into the sublime and add depth and interest to an outfit. Fur also adds warmth while silk feels and looks beautiful.
While real fur may not be your cup of tea or within your budget, there are plenty of great (and affordable) ways to add a little faux fur to your everyday.
Silk on the other hand, is available at a range of price points and is a huge trend this Spring. Below is a very small selection of what is available in stores currently. In particular, the silk camisole is big news this Spring. A stunning silk camisole with lace detailing was also featured in yesterday's post.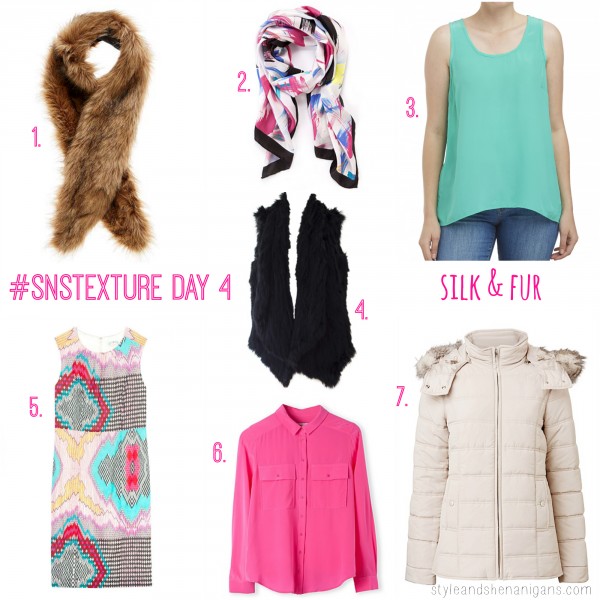 1. Faux Fur Stole, $29.95 from Seed Heritage; 2. Multi brush silk scarf, $79.95 from Country Road; 3. Silk Tank, $69.95 from Sussan; 4. Waterfall Vest in Black, $189.95 (on sale) from Bohemian Traders; 5. Kate Kosek Isometric Dress, $299 from Gorman; 6. Silk Pocket Shirt, $99.95 from Country Road; 7. Witchery Mid Length Puffer, $169.95 from Witchery.
Where to find Silk and Fur
You'll find silk tanks, tops and knits at Seed Heritage (1). Country Road cover the bases too (6) and their range also includes silk scarves (2).
Gorman's Spring range is full of silk, particularly in the collaboration with Kate Kosek (5). Think divine statement print dresses, tops and skirts.
For real fur, head to your local op shop or check out the Bohemian Traders sale (4). A few months ago I picked up a vintage fur jacket for a dress up do at my local op shop for $50.
You'll always find faux fur at Witchery, especially in their range of puffer coats/vests (7), Jigsaw and Seed Heritage.
Are you a silk or (faux) fur wearer? How do you like to wear it? What would you like to put on your shopping list for this Spring?