I'm guessing I don't have to sing denim's praises here.
Am I right?
Denim is often on our most wanted list, season to season as new shapes, styles and colours come and go.
This Winter, the indigo denim shirt, jeans and dress were big news.
Coming into Spring, denim is as strong a trend as ever, but the latest offerings are lighter shades including chambray to work back nicely with pretty pastels and florals.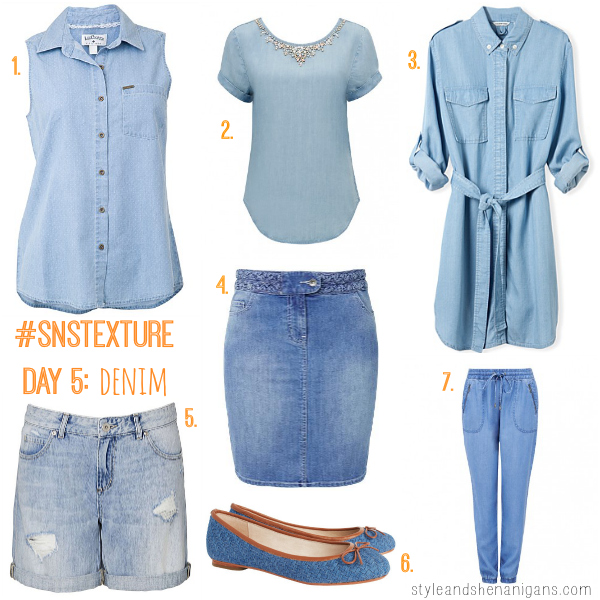 1. Lee Cooper Short Sleeved Shirt, $25 from Big W; 2. Toni Embellished Neck Tee, $69.99 from Forever New; 3. Denim shirt dress, $179.95 from Country Road; 4. Plaited Denim Skirt, $89.95 from Seed Femme; 5. Ripped denim shorts, $79.95 from Witchery; 6. Tina Light Woven Denim Ballet Flats, $54 (on sale) from Sambag; 7. Samantha Lyocell Jogger, $79.95 from Forever New.
In terms of what denim basics will see you through Spring and beyond, I don't think you can go wrong with a skirt or pair of slouchy/soft pants.
A pair of denim shorts is a versatile option too come high summer.
I'm also a big fan of the denim dress which can be worn now with tights and boots, or leggings and ballet flats and eventually with sandals.
If you are looking for something different, try an embellished top (2) or a pair of shoes (6).
Where to Shop Denim
You can find great denim at a range of price points. Target, Big W (1) and Kmart always carry denim although it does sell quickly, so be sure to pick something up when you see it in store.
Denim always features in the casual ranges of Country Road (3), Witchery (5), French Connection, Seed Heritage (4) and Sportsgirl.
If you like to shop your denim online, check out Birdsnest, ASOS and The Iconic.
Where have you found great denim? Are you a fan of chambray? What is the essential denim item in your wardrobe this Spring?