For some of us, the word "Chevron" evokes memories of the long defunct Melbourne nightclub of yesteryear.  Do you remember that place? After trending for some time in party ware, this summer, the new Chevron is modern, urban and looks great in a variety of colours or monochrome from jewellery through to home wares.
There are some great Chevron prints in women's accessories and clothes at the moment and I have curated some favourites below. They are all such statement pieces. All they need are basics to complete the outfit as the Chevron print is the focus and does all the work. If you are unsure about wearing it, Chevron is a more forgiving print to wear in a top or dress than plain horizontal stripes too – the arrows draw the eye up or down instead of across.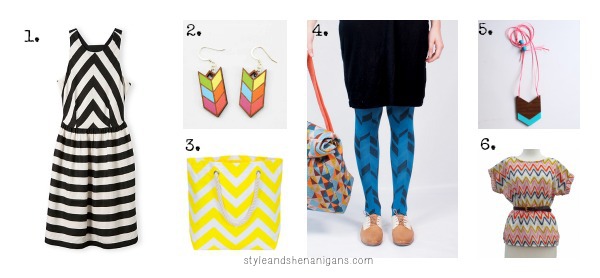 1. Dress – Chevron Stripe Dress, $179.00 from Country Road;
2. Earrings – Love Ikandi Chevron Earrings, $24.00 from Dorothy & Evelyn from Hard to Find;
3. Bag – Annabel Trends Travel Tote Bag in Chevron Yellow, $24.95 from Birdsnest;
4. Tights – Exploded Chevron Tights, $39.95 from LoveHate;
5. Pendant – Chevron Splice Pendant – Teal, $45 from Follow Store;
6. Top – Kimono Sleeve Top – Chevron $79, from Only Midge.
In the home, Chevron prints are everywhere from textiles to prints. A Chevron print creates interest and makes a statement. Below, the Country Road towel and French Bull melamine plate have a Missoni-esque feel about them for a fraction of the price.
The outdoor rug and art print make an impact but would also compliment contrasting colours and prints. Anything orange would look great against the blue chevron outdoor rug.
The colourful coasters are a great pop of colour and evoke a Mexican feel while the cushion and tea cosy are easy ways to embrace the Chevron trend.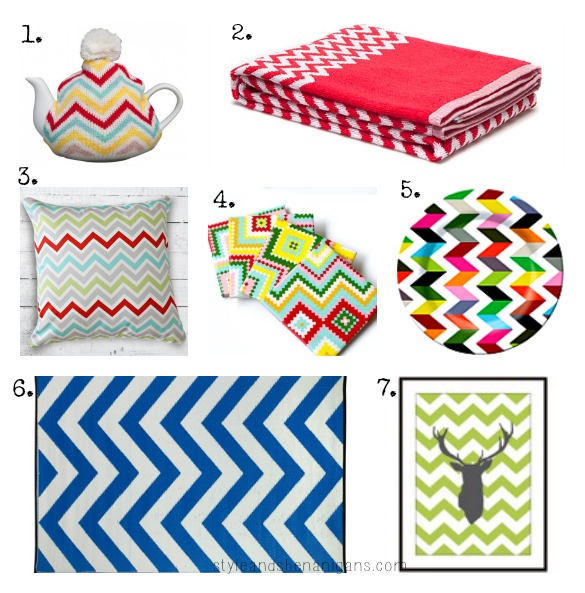 1. Tea Pot – Tea Pot and Pom Pom Cosy Set (Chevron), $29.95 from Lark Store;
2. Towels – Totem Bath towel, $29.95 from Country Road;
3. Cushion – Zig Zag Cushion Cover in Multi, $50 from Cushionopoly;
4. Coasters – Ceramic Coaster Set in Colourful Chevron, $38 from Brown Paper Packages;
5. Plate – French Bull Ziggy Dinner Plate, Ziggy, $14.95 from Shop Until;
6. Outdoor Mat – Laguna Regatta Blue, $69.90 from Fab Habitat;
7. Art Print – Deer Antlers Chevron A3 by Aldari Art Studio, $30 from Down That Little Lane.
How do you do Chevron? Are you a Chevron fan in your home or would you prefer to wear it?