Do you have multiple fashion personalities?
I do.
It's one of the (many) reasons I love fashion so much.
Sometimes I like to channel a feminine, vintage look with a pretty frock, bright lippy and a heel.
Other times, when I'm on the go, I'll go for a bit of sports luxe with jeans, a hit of bling and metallic Converse.
Last week, when I was in Bali, I was all beach boho with a pop of neon and a few pom poms thrown in for good measure.
Then, as soon as I hit the 7 degree wall of cold air at Tullamarine early Friday morning, I was back to Winter. With a vengeance. And with the return to Winter, I was drawn back to a crisp, clean monochrome look. Not to mention a nice warm coat.
Does anyone else like to chop and change their 'look' like I do?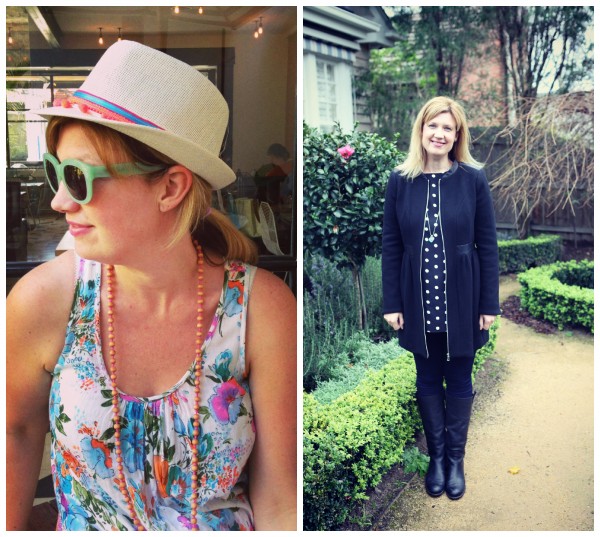 While I was away and in full blown summer boho wonderland, I did a spot of online window shopping, as you do. Looking at what was new in stores back home, I was struck by all the simple, black and white colour of the new Spring ranges coming through.
I'm talking classic black and white tailored pieces for work or smart dressing and a range of great prints from spots, like 1 & 3 in the collage below, stripes (7) through to modern geometrics (5 & 6).
It's not all structured though. I'm happy to see some great pieces with a nod to Boho (2) and some fun, floaty pants (4).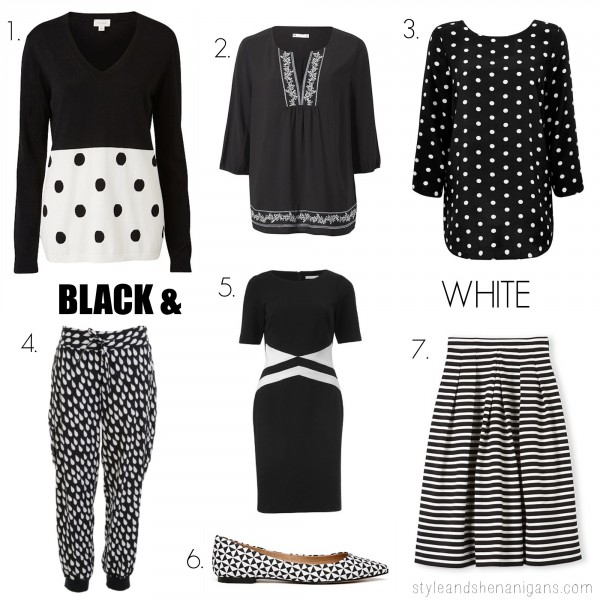 1. Colourblock Knit, $99.95 from Witchery; 2. Embroidered Peasant Top, $40 from Target; 3. Bunny Tunic Printed Tee, $49.99 (on sale) at Forever New; 4. Albie Pocket Pants in Raindrops, That Bird Label, $69.95 (on sale) from Birdsnest; 5. Triangle Splice Ponte Dress, $59 from Target; 6. Adriana Flat, $99.95 from Witchery; 7. Stripe Midi Skirt, $149 from Country Road.
By the way, I'm wearing (3) in the outfit above right. It's a great work to play option and also comes in navy with pink spots.
Classic black and white pieces like these often make an appearance in Spring ranges. The same thing happened last year, remember? It's as if the fashion gurus know that mid Winter, we all crave simple lines, uncomplicated options and pieces that will take us from season to season, year to year, no matter where we live. It's pretty clever when you think about it and an opportunity to make some smart investment purchases.
So I'm embracing the simplicity of black and white. Sometimes I might add a bright lipstick or a pop of colour with an accessory or two. But sometimes, I just enjoy it for what it is.
What about you? Do you have plenty of black and white in your wardrobe? Are you ready for Spring fashion? What of the above, would be a welcome addition in your wardrobe?