Living with 4 males, I haven't had much opportunity to buy a lot in the way of pink home wares. I do sneak a few things in now and then of course, but I haven't really had an opportunity to go to town with pink. Until now!
Below is a selection of gorgeous pink home wares which I have really enjoyed putting together. Yes, it includes a pink Expedit! I can hear your collective gasp as I too am very excited to see the great new colours in this staple range.
There are lots of gorgeous new products on the market which are perfect for a classic girl's bedroom – the white and pink desk is a winner at $59 and the new range of girl's bed linen from Country Road is modern simplicity at its best.
I can imagine this 'beautiful' sign in a variety of places, from a girl's bedroom to a warm living space.
The pink melamine salad bowl would be perfect for an uber cool picnic on a hot day.
I have also included a statement lamp shade and art print, both of which create a bit of texture and detail against white walls.
For clean, modern sophistication, look no further than this gorgeous cushion from Brown Trading Co.'s new summer range. There are matching napkins available in this print too. Heaven.
If you like a bit of bling in your stationary, this 2014 diary has your name on it.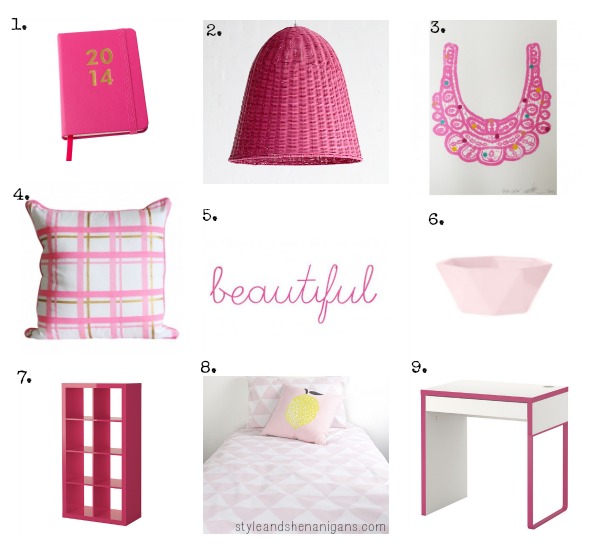 1. Diary –  2014 A6 Weekly Leather Diary, Fuchsia, $29.95 from Kikki-K;
2. Lamp Shade – Large Rattan Pendant Light Shade, Fuchsia $169 from The Family Love Tree;
3. Art Print – Pink Collar Art Print, from $66 (unframed) from Lumiere Art+Co;
4. Cushion – Pink & Gold Check Cushion, $29.95 from The Brown Trading Co.
5. Sign – Beautiful handwritten sign (hot pink), $95 from Lark Store;
6. Salad Bowl – Yeddi Salad Bowl in Light Pink, $15.95 from Follow Store;
7. Shelving Unit – Expedit Shelving Unit in High-Gloss Pink, $169 at IKEA;
8. Girl's Quilt Cover – Ellie Single Quilt Cover, $129 from Country Road;
9. Desk – Micke Desk in White and Pink, $59 from IKEA.
If you are looking for more pink, another post is on its way which will feature beautiful pink clothes and accessories for summer.
In the meantime, are you tickled pink? Is pink a feature in your home? Your daughter's room? What is on your wish list?