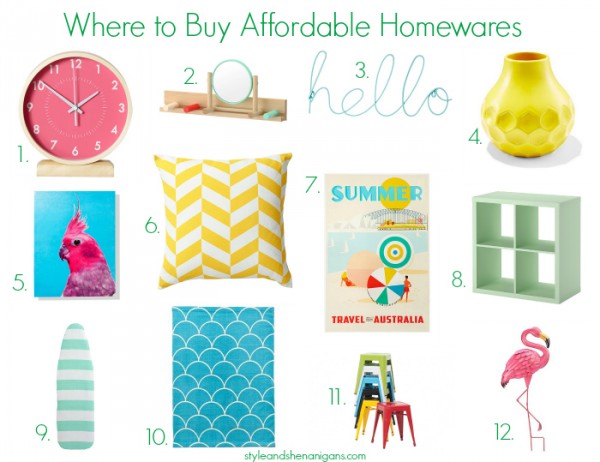 Once upon a time, designer home wares were out of reach to your average Josephine.
They were carefully housed in sparsely furnished warehouses in trendy inner city suburbs manned by intimidating sales assistants.
Did I mention the astronomical price tags?
You could find them in glossy magazines and in celebrity homes but not in your parents' or friends' homes.
Let alone yours.
How things have changed.
If you've received a catalogue in the mail lately, you'll have seen that several discount department stores are now offering seriously stylish homewares ranges, at a fraction of the price you would normally expect to pay for designer homewares.
Some pieces are effectively reproductions or interpretations of classic designs; others reflect a minimalist Scandanavian aesthetic perfected by Ikea while others are just simple design done well.
And it's such a good thing.
Affordable homewares allow people on a budget and those of us with young families to have a fresh and contemporary looking space without breaking the bank.
They are also ideal for fitting out holiday homes, children's bedrooms or updating a home ready for sale/rental.
I tend to mix these less expensive home wares with sentimental pieces, furniture and homewares collected during our travels and the odd more expensive or investment piece and find they complement what we have and fill in the gaps.
In today's post, I'm sharing my favourite places to buy affordable home wares. I've also curated a selection of my favourite new season homewares.
Below, all are under $59 and ten of the twelve products are $30 or less.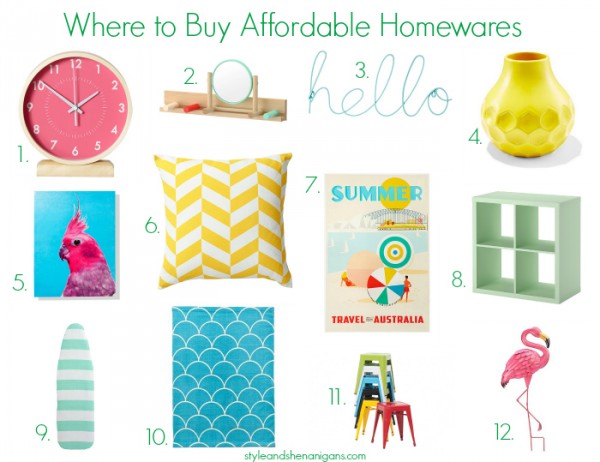 1.Table Clock, $30 from Target; 2. Wall Rail with Mirror, $39.99 from Ikea; 3. Hello, $15 from Target; 4. Yellow ceramic vase, $7 from Kmart; 5. Canvas Print, Cockatiel, $14 from Kmart; 6. Herringbone cushion, $15 from Target; 7. Summer Canvas Print, $30 from Target; 8. Kallax shelving unit in green, $59 from Ikea; 9. Mint Stripe Ironing Board Cover, $10 from Target; 10. Scallop Rug, $29 from Kmart; 11. Rocket stool, $25 each from Super A Mart; 12. Pink Flamingo, $13 from Kmart.
When it comes to on trend, affordable home wares, I recommend heading to:
1. Kmart – if you've seen their latest Living Style catalogue, you'll no doubt have been impressed with the tasteful, on trend home wares at Kmart.
Last year I picked up a yellow ceramic pineapple jar for $9 (the white version is 11, below) and this aqua wire basket for $9 where I store some of my magazines. The quality has been fine and they were literally a fraction of the price of equivalent products I'd seen elsewhere.
In the current catalogue, my picks are the vase (4, above), rug (10, above) to inject a bit of colour and freshen up a casual living space. The storage cylinder below (9) is a designer replica would also make a great bedside table in a contemporary styled bedroom. It is a fantastic price at $29.
2. Ikea – I can never go past Ikea for functional, clean design at a great price. Their textiles (including cushions and rugs) are great for family living spaces and wash and wear well.
Their Kallax shelving units (8, above) are excellent room dividers and the smaller units are great for kids' rooms. They now come in a great range of colours too.
Ikea products tend to also solve dilemmas I never knew I had. This wall hook with mirror (2, above) would be perfect for an entry way or even for a chid's room. No excuses for leaving the house with bad hair or lipstick on your teeth now!
To see how I've incorporated a range of Ikea products into my home, check out this post.
3. Super A Mart – until late last year when I prepared this post, I'd never visited my local Super A Mart. What I found was a furniture superstore with a small but well priced range of home wares, stools and chairs.
At $25 a pop (currently on sale), these stools are great for desks, play areas or children's rooms. We have one in our bathroom upon which we sit when the kids have their baths – they are much more comfortable than the side of the bath or the floor.
4. Target – I was in my local Target last week and wandered into the homewares section as I was searching for beans to fill a new bean bag. I was really impressed by the great wall art, (the vintage travel prints in particular, 7 above), the lamps (like 6 above) and the great range of cushions. Given the simplicity of the design of a lot of these pieces, they won't date and are great, functional pieces at a great price.
5. Reuse/Recycle – The cheapest and best way to buy affordable home wares is to trawl local op shops and thrift stores. If you love old china plates, vases and glassware, you can find some great treasures and support a local charity at the same time.
Other people swear by Ebay and Gumtree. We've also given away and received furniture and home wares from friends and family.
Below, are my picks of new season homewares which would complement a monochrome or neutral colour scheme. They are tasteful, well designed pieces that would happily sit alongside designer pieces in any home.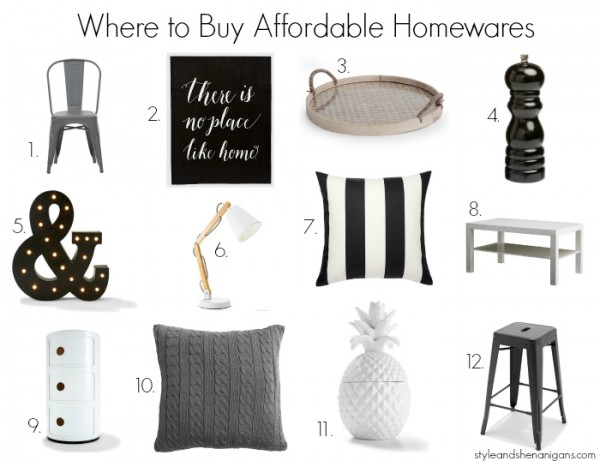 1.Rocket Dining Chair, $69.95 from Super A Mart; 2. There's No Place Like Home Canvas Print, $20 from Target; 3. Malawi Grass Ratten Tray, $39.95 from Super A Mart; 4. Black Ceramic Pepper Mill, $8 from Target; 5. Black Ampersand LED light, $15 from Kmart; 6. Wooden Spotlight Lamp $20 form Target; 7. Vargyllen cushion cover, $5 from IKEA; 8. Lack coffee table, $29.99 from Ikea; 9. Storage Cylinder in white, $35 from Kmart; 10. Cable Knitted Cushion in grey, $20 from Target; 11. Ceramic Pineapple Jar, $9 from Kmart; 12. Black bar stool, $29 from Kmart.
Where have you found affordable home wares lately? Have you shopped at any of these places? What's on your wish list?