This post is sponsored by Super A-Mart.
I love LOVE putting together a table setting.
Aside from the cooking, it's the creative side of entertaining that I really enjoy.
Because of this, I've collected my fair share or thereabouts *ahem* of napery and serving ware. I confess that I am also currently in the midst of a self imposed ban on any further serviette purchases.
However, I know not everyone feels the same way that I do.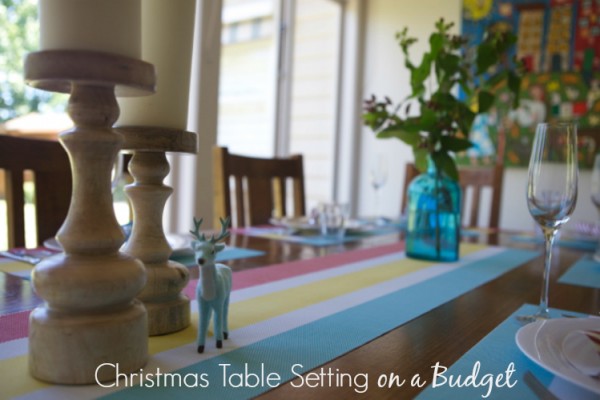 I know that a lot of people, come Christmas Day, want their table to look good without unnecessary expense, complexity or thought required. After all, the focus is (and should be) on the people and all the fun festive shenanigans.
So when Super A-Mart approached me to put together a festive table setting, I leapt at the opportunity. As you know, I am a firm believer in style being accessible on any budget so I took up the challenge to put together a Christmas table setting that is simple, effective and looks fab. And best of all, all the elements can be used all year round, not just for Christmas.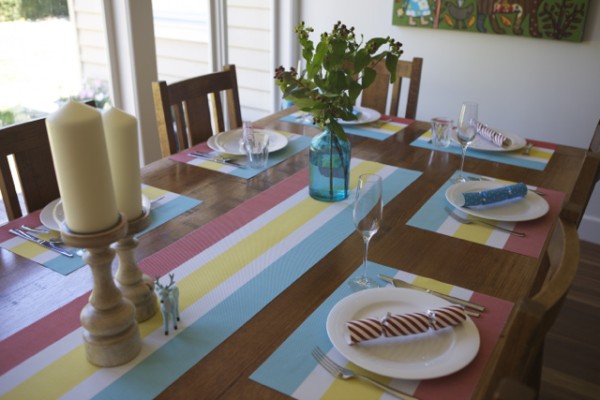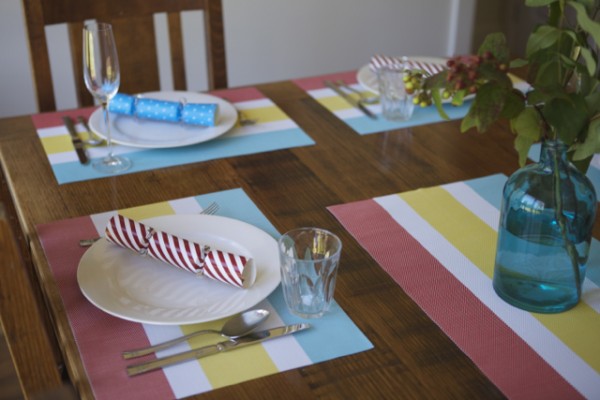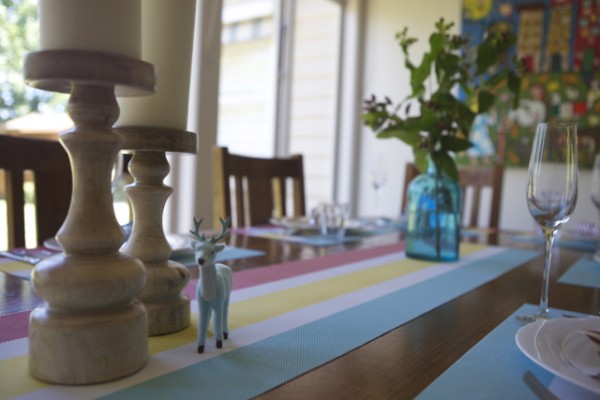 So what have I put together?
– A Rapee table runner ($16.95) and six placemats ($6.95 each), all of which can be wiped clean with a damp cloth. These are not available online but check your local store (my local had plenty of stock).
There were some great fabric placemats and napery at my local Super A-Mart, but I opted for this wipe clean plastic napery to take the stress out of inevitable spills and the mess that can accompany dining with kids. These still look fab and can also be used for outdoor entertaining. There's no need for a date with the bucket and Napi-San on Boxing Day either;
– A Spanish Recyled Bottle Vase, $18.95 which provides a nice pop of colour on the table and can be used either as a vase or grouped with other glass bottles or objects d'art around the home after Christmas;
– Kaveen candle holders in two sizes – the shorter is $29.95 and the taller is $39.95. There were less expensive candle holders in store but I chose these because their natural wooden look works across my beachy and relaxed table settings through to more rustic/vintage styling;
– Two Rocket stools ($39.95 each) for extra seating. These are fab replicas of the classic Tolix industrial chair of the 30s.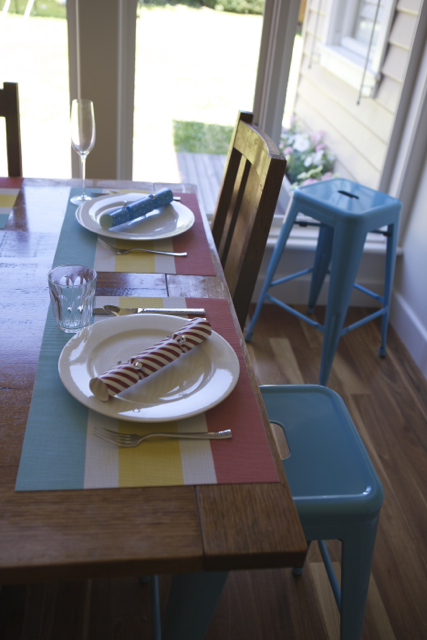 Made from powdercoated steel, they are terrific value, stylish and sturdy – an essential quality in a chair in my book. They also come in a range of colours including black, white, neon yellow, red and lime.
At less than $40 a pop too, I felt I could justify going for something fun colour wise instead of getting bogged down with all that mentally taxing internal dialogue about long term investments and possible future colour schemes. They can also be stacked which solves many a space/storage dilemma.
After Christmas, I would use these for summer entertaining, in the kids bedrooms and the bathroom.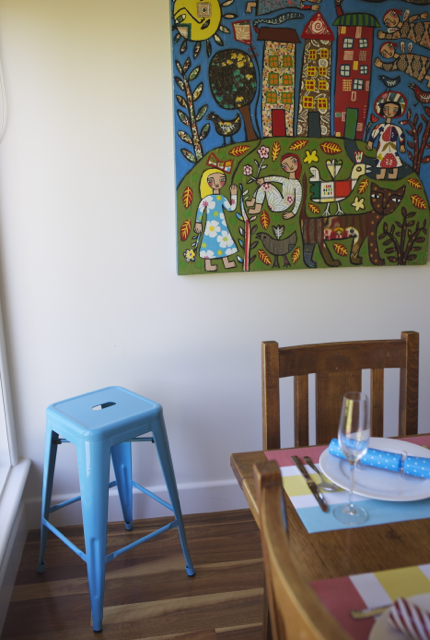 To these Super A-Mart pieces I have added:
– two basic candles from IKEA which I found in my cupboard (you could pick up similar at The Reject Shop or $2 shop);
– a Christmas deer decoration with the tie cut off;
– some fresh flowers – anything green or with colour from the garden would work;
– inexpensive Christmas Bon Bons from our local supermarket (I think these were $5 for 10); and
– our every day white dining set which we've been using for twelve years.
Despite the basic elements used, the table looks fresh, festive and relaxed but still creates a sense of occasion.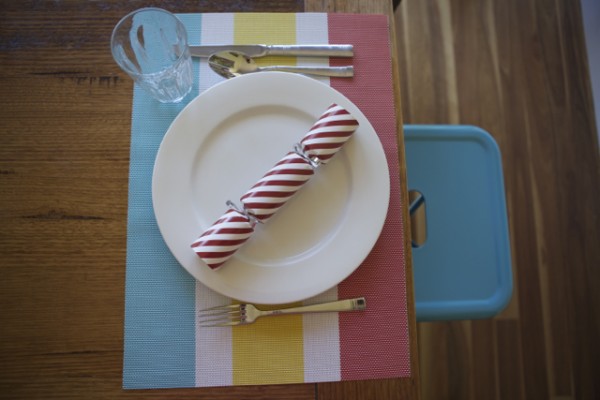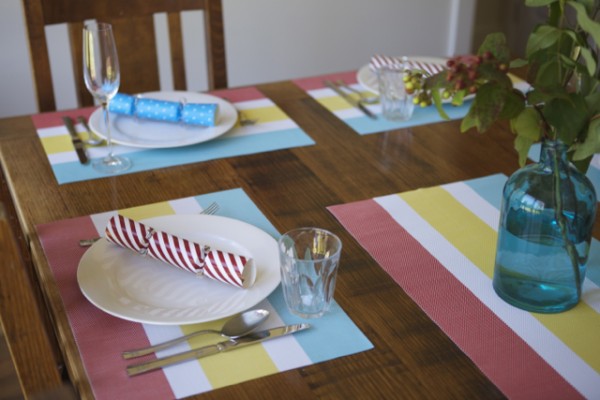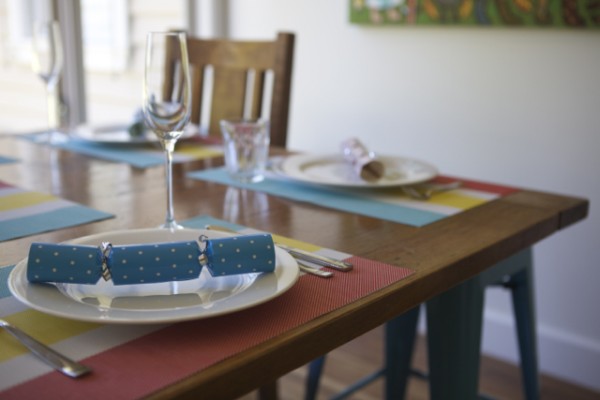 One of the reasons I chose these pieces and overall colour scheme is that they are not traditional Christmas colours. However, when paired with a couple of festive decorations (the Bon Bons, red flowers and the Christmas deer), the table still looks Christmas-y.
For me, the combination of red + yellow + white + aqua reflect the colours of our Australian summer – the surf life savers at the beach and the ocean. It's a colour palette that can be used all summer long and beyond but equally works well for Christmas. Choosing pieces for your Christmas table that you can use for other occasions is not only a smart space saver, it's also practical and economical.
For more budget friendly pieces, head on down to your local Super A-Mart. You'll find more bargains at their stocktake sale too which runs from 24-26th December.
Thank you to Super A-Mart for the voucher with which I bought the products for this post. For more information about my Disclosure Policy, head here.
What's your colour scheme this Christmas? What are your tips for putting together a beautiful table on a budget?