Welcome to the third and final post in our recent series on Outdoor Entertaining.
In the last couple of weeks we've covered outdoor furniture and accessories; and drinks, dining and serving ware. In today's post, we're finishing off the outdoor dining experience with some new season napery – table cloths, placemats and napkins (paper and fabric).
I'm pleased to report that the weather seems to have received the memo too and, if this week's forecast is anything to go by, we are finally beginning to join our northern sisters in the Balmy Evening/Pleasant Days Club. And thank goodness for that!
I think the change in season is as good a time as many to do a stocktake of what you have, think carefully about what you might need and start sourcing whatever that might be. I preface the following with a "be alert but not alarmed" warning: at this time of year I also think about whether it's my turn to host any family Christmas do's, New Year's Eve or any other regular group catch ups and factor that in too.
At our place, with our outdoor setting exposed to the elements all year round, I always begin with a tablecloth. If the kids are involved I opt for oilcloth (I've bought from Me Too Please locally or Cath Kidston abroad)  or a colourful fabric tablecloth from IKEA that I'm not too precious about and can hopefully be rejuvenated with a long spell in Napi-San.
When we have a grown ups only do, I get out my best and most favourite bits and pieces which include fabric napkins, nice placemats and fancier tablecloths. Add a couple of lanterns or candles, inexpensive fairy lights, a discreet supply of citronella and the aeroguard, and you have yourself an occasion or at the minimum, some ambience!
Of course all of these things can be used inside as well, all year round.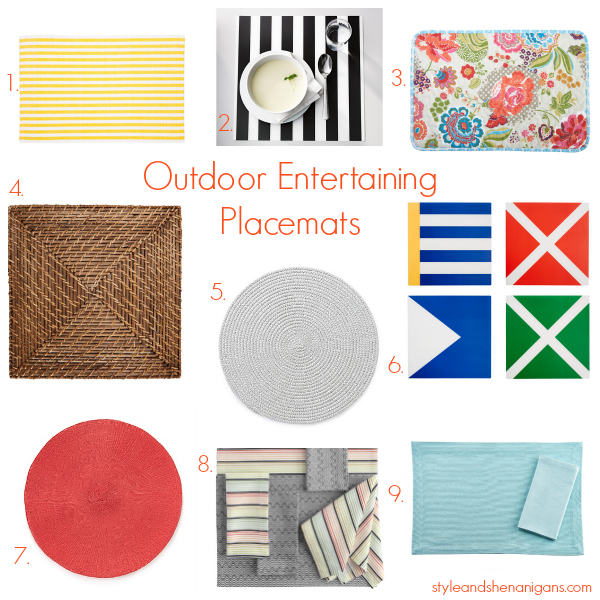 1. The Avenue Placemat in Yellow, $3.95 from Freedom; 2.  Ljuda Placemat, $1.99 from IKEA; 3. Mimi Placemat, $7.95 from Bed Bath and Table; 4. Rattan Square Placemat, $12.95 each from Bed Bath and Table; 5. Coil Placemat, $12.95 from Country Road; 6. Solfint Placemats, $1.99 each from IKEA; 7. Maison Placemat, $9.95 from Country Road; 8. Missoni for Target Placemat & Napkin Set, $35 from Target; 9. Baltimore Placemat, $4.95 from Bed Bath and Table.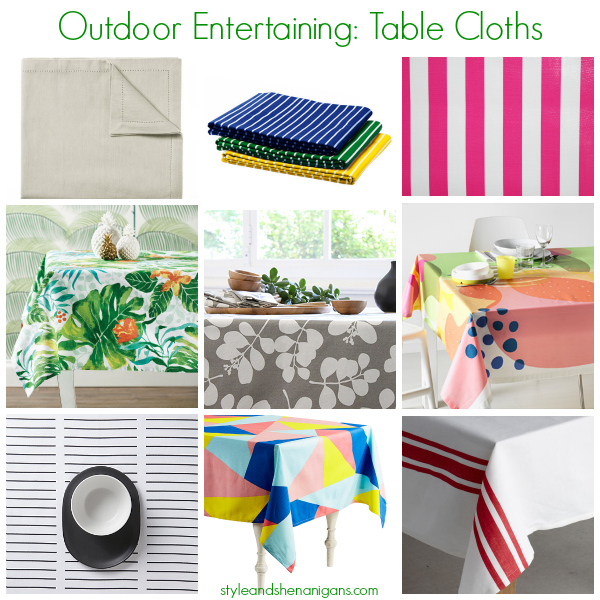 TOP ROW: Provence Tablecloth, from $69.95 from Adairs; Glanta Tablecloth in green, blue or yellow stripes, $19.99 from IKEA; Mexican Oilcloth, $12.95 per metre from Me Too Please; MIDDLE ROW: Tropical Tablecloth, from $49.95 from Bed Bath and Table; Organic Cotton Tablecloth, $89.95 from Dandi; Tordis Tablecloth, $24.99 from IKEA; BOTTOM ROW: Tibi Tablecloth, $79.95 from Country Road; Geo Tablecloth, from $59.95 from MOZI; Norwich Tablecloth, from $79.95 from Provincial Home Living.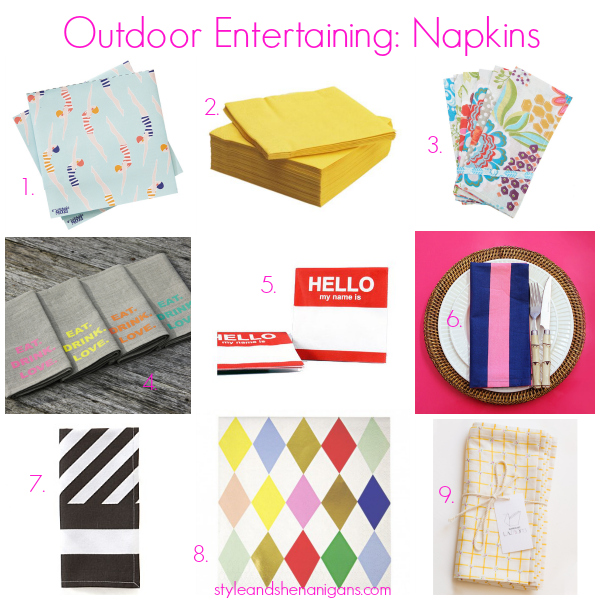 1. Swimmers Paper Napkins (20), $8.95 from MOZI; 2. Fantastisk Paper Nakins (50), $2.99 from IKEA; 3. Mimi Fabric Napkins (6), $19.95 from Bed Bath and Table; 4. Neon Pop Napkins (4), $60 from Down That Little Lane; 5. Hello Paper Napkins, (2), $9.95 from Lark; 6. Princess Mary Fabric Napkins (4) on sale for $12.95 from Brown St Trading Co.; 7. Fika Fabric Napkins, (4), $29.95 from Country Road; 8. Harlequin Party Napkins (16), $10.95 from Lark; 9. Picnic Napkins in Yellow (6), $45 from Lazybones.
Finally, here are a few simple ways to create a table with the wow factor without turning into Martha Stewart and Donna Hay's lovechild:
1. Have fun with colour – if you have a neutral tablecloth or placemats, add a bit of interest with some inexpensive but colourful paper napkins;
2. Add some greenery or simple flowers – use herbs or cuttings from the garden and an old jam jar wrapped with string for a vase to keep things budget friendly but effective;
3. Add a candle or a lantern – there are plenty of inexpensive options around (IKEA, Kmart) that create ambience and a nice scent;
4. Get out your best stuff – I am a big believer that there is no point saving special things for an occasion that will never happen. Use your favourite things with your favourite people as often as possible;
5. Remember that your table doesn't have to look perfectly styled. Keep it fun and simple – your friends and family will appreciate any effort you go to and are there to hang out with you and are just happy to have the night off cooking!
6. Expect the odd mishap (always red wine and tomato sauce of course) and make sure you always have plenty of paper towel on hand!
Do you love putting a table together? What's your secret to fabulous outdoor entertaining?