There is so much to love about this time of year, don't you think?
As the days lengthen and become warmer, spending time outside becomes more and more pleasant. I reckon it's good for the soul not to mention all that fab Vitamin D.
Before long, the BBQ will be fired up, night after night, and the fewer dishes to wash up season will officially be underway.
I can almost feel the serenity.
I love it when it's warm enough to eat dinner outside. It's fun and there's no need to sweep after dinner. Win for me. Win for our suburban wild life.
It's also the start of a long summer of entertaining and a time when I think about our outdoor entertaining set up. What works, what doesn't. What could do with a clean, a freshen up or retirement.
In today's post, I have rounded up a selection of new season dining and lounge settings and outdoor chairs. I've also added some fun and colourful accessories to add some punch and colour to your outdoor space.
1. Dining Settings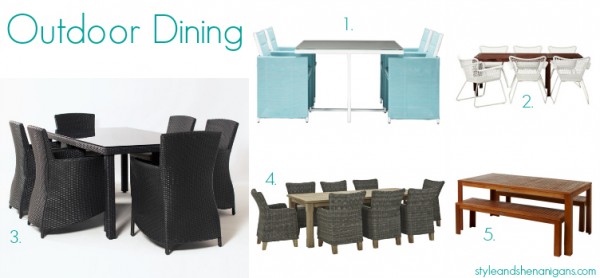 1. Ditto 5 Piece dining setting, $1295 from Domayne; 2. Applaro/Hogsten table and 6 chairs, $973  from IKEA; 3. Diara 7 Piece Dining Set in Black, $1690 from Outdoor Furniture Corporation; 4. Umbria, 9 Piece Dining Package, $3699; 5. Mimosa 3 Piece Timber Bench Setting, $549 from Bunnings.
2. Chairs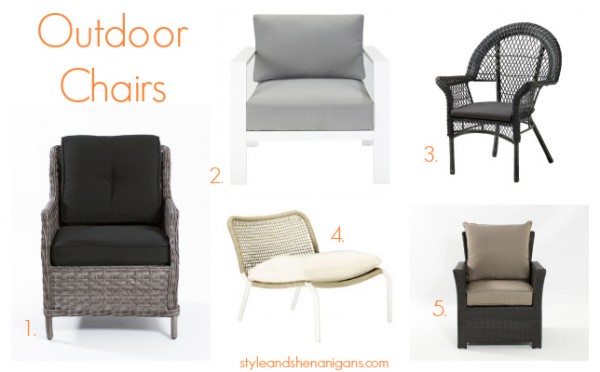 1. Kazuki Deep Seat Chair in Grey, $405 from Outdoor Furniture Corporation; 2. Torquay Armchair, $449 from Freedom; 3. Lacko armchair with pad, $149 from IKEA; 4. Anglet Low Lounge Wicker Chair, $349 from Domayne; 5. Ami Deep Seat Chair in Black, $375 from Outdoor Furniture Corporation.
For us, it's taken a while to find our mojo in the outdoor entertaining space, furniture wise. We have a reasonable deck area but it is narrow and long. For a long time I didn't want to put any furniture on the deck as the kids ride their bikes and play on it. We have also recently added an enormous portable basketball ring into the mix so its now become a part time basketball court.
A couple of years ago, we finally opted for a bench/table combo which has served us very well and I wish we had taken the plunge sooner. Our simple setting seats six but we can add our own chairs to either end to bring it up to eight. It is also light enough to move around the backyard when the kids play basketball or have friends over. In fact, our dining setting is currently located in the shade next to the trampoline, well out of the way of flying balls.
If we had a larger, covered area, I'd love to have a more formal set up – comfortable, cushioned chairs and a lounge area. I love the idea of creating an outdoor "room" which you can create without the expense and hassle of a major renovation.
Choosing the "right" outdoor furniture though, can be a challenge. Factors to consider include the available space; whether the outdoor area is under cover or not; how many people you'd like to be able to seat (the immediate family or bigger gatherings); and how much you will use it which often has a consequential bearing on how much you are prepared to spend.
3. Lounges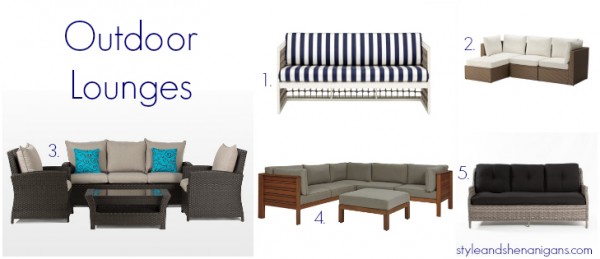 1. Grid 2.5 Seat Sofa, $1599.20 from Domayne; 2. Arholma Sofa Combination, $501 from IKEA; 3. Naveen 4 piece Lounge Set, $1350 from Outdoor Furniture Corporation; 4. Portsea 4 Piece Lounge Set, $1699 from Freedom; 5. Kazuki 3 Seater Sofa in Grey, $895 from Outdoor Furniture Corporation.
Another win for us was the purchase of a wooden chest on wheels (similar to the outdoor cushion box (8), below) which we use to store the kids' sports equipment but which also doubles as a servery when we entertain al fresco.
4. Accessories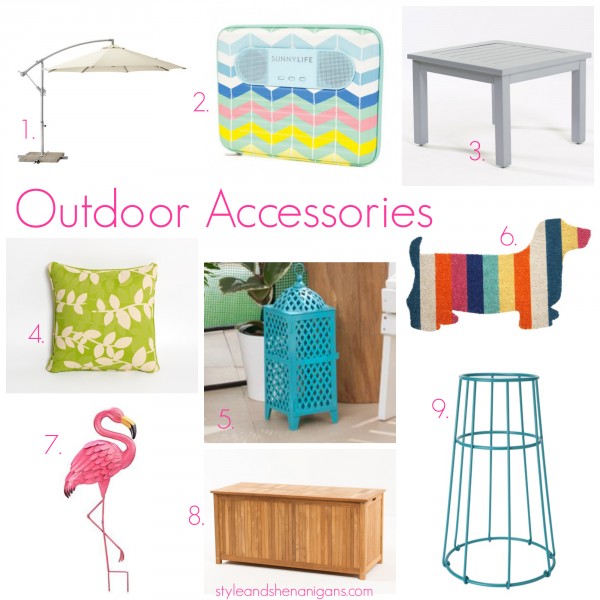 1. Karlso Hanging Parasol, $79 from IKEA; 2. Iluka Tablet Sounds, $75 from Lark Store; 3. Silas Side table in Silver, $180 from Outdoor Furniture Corporation; 4. Lime Leaf Throw Cushion, $33 from Outdoor Furniture Corporation; 5. Moroccan Lantern, $10 from Kmart; 6. Doormat, $18.65 from Freedom; 7. Flamingo Garden Ornament, $13 from Kmart; 8. Outdoor Cushion Box, $749 from Outdoor Furniture Corporation; 9. Hamilton Pot Stand, $69.95 from Freedom.
There are so many places to buy great outdoor furniture and accessories from and it's great to see such a range of styles and price points out there. The first stop for many of us are the local haunts – Freedom, IKEA, Bunnings, Kmart and Domayne, so it's great to see online stores like The Outdoor Furniture Corporation, adding more variety and choice to the market.
Next week, in part 2 in this series on Outdoor Entertaining, I'll be featuring new season tableware and napery.
* This post was sponsored by Outdoor Furniture Corporation, an online store specialising in a range of outdoor furniture including wicker, stainless steel, aluminium and timber furniture.
Do you have much of an outdoor space? How have you or how would you like to fit it out? If money was no object, what would you like to add to your outdoor area?