I've been in the garden this week.
I've even swept the deck.
Not to mention line dried at least 48 loads of washing.
The tide is slowly turning and the sunny, warm days are happening more often here in the south. Although it still tends to be 26 one day, 16 the next.
In the second part of this series on Outdoor Entertaining, I'm shifting the focus from outdoor furniture to outdoor dining, eating alfresco, picnics – you get the drift.  (You can check out last week's post on outdoor furniture here). Next week I'll be covering napery, the much loved cousin of the cushion. And yes, I can easily fill an entire post with placemats, napkins and tablecloths. In fact, I'd be delighted to!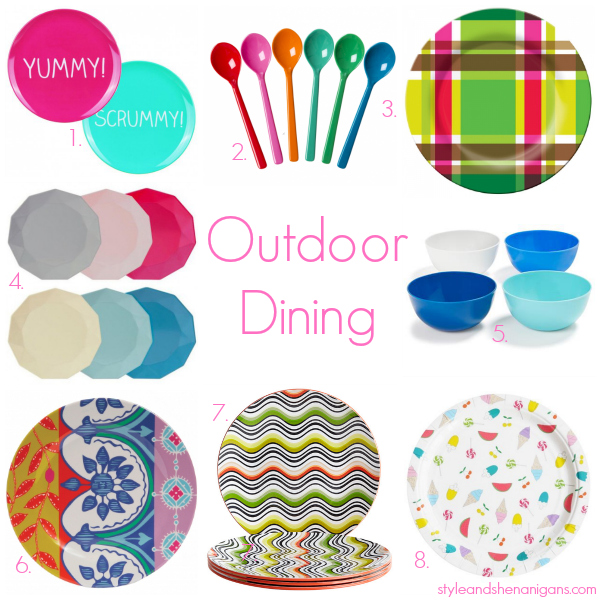 1. Yummy Scrummy Set of 6 melamine plates, $49.95 from Lark Store; 2. Set of 12 colourful cutlery; $43.85 from Hard to Find; 3. Kat Melamine Dinner Plate, $14.95 from Shop Until; 4. Geometric Melamine Plates, $11.95 each, Lark Store; 5. Home maker set of 4 outdoor bowls, $2 from Kmart; 6. Florentine Melamine Dinner Plate, $14.95 from Shop Until; 7. Missoni for Target set of 4 melamine plates, $20 from Target; 8. Summertime Paper Plates (set of 8), $8.50 from Down That Little Lane.
So where to buy outdoor dining ware? There are loads of places to check out – I've bought some great pieces over the years from Target (their Jamie Oliver collection a couple of years ago was simple, tasteful and well priced), Cath Kidston (in the stocktake sales), IKEA and Bed Bath and Table. I try to buy things in the same colour tones (blues and greens) so everything mixes and matches together, with a few punchy colour pops (yellow and pink) to keep things interesting. When researching this post, I found that Kmart had a great range of very affordable pieces too, with several items/sets under $5.
Most of what is included in this post is made from melamine, plastic or paper. I appreciate that is not everyone's tumbler of punch and of course, there is nothing to say you can't take your every day china plates and glass ware outside. If you are dealing with grown ups and travelling short distances from your kitchen to your outside area, that makes sense.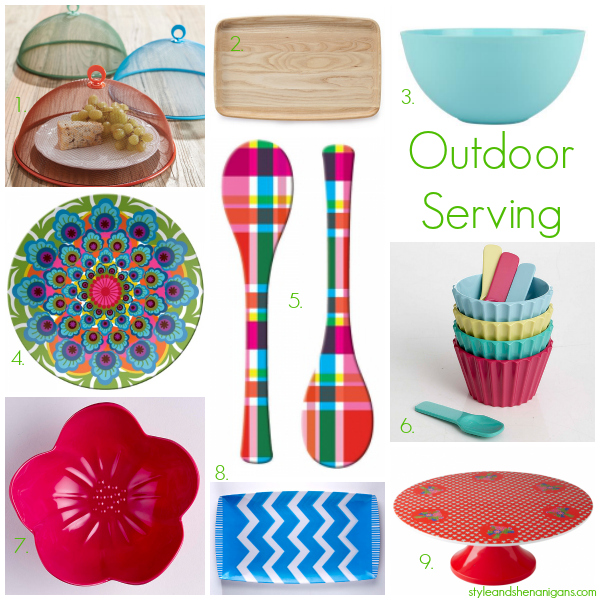 1. Domed Food Cover, $9.95 each from Bed Bath and Table; 2. Laani Tray, $59.95 from Country Road; 3. Salad bowl, $3 from Kmart; 4. Round Melamine Platter, Raj, $39.95 from Shop Until; 5. Multi Plaid Melamine Serving Spoons, $19.95 from Shop Until; 6. Set of 4 ice cream bowls, $15 from Target; 7. Petal Melamine Bowl, $5 from Target; 8. Beach Life Chevvy Platter, $10 from Target; 9. Posy Melamine Cake Stand, $49.95 from Hard to Find.
Personally, I've always had a bit of a penchant for picnics which is why I've always had a collection of melamine plates and plastic glasses, so I can pop on a head scarf and a pair of gingham shorts at a moment's notice and meander down to Edinburgh Gardens where I recline with a great wine in a plastic goblet and watch people fire twirl and practice Tai Chi.
Now that we have kids, my melamine collection has exploded and we regularly head to a park over the summer months with family or friends for a picnic whether it be morning tea, lunch or an early dinner of FnC. I also bring it out for playdates and mix and match it with china and other pieces.
Outdoor dining ware can also be an opportunity to experiment with different colours and styles. As it is often reasonably priced (several items/sets in this post are under $5), it's fun to play with colour and not get too bogged down with sensible, long term choices. You can have a little bit of fun, experiment and enjoy the sunshine. Not to mention the pineapples.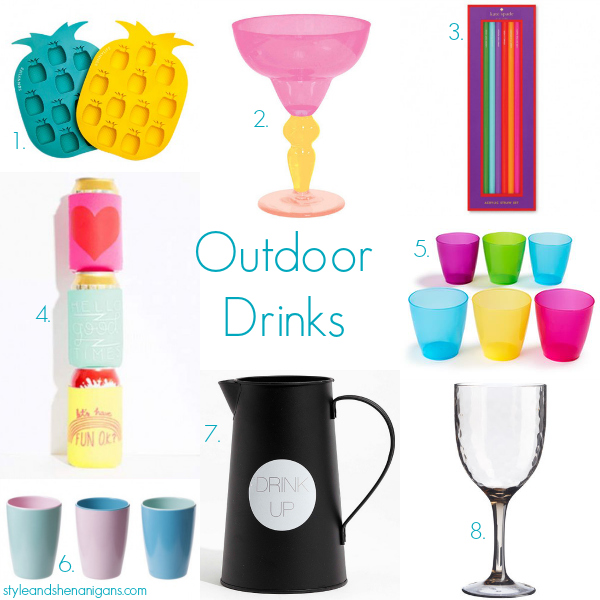 1. Pineapple Ice Trays, $19.95 for 2, from Lark Store; 2. Plastic Margarita Glasses, $4.49 from Spotlight; 3. Kate Spade Acrylic Reusable Party Straws, $29.95 from Lark Store; 4. Cold Drink Sleeve Holders, $8.95 from Lark Store; 5, Outdoor tumblers, pack of 6 $2 from Kmart; 6. Blossom Melamine Cups, $7.95 each from Lark Store; 7. Lisa T Rock Couture Water Jug, $12 from Target; 8. San Tropez Plastic Wine Goblet, $3.99 from Spotlight.
Do you like a spot of outdoor entertaining? Where have you found/bought some great bits and pieces for your table? Is there anything above that needs to come home with you?